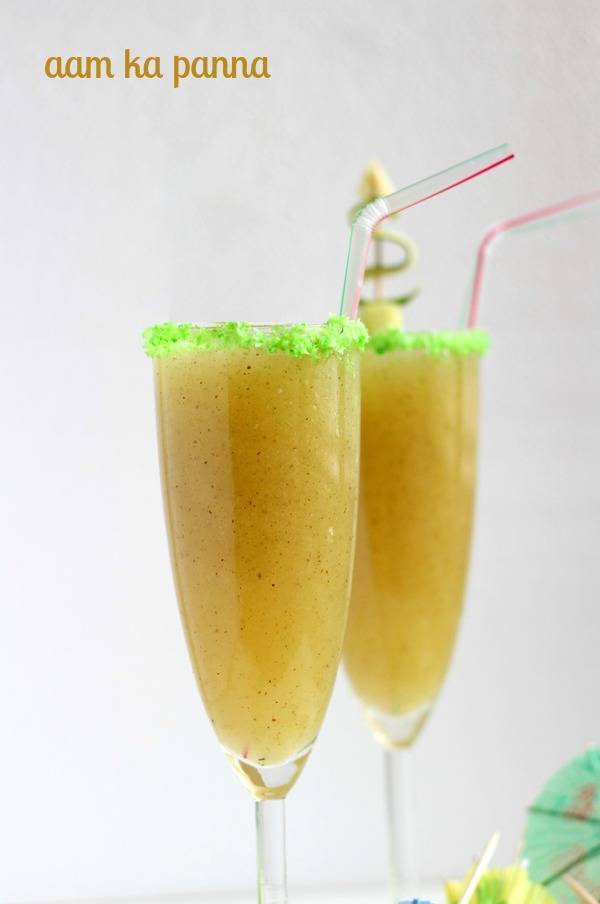 Roasted aam panna recipe – A tangy thirst-quenching summer drink of raw mango and mint with indian spices.
Here is a different variation of India's favorite summer drink "Aam panna". Normally the aam panna is made by boiling the raw mangoes in water first and then grinding its pulp with some indian spices and sugar. That is the traditional way of prepared aam ka panna drink. As it the mangoes are boiled, this drink is also known as "baaflo" (not to be confused with buffalo :D) in Gujarati language. Also there are many variations of this drink. I have added mint leaves in this aam panna. You can also add cardamom (elaichi) if you like its taste.
Related: kachi keri sherbet
Today I am sharing a recipe of aam panna where raw mango is cooked by roasting it on gas stove like we roast baingan for baingan bharta. This way the mango is cooked nicely and also it infuses the smoky flavor in drink. When you take a sip of this roasted aam panna, at first it taste exactly like normal aam panna and then at the end the smoky flavor hits you.
I have used the "totapuri mango" in making this aam panna since it is less sour than other raw mango. Due to this I  have to added less sugar in this panna. If you are a bit sugar-conscious then you can even replace sugar with jaggery. Also this aam panna recipe is fresh aam panna. You should make this and serve within a day. It remains good for a day or two. However if you want to store aam panna for long time you need to make aam panna concentration which can remain fresh for upto 3 months. I will try to share its recipe soon.

This recipe is adopted from chef Harpal Singh's recipe on youtube. I must say when I tried it first time I really liked the taste and  thought to share it here.
Recipe of Roasted Aam Panna with step by step pictures
To make this delicious roasted aam ka panna we will need following ingredients. I have used totapuri mango as it is less sour compared to other raw mangoes. All the ingredients shown here needs to be adjusted according to the sourness of mango.
Roast the mango with its skin intact on a gas stove on low flame. Occasionally turn the mango so that it gets roasted evenly. Roast till the skin turns black. Make sure the mango is cooked till inside.
Take the roasted raw mango off flame and remove the burnt layer.
Cut the roasted raw mango into pieces and place it in juicer/mixture grinder jar.
Now one by one add all the ingredients for aam panna. First add mint leaves, roasted cumin powder, salt, black salt, pepper powder and sugar.
 Once all the ingreidnets are placed in mixture add water in it.
Add around 3 cups of water in the juicer jar.
Close the lid and blitz into smooth juice.
Add some ice cubes and grind again into juice.
Check the taste of aam panna and add salt or sugar to adjust the sourness of mango if required. Our delicious roasted aam panna is ready. Pour it in serving glasses, add few ice cubes on top and serve chilled.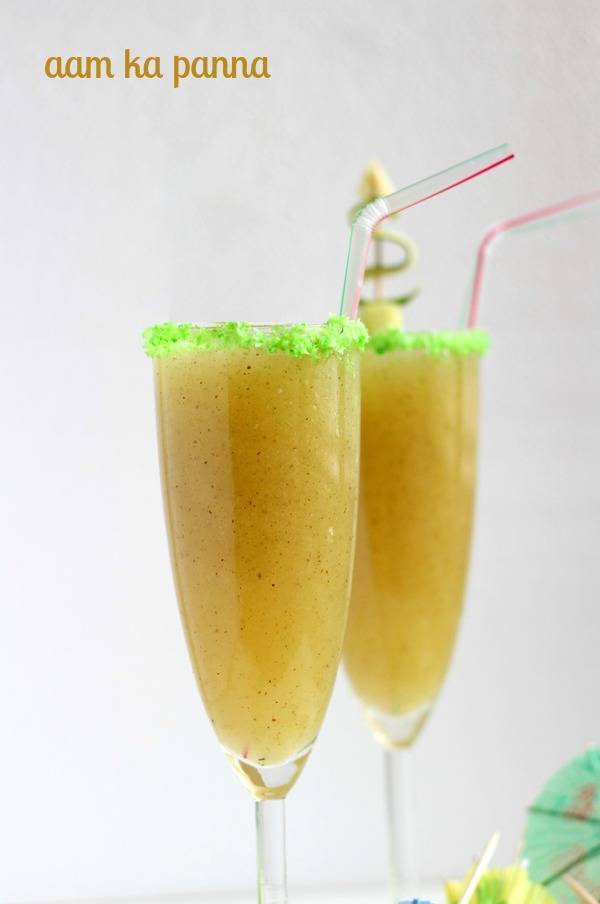 Roasted Aam Panna Recipe Box
Roasted Aam Panna Recipe
Roasted Aam Panna Recipe - Indian sherbet recipe of aam ka panna with roasted raw mango and mint leaves.
Ingredients
Raw mango : 2 medium size
Mint : 10 leaves
Sugar: 4 tbsp
Salt : 1/2 tsp
Black salt : 2 1/2 tsp
Roasted cumin powder : 1 tsp
Pepper powder: 1 tsp
Water: 3 1/2 cups
Crushed ice: 1/2 cup
Instructions
Roast the raw mango on gas stove on low flame for 5 minutes.
Turn occasionally so they get roasted evenly across all sides.
Once the raw mango skin turns black, take it off the gas and keep in a plate to cool off.
Let the raw mango cool off and then remove its skin carefully. Cut the mango into pieces.
Take the raw mango pieces in a mixture grinder / juice jar and add mint leaves, salt, black salt, sugar, pepper powder and roasted cumin powder into it.
Add water and blitz until it become smooth.
Open the lid and add crushed ice. Blitz again.
Pour the aam panna in serving glasses and add few ice cubes. Serve the aam panna chilled.
Other summer drinks recipes similar to roasted aam panna