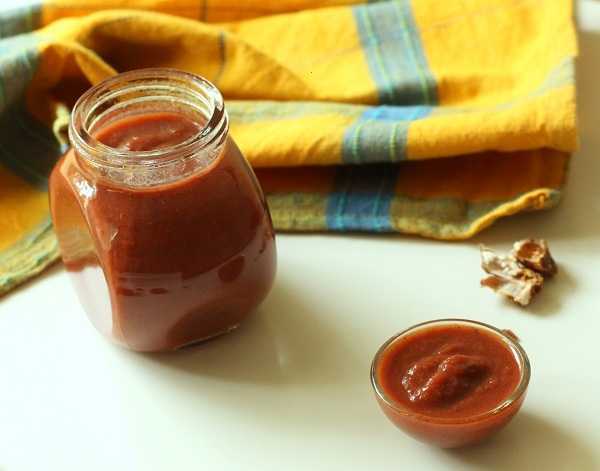 Khajur Imli Chutney Recipe (Dates Tamarind Chutney) – Here is a quick and easy recipe of one of the most loved Indian chutney "Khajur Imli Chutney". This chutney recipe is used in almost all chaat or Indian street food recipes. The tangy sweet & sour taste goes really well with all chaats. Check out some of the chaat recipes on this website which cannot be completed without khajur imli chutney: ragda patties, pani puri etc.
The dates compliments the sour taste of tamarind in this tangy chutney. Also I have added jaggery to increase the sweetness counter balance the sourness of tamarind. However this is totally optional. You can change the ratio of dates and tamarind as per your taste buds.
I have used pressure cooker to prepare this khajur imli chutney recipe. Using pressure cooker boils the tamarind and dates quite well so that their flavors blends into each other making fine chutney paste.
Also check other Chutney recipes of this site: coconut chutney, coriander peanut chutney etc.
Let us check the recipe of khajur imli sweet chutney for chaat.
Step by step recipe of Khajur Imli Chutney for Chaat
Wash the dates (khajur) and tamarind (imli) and de-seed and place them in a pressure cooker.
Pour 1/2 cup of water and pressure cook the khajur and imli in pressure cooker for 5 minutes (or till 2 whistles in pressure cooker with whistle).
Once boiled, let the khajur imli mix get cooled and then place it in a mixture grinder / food processor. Grind the mixture into a smooth purée. Pour the khajur imli mixture into a sieve and drain the access water to make fine chutney paste.
We will use following Indian spices to spice up the khajur imli chutney.  Red chili powder, coriander powder (dhaniya), cumin powder (jeera), rock salt, jaggery and salt to taste.
Now take the khajur imli chutney paste into a big bowl and add a little water to change consistency. Heat the khajur imli chutney mixture for 5 minutes on low flame. Add all spices: red chili powder, coriander powder, cumin powder, salt, jaggery and rock salt. Mix well all the ingredients and heat again the chutney for 5 more minutes.
The tangy khajur imli chutney is ready.
Serve the khajur imli chutney with any chaat dish or Indian street food like sev papdi chaat, ragda patties chaat or even home made pani puri etc. You can store the khajur imli chutney for 1 month in refrigerator or can be deep frozen for upto 6 months.
Khajur Imli Chutney Recipe (Dates & Tamarind Chutney)
Khajur Imli Chutney - A tangy condiment dish made from tamarind and dates.
Recipe type:
Sides, Chutney
Ingredients
Dates (khajur): 1 cup, deseeded
Tamarind (imli): 1/4 cup, deseeded
Red chili powder: 1 tbsp
Jaggery: 1 tbsp (optional)
Coriander powder (dhaniya): 1 tbsp
Cumin powder: 1 tsp
Rock salt: 1/2 tsp
Salt: to taste
Instructions
Remove the seed from (dates) khajur. I have used the ready made seedless khajur.
Also remove the seed from Tamarind (imli) if there are any.
Presser cook both khajur and imli by adding about 1/2 cup of water and cook for 5 min or till 2 whistle.
Now pour the boiled khajur imli mixture in a mixture grider/food processor and purée the chutney to give it smooth texture.
By using strainer remove excess water and extract the pulp.
After extracting the pulp heat the pulp for about 5 mins in a deep bottom pan.
Add all the spices now: red chili powder, coriander powder, cumin powder, rock salt, jaggery (optional) and salt to taste.
Cook for about another 5 min so that the spices blends in the chutney nicely.
Notes
Khajur Imli Chutney can be stored in the refrigerator for about a month.