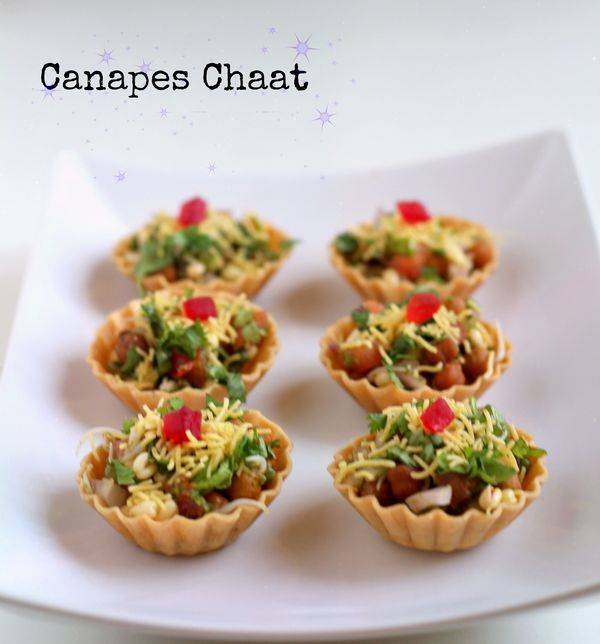 Canapes Chaat Recipe: A healthily yet delicious recipe of chaat made from protein rich sprouts.
There are few vegetarian ingredients which are quite rich in protein. Sprots are good in protein and hence included in ones diet. Usually childrens don't like sprouted pulses on their own. So we make sprout salads or sprout chaat.

I have given a small twist to usual sprout chaat recipe. Instead of serving green sprouts like salad we will top it up on healthy baked canapes and serve them as a bite size serving. This dish can be served during get togthers, kitty parties and birthday parties as welcome snacks. Childrens and grown ups would love this simple healthy chaat dish.
The recipe is quite straightforward. All the ingredients are easy to collect and get assembled in no time. Even children can make this chaat recipe. If you  ignore boiling of sprouts then this is a no bake no cook recipe of cooking without fire recipe. You can use this recipe to make starters for cooking without fire compitetion.
Few tips for Canapes chaat:
Always prepare the filling just before serving.
Fill the canapes before serving or else camapes will become soft and soggy.
If you don't have the canapes you can use this filling on salt biscuit or roasted bread.
Canapes Chaat Recipe with step by step photo
Making canapes chaat is very simple once we get all ingredients ready. For this chaat I have used canapes cups readily available in market. Check your grocery store and see if you have similar once there. Also I have used green moong spouts, black chana sprouts, onion, tomatoes, green chutney, tamarind chutney, chaat masala and some red chili powder/salt.
At the end of the post you can see the recipe box with the ingredients with there exact quantities 🙂
Take the sprouted black chana and green moong dal and boil them in hot water for about 2 minutes until they become soft and tender. Do not boil the chana in pressure cooker otherwise the sprouted white root will break.
To make Canapes chaat its time to assemble all ingredients
In a mixing bowl take moong sprout first.
Then add kala chana sprouts.
Here comes the finely chopped onions.
Then comes finely chopped tomatoes.
Then add the taste maker of chaat, Green chutney.
Then the Tamarind chutney (Khajur ki chutney).
Let's add the seasonal ingredient which is at heart of any Indian chaat: Chaat masala. I am adding the ready made chaat masala powder available in local grocery stores.
In the end add some red chili powder. You can also add finely green chilies if you like. You can also squeeze half a lemon to give tangy twist to this chaat.
Mix well all the ingredients with the the help of a spoon.
Out healthy sprout chaat mixture is ready. We just have to top the canapes with this delicious chaat mix.
Here comes the canapes.
With the help of a spoon fill the canapes as much quantity you like. Canapes chaat is ready!!
Garnish the canape chaat with some sev (fried chickpea vermicelli) and some freshly chopped coriander / cilantro.
Canapes chaat recipe
Canapes Chaat Recipe
Canapes chaat recipe - Healthy Indian chaat recipe of sprouts topped on canapes.
Ingredients
Canapes cup : 10 pieces
Moong sprout : 1/2 cup
Black chana sprout : 1/2 cup
Onion : 2 tbsp, finely chopped
Tomato : 2 tbsp, finely chopped
Green chutney : 2 tbsp
Tamarind chutney : 1 tbsp
Chaat masala : 1 1/2 tsp
Red chili powder : 1 tsp
Sev: 1 tbsp for garnish
Instructions
Take the sprouted green moong and kala chana and boil them for 2 minutes.
In a mixing bowl take sprouted green moong and black chana.
Then add finely chopped onion, tomatoes, green chutney and tamarind chutney.
Now add dry ingredients red chili powder and chaat masala.
Mix all ingredients well.
Take the canapes and top it up with healthy sprouts mixtures. Also garnish the canapes with some sev and freshly chopped coriander/cilantro.
Notes
There are no specific measurements for this recipe. All the ingredients are adjustable according to your taste buds.
Other Indian street food recipes that you may wanna check: