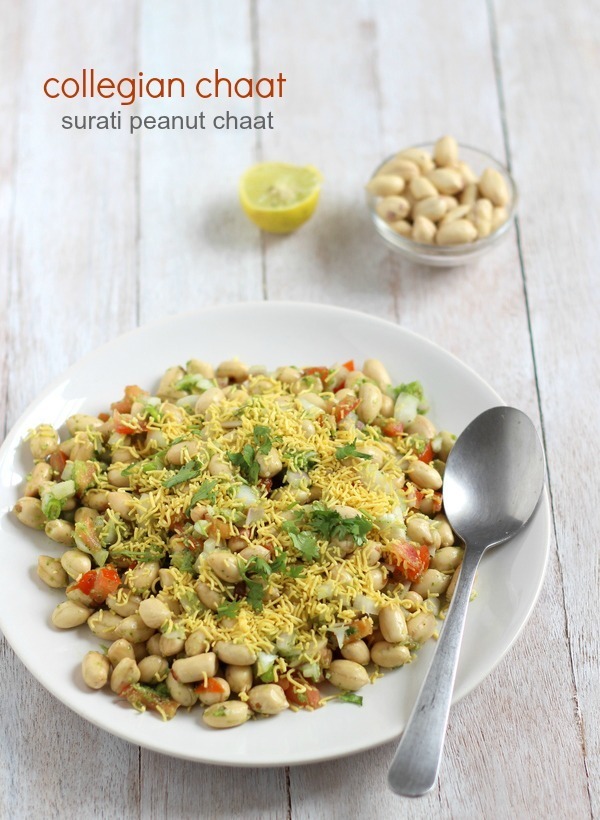 Surati collegian chaat reicpe or collegian singdana with step by step pictures – A lip smacking street food chaat recipe famous in schools and colleges of Surat and other South Gujarat town.
Here is a flavorful street food recipe that is not very well known in India. The popular dishes famous on streets like pani puri, sev puri, ragda patties etc are available in almost all the corners of India. However this humble chaat recipe is hardly known in other regions. But this peanut chaat recipe is very popular in streets of Surat, Gujarat.
Almost all the schools and colleges nearby have a "singdana wala" – a vendor selling all different roasted peanut, chana dana (roasted gram), roasted peas etc. Such vendor is usually selling this "collegian chaat". The chaat wala will quickly assemble this chaat by mixing finely chopped tomatoes, onion and roasted peanuts. He would garnish the chaat with sev and fresh coriander. It's very easy recipe yet very tasty. The tastemaker in this chaat is the green chutney. Green chutney made from fresh coriander, peanut and lemon juice. I have shared the recipe of green chutney here.

This recipe of chaat is very simple and hence its a "no cook" recipe. Even kids can make this chaat. Most of the ingredients are already present in an Indian kitchen. The roasted peanut is also available in market these days.
My dear hubby was brought up in Surat and hence he is quite accustomed to Surti Cuisine. He only shared this recipe with me once and I have been making it since then.
In Surat you will find this chaat not only near schools and colleges but also outside public parks and gardens. Being popular recipe in city even ladies make this chaat in kitty party.
Let us get back to quick and simple recipe of surati collegian chaat.
Surati Collegian Chaat Recipe with step by step photo
Surati collegian chaat recipe is so simple and easy to make. We just have to assemble all the ingredients and the chat is ready. Here are simple ingredients like salted peanut, tomato, onion, sev, chaat masala, lemon, green chutney, coriander leaves and green chili. Mix all the ingredients and your chaat is ready.
Take the salted peanut in a bowl.
Add finely chopped onion to the salted peanut.
Now add chopped tomatoes to the chaat.
As it is a chaat it should be tangy so add a little chaat masala.
Add green chili to peanut chat. You can avoid green chilies if you are making this chaat for kids.
Now squeeze some lemon juice in chaat.
And add the green chutney or coriander chutney.
Mix well the chutney with peanut and other ingredients.
Combine all the ingredients of collegien chaat. Take the chaat in a serving bowl or plate.
Garnish peanut chaat with the sev and freshly chopped coriander. Collegian chaat is ready to serve.
Surati Collegian Chaat Recipe Box
Surati Collegian Chaat Recipe
Surati Collegian Chaat Recipe - A lip smacking Surati street chaat recipe of salted peanuts mixed with onion tomato and chaat masala.
Ingredients
Peanuts: 1 cup
Onion: 1/2 cup
Tomato: 1/2 cup
Green Chili: 1 piece
Green chutney: 1 tbsp
Lemon: 1/2 Piece
Coriander Leaves: 1 tbsp
Chaat masala: 1 tsp
Sev: 1 tbsp
Instructions
Take one cup of salted peanuts in a bowl.
Add finely chopped onion and tomato in the peanuts.
Add finely chopped green chili and squeeze half lemon in the bowl.
Now sprinkle a tsp of chaat masala in peanuts and mix it well.
Add green chutney in peanut chaat and mix well.
Take the peanut chat in a serving plate.
Sprinkle the sev and coriander leaves on the chaat and serve it.
Other popular Indian street food recipes