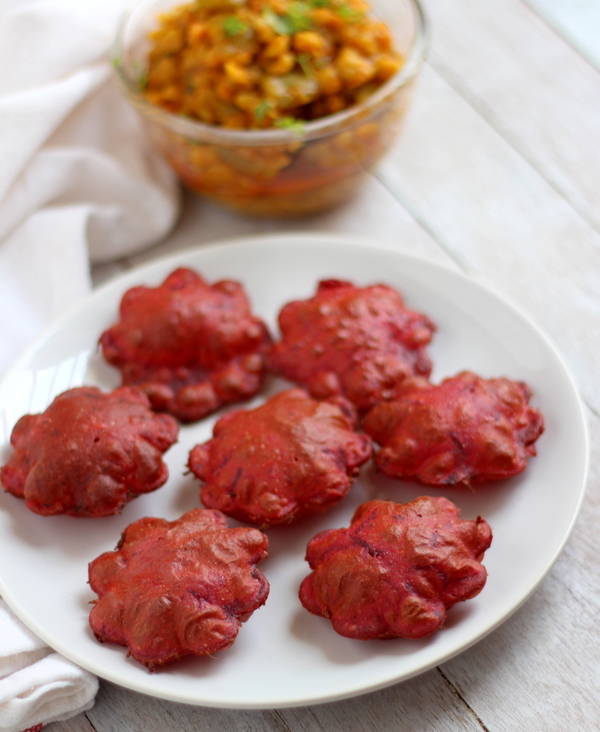 Beetroot Puri/poori recipe: Today I will share a very healthy poori recipe "Beetroot Puri". Before going thorugh the recipe I want to ask one question to you guys, How often do we  include beetroot in our diet? Well, if you don't remember when you ate this purplish-red root the last time, you need to start consuming it for its multiple health benefits. Just cut the beetroot and eat it as salad or even you can boil and consume this healthy root. For a twist I am adding beetroot in usual not so healthy fried pooris. Before that let's check few health benefits of beetroot also known as chukandar (चुकंदर) in hindi.

Some of the common health benefits of beetroot:
Very good for pregnant woman.
It lowers the blood sugar.
It keeps diabetes under check.
It reduces bad cholesterol.
There are so many other benefits of beetroot. Hope now you know so many good this vegetable is and include in your weekly diet.
Coming back to the recipe of beetroot poori,  this is a simple to make yet delicious recipe. You can make this pooris and serve along with aloo bhaji as poori bhaji. The recipe is similar to normal wheat flour poori that we serve with aamras. The red color make these pooris unique. Do try this recipe next time you plan to make poori bhaji for guests. I am sure they would love this.
Instead of beetroot we can also add palak (spinach) puree in poori and make palak flavoured poori. Also beetroot can be used to make beetroot paratha.
Let's check the step by step recipe of beetroot poori with pictures.
Step by step recipe of Beetroot Puri with pictures
We need following ingredients for making these delicious Beetroot pooris. Beetroot, whole wheat flour, ginger and green chili paste, ajwain (carom) seeds, oil and salt to taste.
To make dough for beetroot poori
To make delicious poori sieve the whole wheat flour (gehu ka atta) in a mixing bowl. Then add grated beetroot, ginger and green chili paste, salt to taste, pinch of Ajwain (carom seeds) and oil. Check the recipe box at end of this post to know exact quantities of each ingredients.
Mix well all the ingredients and add water to knead the dough.
Rest the dough for 5-7 minutes.
Divide the dough into small lime size dough balls for poori. Take each dough ball in hand and give it round shape and press it. We have prepared all the poori dough balls this way.
Now take a poori ball on rolling board and without applying any wheat flour roll it into poori and then using a cookie cutter cut small small discs. Also you can roll the dough into big roti and then using a cookie cutter cut small small discs.
Prepare the poori this way and keep aside.
Now to fry the poori, heat oil in a deep kadhai. Pre-heat the oil and check by putting a small dough piece if oil is hot enough. Once the oil is ready, carefully place the poori in hot oil.
Let the poori gets fry for 5-10 seconds. Press the poori on top using a frying spoon so that it puffs up.
Flip the poori on other side.
Fry the beetroot poori in oil until it turns golden brown. Take the poori out of kadhai and place it on kitchen napkin or paper to soak extra oil. Repeat these steps and deep fry remaining poori in oil.
Delicious beetroot poori is ready.
Beetroot Puri Recipe (Beetroot Poori)
Beetroot Puri Recipe (Beetroot Poori)
Beetroot poori - Delicious beetroot flavoured red puffed whole-wheat deep fried bread.
Recipe type:
Puffed-bread
Ingredients
Beetroot : 1 cup
Whole wheat flour: 1 cup
Ginger green chilli paste: 1 tbsp
Carom seeds (ajwain): 1/4 tsp
Salt: 1 tsp or to taste
Oil : 3 cups for frying
Instructions
Peel off the beetroot and grate it.
In a bowl take grated beetroot and add 1 cup wheat flour in it.
Now add salt, ajwain and ginger green chili paste.
Add 1 tsp oil and make dough similar to paratha dough. Keep aside for 5-7 minuts for resting.
Make small size balls from dough for puri.
Take the ball on rolling board and roll the puri. I have shaped puri with the cookie cutter. Add flour for dusting if needed (avoid if possible).
Repeat the above step for remaining dough balls and make puri and keep aside.
Heat around 3 cups of oil in a kadai. (Note: Quantity of oil depends on the size of kadai)
Once oil is hot carefully add rolled puri and start frying it.
Tap on the upper surface using skimmer and puff the poori.
Flip the puri to other side and cook until it turns golden in color.
Take the fried puri off kadhai and place it on kitchen napkin.
Repeat above steps and deep frying remaining puris.
Beetroot puri is ready to serve. Serve beetroot puri with aloo bhaji or any other veg curry of your choice.
Other Indian bread recipes: