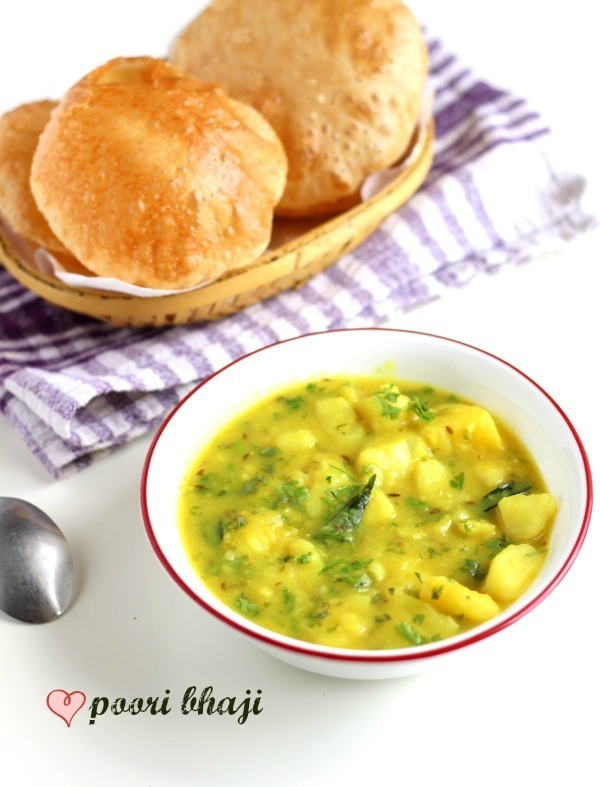 Puri bhaji gravy recipe or poori bhaji with step by step pictures – A perfect breakfast or brunch dish for lazy weekends 🙂
Poori bhaji is a combination of two dishes served together. Whole wheat flour deep fried flaky bread called puris and medium spiced boiled potato curry called bhaji. Puri bhaji is a versatile wholesome breakfast dish that is quite popular across India. You would not miss this dish in any restaurant's breakfast menu. In North India, puri bhaji gravy recipe is must for breakfast. A lot of small eating joints across the cities serve this heavy breakfast dish every morning. Puri bhaji is also a street food recipe served as street snack in central India. Those who have traveled in Indian railway would have definitely noticed puri bhaji served on railway station platform especially in North India.
I don't prefer to eat deep fried dishes in my breakfast, but still I can't resist to have poori bhaji once a while on weekends. Weekends are lazy and sometimes we combine breakfast and lunch and make this puri bhaji for brunch. Also puri bhaji gravy recipe can double up as a tiffin recipe. You can also pack puri bhaji for kids in lunch.

This recipe of puri bhaji is a no onion no garlic recipe. For making aloo bhaji I have added a little ginger paste. If you are not eating ginger then you can avoid that too. Also for this aloo bhaji recipe I have not added tomatoes. But you can add tomatoes if you like.I have made another aloo recipe with gravy called rasawale aloo sabji. You can serve it with pooris.
The puri bhaji recipe is not complete if puris are not puffed up nicely. Here are few tips and trick that might help you in getting perfect puffed puris for puri bhaji.
Tips to make perfect puffed puris for puri bhaji
While kneading the dough for puri, always add a little oil (about a tbsp) to make the dough softer.
While rolling the pooris, make sure they are not too thin. Otherwise they might not puff up nicely while frying.
You can roll all the pooris before frying. Just cover the rolled puri with wet cloth and keep aside. Also do not overlap the rolled puris as they tend to stick with eachother.
While frying the poori, make sure that the oil is not smoking hot. Otherwise puri might get burn.
If the oil is not hot enough the poori will not puff up. So check if the oil is hot by adding a small piece of dough. If the piece floats then the oil is ready for frying.
You can make puri bhaji in any order. First make puri and then bhaji or other way round. I tend to make bhaji first as we can re-heat it and serve it with puris. Pooris must be served hot and flaky right off the gas. So lets first make aloo bhaji and then puri.
Also you can knead the dough for puri first so that it gets enough time to rest and you can save some time.
1. Aloo Bhaji Recipe (Batata Bhaji) for Puri Bhaji
First let us make the potato bhaji for poori bhaji. For this we will need following basic ingredients. First some boiled potatoes, cumin seeds, mustard seeds, curry leaves, green chilies, ginger, salt, oil and some fresh coriander (cilantro). I have boiled 3-4 medium size potatoes in pressure cooker and then peel off their skin. Cut the boiled potatoes into medium size pieces.
Heat a non-stick pan and add oil in it. Once oil is hot add cumin seeds (jeera).
Once jeera starts turning golden brown add a pinch of hing (asafoetida).
Add curry leaves (kadi patta) and let them flutter for few seconds.
Now add ginger paste and finely chopped green chilies.
Sauté the ginger for 20-30 seconds till all the raw flavor is gone.
Now add boiled potatoes cubes in oil.
Give a stir and combine potatoes with cumin and other spices.
Now add turmeric powder (haldi), salt and add water in the curry.
Mix well and cover the pan with lid. Let the curry gets cooked for 4-5 minutes on medium flame.
Remove the lid and crush few potatoes in gravy using spatula.
Mix the bhaji well and garnish with fresh coriander (cilantro).
Aloo bhaji or batata bhaji for poori bhaji is ready. Serve the bhaaji hot with pooris.
Delicious aloo bhaji or batata bhaaji for puri bhaji is ready. Let us now make puffed whole wheat puri.
2. Puri Recipe for Puri Bhaji Recipe
Now to make puri for puri bhaji let us first make the dough for puri.
Sieve the whole wheat flour (gehu ka atta) in a large mixing bowl.
Add salt and oil in the wheat flour.
Now while adding a little water at time start kneading dough for pooris.
The dough should be of medium consistency not too soft not too hard.
Knead the puri dough thoroughly and keep it aside to rest atleast for 10 minutes.
Once the dough is well rested, divide the dough in small round lemon size balls.
Now let us roll the pooris or puri. Take a round dough ball on rolling board (chakla) and start rolling into small pooris of 3-4 inch diameter. Repeat this step and roll puris from remaining dough.
Now to deep fry the puris, heat oil in a deep bottom pan / kadhai. Do not heat the oil to smoking hot. Otherwise the puris might get burned. To check if the oil is ready for frying, add a small piece of dough and check if it floating on hot oil. Oil is ready for frying. Carefully place the rolled puri in hot oil.
While the poori is frying, tap using skimmer on top of the poori and let it puff. By tapping the puri should puff up from all sides.
Fry the puri until it turns golden in color.
Flip the puri on other side and let it cook till golden color.
The puri should puff up nicely.
Take the fried poori out of oil using skimmer and strain the excess of oil. Place the fried puri on kitchen napkin/paper towel.
Delicious deep-fried puri or poori for puri bhaji is ready. Serve the puri hot along with aloo bhaji with gravy for breakfast.
Poori Bhaji Gravy Recipe (Puri Bhaji Recipe)
Puri Bhaji Gravy Recipe (Poori Bhaji for Breakfast)
Puri Bhaji Gravy Recipe - A delicious Indian breakfast recipe of boiled potato spiced in indian spices served with whole wheat flour flaky bread called poori.
Ingredients
Ingredients for Puri
Wheat flour (gehu ka atta) : 1 cup
Oil : 1 tbsp for dough
Oil : 3 cups for frying
Salt : 1/2 tsp
Water : 1/3 cup or as required
Ingredients for Bhaji
Potato : 3 large
Oil : 1 tbsp
Cumin seeds : 1 tsp
Hing : 1/4 tsp
Green chilies : 1 piece
Ginger paste : 1 tsp
Salt : 1 tsp or to taste
Coriander leaves (hara dhaniya) : 2 tbsp
Water : 1 cup or as required
Instructions
To make bhaji for puri bhaji
Boil the potato and peel the skin off, cut into medium pieces. Keep aside.
In pan heat a tablespoon of oil and add cumin seeds and hing. Cook for about half min or till cumin seeds turn brown.
Then add curry leaves, green chili and ginger paste and mix well all the ingredients and cook for about 1/2 min.
Now add boiled and chopped potato and give a quick stir.
Add turmeric powder, water and salt to taste.
Cover the pan and cook for about 4 min and then open the lid and mesh some potato so that you get nice gravy.
Once the sabji is cooked garnish it with fresh chopped coriander leaves.
Serve aloo bhaji hot with Puri.
To make Puri for Puri Bhaji
Sieve whole wheat flour (gehu atta) in a large mixing bowl.
Add salt and oil and while adding little water at time, knead into puri dough.
Keep the puri dough aside for resting for atleast 10 minutes.
Divide the dough into small lime size dough balls.
Take a dough ball and place it on rolling board. Roll the dough into small 3-4 inch wide wheat puris.
Repeat these step and roll puris with remaining dough.
Now heat oil in a kadhai for deep frying.
Once oil is hot carefully add rolled puri and start frying it.
Tap on the upper surface using skimmer and puff the poori.
Flip the poori to other side and cook until it turns golden in color.
Take the fried poori and place it on kitchen napkin.
Repeat above steps and deep frying remaining pooris.
Puri is ready to serve. Serve puri along with puri bhaji for breakfast.
Notes
Do not make the aloo bhaji too thick or watery. The bhaji must be served in medium gravy. If bhaji is too dry, add some more water and adjust its consistency.
Other breakfast recipes similar to puri bhaji