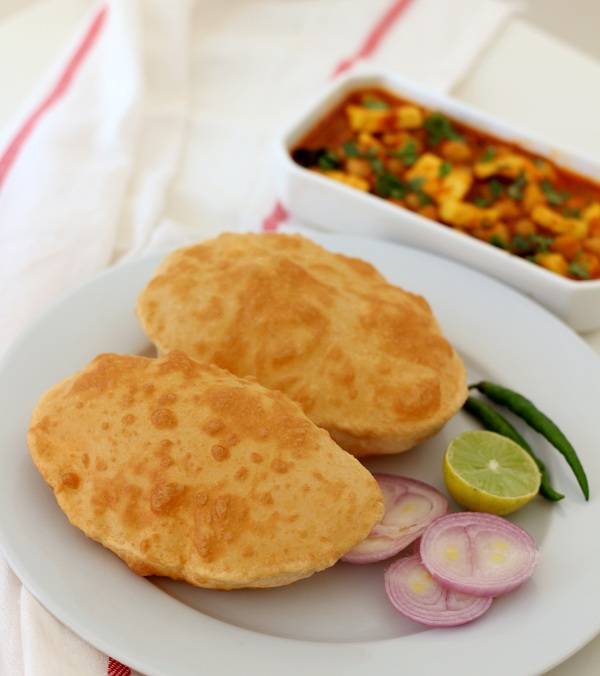 Bhature Recipe for Chole Bhature – Yesterday I published recipe of Chole paneer. I also made Bhature to serve along with chole paneer. The combination of chole and bhature is just superb. I order this dish most of the time when I go and visit my favorite eating joint. Chole bhature is one of the most loved street food in India especially Northern part. In Delhi you will get most authentic chole bhature. The deep fried leavened bhatura lift up the spicy taste of Chole. There is no alternative of Bhature when it comes to Chole. You can serve naan, kultchas, tandoori roti with chole but bhature beats them all 🙂
This Bhature recipe is not for faint hearted or weight watchers 😉 It has all the elements which you usually avoid while on diet. It has maida and it's a deep fried Indian bread with tons of oil. Hey but who cares when it comes to appetizing & toungue tickling fast food. Sometime the health factor doesn't matter when you want to celebrate life. All the time we eat junk food but I do say in favor of food made at home which is hygienic and using best available ingredients. Homemade fried food is hardly detrimental to health if eaten occasionally. Also the best way to keep in good shape is to exercise. If you exercise it should not matter if you eat food on high end of calorie spectrum.
Coming back to Bhature, a lot of recipe uses Yeast to ferment the bhature dough. However I made dough by giving it rest just for 2 hours before frying bhaturas. There is yet another recipe to make Instant bhature for chole bhature. It involves using soda / carbonated water. I will try to publish that recipe soon.
If you really want to make healthy version of bhature then you can cut the quantity of maida and mix whole wheat flour. You can mix upto 70% of whole wheat flour with 30% maida. However the bhature made that way taste more like pooris. But if you want to make bhature for kids or elderly then you can use whole wheat flour as mentioned here.
I wanted to publish the recipe of Bhature along with Chole paneer on same day. But I caught up in some work and couldn't finish writing the recipe. So here is the recipe of Bhature a day later 🙂
Recipe of Bhature for Chole Bhature with Step by step photos
To make these delicious Bhature we will need these ingredients: all purpose flour (maida), curd / yogurt, milk, sugar, baking soda and salt.
Let us proceed and make maida dough for Bhature. We are making this bhature recipe without yeast. Instead of yeast we will add baking soda, yogurt and milk to make bhature dough soft and fluffy. In a mixing bowl take all purpose flour (maida) and add salt, sugar, baking soda, curd and milk. For 1 and 1/2 cup of maida I have added 1/2 cup curd and 1/2 cup milk.
Now combine all the ingredients and adding little water at time knead a smooth dough. Take time and knead for 5 to 10 minutes to make silky dough.
Cover the bhature dough with a damp cloth. Let it rest for a good 2 hours in a warm place.
Once the dough is rested for 2 hours it should become fluffy and soft.
Now let us make Bhature. Knead the bhature dough again and divide it into small lemon size balls. You can adjust the size of balls according to the size of bhature you want.
Place a ball on rolling board and start rolling into 4 to 5 inch oblong disc as shown here. While rolling I have not used dry maida but if dough sticks to rolling board then dust the board with some maida.
Now to fry bhature let us heat oil in a deep bottom frying pan or kadhai. We will fry bhature same way as we fry pooris. Ensure the oil is hot before putting bhature inside. If oil is not hot enough then Bhature will not puff and also soak more oil.
Once oil is ready put bhature carefully inside. Once you put bhature in oil press in the center of bhature using frying spoon. This way bhature will puff.
Now flip bhature to other side and allow them to cook.
Fry the bhature till they turn golden in color.
Remove bhature and keep them on kitchen towel / paper napkin to drain excess oil.
Delicious soft and silky Bhature is ready. Serve the bhature hot with non other than chole or paneer chole and thin sliced onion, green chilies and lemon wedge on side. You can also serve Bhature with Amritsari style chole.
Recipe Box of Bhature for Chole Bhatura
Bhature Recipe for Chole Bhature
Bhature Recipe for Chole Bhatura - A tasty fried Indian puffed leavened bread made from maida served with chole or chana.
Recipe type:
Indian bread
Ingredients
Maida: 1 1/2 cup
Curd: 1/2 cup
Milk: 1/2 cup
Sugar: 1 tsp
Salt: 1 tsp
Baking soda: 1/4 tsp
Oil: 3 cups for frying
Instructions
In a bowl add maida flour then mix all ingredients like sugar, salt, baking soda, curd and milk.
Adding little water at time knead soft dough. Dough should be softer than roti dough.
Knead gently into soft dough. Once dough is ready cover it with a damp / wet cloth and keep aside in warm place for resting for 2 hours.
Once the dough is well rested for 2 hours knead again and divide it into lemon size balls.
Take a dough ball and roll it into 4 to 5 inch oblong circular shape bhatura.
Heat oil in the pan, ensure that the oil is hot otherwise Bhature will not puff and also soak excess of oil.
Also oil should not be smoking hot otherwise the bhature will become dark soon.
Gently slide one rolled dough into hot oil and let it get cooked.
While putting bhature in oil press the bhature in the center and allow them to puff.
Now flip bhature to the other side and let it cook. When the bhature is light brown take it in the kitchen towel to drained excess oil.
Bhature are ready to serve.
Serve bhatura hot with chole, paneer chole or amritsari chole.
Notes
You can use Soda water (carbonated water) to make Instant bhatura.