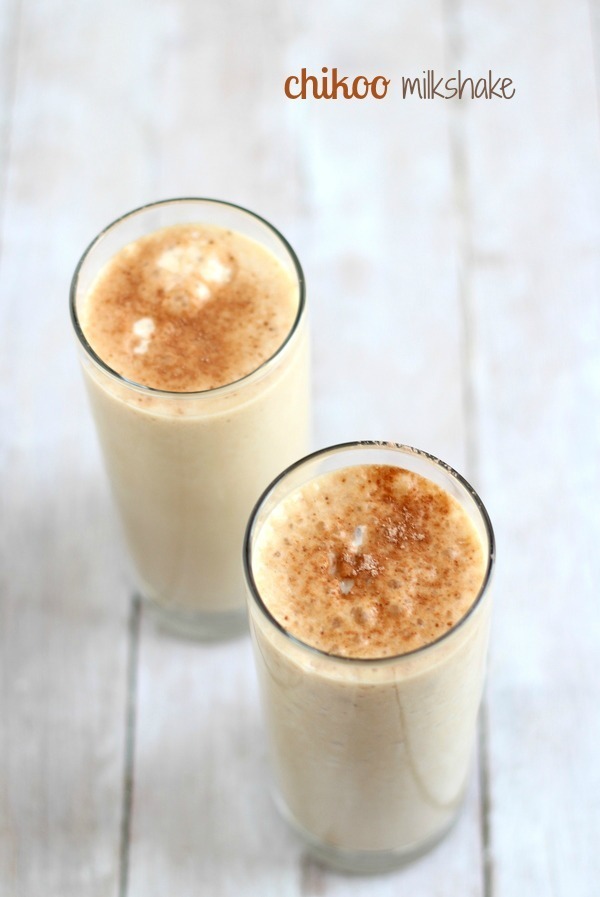 Chikoo Milkshake Recipe – A very smooth smoothie recipe of chikoo with a touch of vanilla.
"Chikoo" isn't that the cutest name ever? I love the sound of "Chikkkkuuuuu" 🙂 This cute name is famous only in Indian sub-continent. This fruit is known by many different names across world. Some of the names of Chikoo are sapote, noseberry, sapodilla plum, chico sapote etc. The origin of this fruit is in Mexico and Caribbean. Thanks to Spaniards who bought this fruit to Indian sub-continent. And there after it become a native fruit that everyone loves in India.
This fruit is the value for money fruit ever. I consider banana and chikoo a "volksfrucht" a true people's fruit that everyone can afford. You go anywhere in India: on street, in train, in bus stops you will find a vendor with a handcart selling chikoo. I have grown up eating this humble fruit in all forms. My favorite is ofcourse chikoo milkshake. I love the cold feeling of having a sip of this smoothie on a hot afternoon. The other day (in the month of May) I went to a government office and as usual it took quite a long time. There were queues for everything. To fill the form, to verify the form etc. It took me 3 hours to complete my work and return home exhausted. I didn't even had lunch and made chilled chikku shake. I still can feel the contempt feeling that I had after having a glass full of chikoo milkshake. Very next day I made chikku milkshake again and clicked these pictures for recipe. I had to share it.
Coming back to the milkshake recipes, I have shared many milkshakes and smoothies on this website. From avocado, strawberry apple to kiwi melon, but this chikku milkshake is value for money milkshake. The cheapest and yet one of the healthier smoothie. The natural sweetness of chikku makes it best fruit for milkshake recipes. The ripe ones are especially good as they are softer and sweeter.
If you have tried chiku shake and felt your lips sticking to each other, you are not alone. Me and my bro used to laugh a lot when we were kids on this. Take a sip of chikku shake and press your lips hard, try to open them slowly.. ammmmmm hehehe.. they stick as if you have applied any adhesive there. Jokes apart, the reason why this happens. Why do lips get sticky when having chikoo milkshake. Well that's because some of the chikku in your batch might be unripe one. Unripe chikoo has a white sticky latex substance that makes lip sticky. If you use all ripe chikoo then you can avoid this.
Below are few health benefits that you must know of this humble down to earth fruit.
Few Health benefits of Chikku or Chikoo
Chikoo is naturally sweet due to natural sugar fructose and sucrose and hence its energetic too.
This fruit is one of the cheapest fruits available in India. Everyone can afford this delicious healthy fruit.
It has natural dietary fiber and roughage that helps improving tummy health and fight with constipation and other digestion related problems.
Chikku is consider to be good for lactating mother due to essential nutrients and carbohydrate. It helps in pregnancy by overcoming nausea and dizziness.
This fruit has a lot of minerals including calcium, iron and phosphorous. Hence its good for bones and helps in strengthening them.
Other Summer Milkshake Recipe that you should't miss
Chikoo Milkshake Recipe Box
Chikoo Milkshake
Chikoo Milkshake Recipe (Sapota Milkshake) - Simple smooth milkshake recipe of chikku. Perfect for hot summer afternoons and morning breakfast.
Ingredients
Chikoo : 4 medium
Milk : 1 cup
Crushed Ice : 1/2 cup
Vanilla essence : 1/8 tsp [optional]
Sugar: 1 tbsp [optional]
Instructions
Remove the skin of Chikoo properly.
Cut the chikkos in quarters and remove the seeds.
Put chikku in a juicer or mixer and add milk. Add sugar if you feel the chikoo are not too sweet.
Add a drop of vanilla essence. Alternatively you can add vanilla ice cream too.
Blitz into smooth milkshake.
Open the jar and add ice cubes. Blitz again.
Chikoo milkshake is ready. Pour the milkshake in serving glasses and serve chilled.