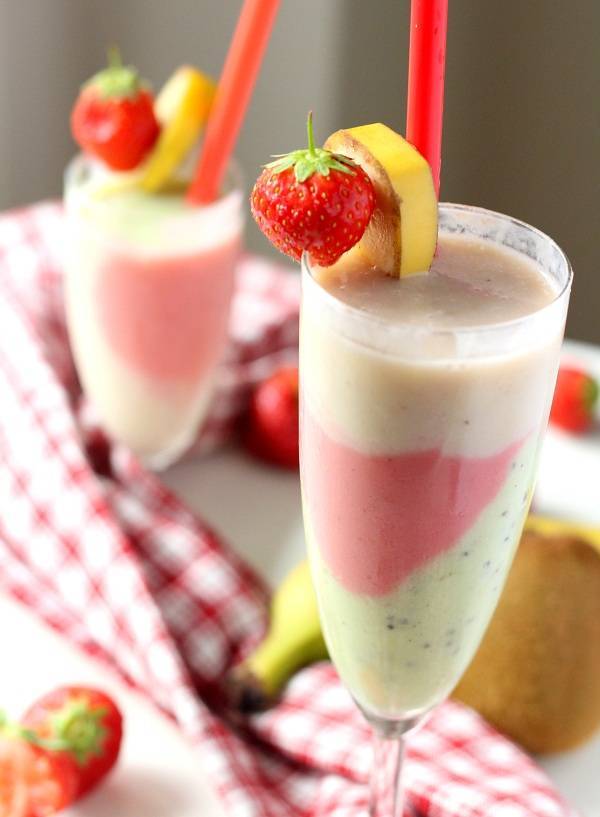 Milkshakes are easy way of refreshing your body when you are stressed. Not only it gives essential vitamins that are part of fruits you have added but also the milk gives you all nutrients that body needs. There are infinite ways of making milkshakes. It all depends on your creativity and the fresh fruits available in market in given season.
You can always stick to the the old famous milkshakes like strawberry milkshake, banana milkshake, apple milkshake or experiment with the fruits that are available in your kitchen.
Here I have done a little experiment of my own. I have already tried strawberry and kiwi milkshake, but I thought adding another fruit might add some twist in the oldie. So I tried bananas as the third ingredient in this milk shake.
The strawberry kiwi banana milkshake is straight forward. As its name suggest it simply comprise of these three highly nutrient fruits. You can blend this milkshake in minutes and serve fresh.
Add a couple of ice cubes and this smoothie is a delight to have in hot summer afternoon or whenever you feel like.

Strawberry Kiwi Banana Milkshake Recipe
Strawberry Kiwi Banana smoothie: A healthy smoothie to detox your body. A perfect way to start morning is with super healthy strawberry kiwi banana smoothie.
Ingredients
Strawberry: 1 cup
Kiwi: 1/3 cup
Banana: 1/3 cup
Milk: 3 cup
Honey: 1 tbsp
Instructions
Cut the strawberries and kiwis into pieces and place it in blender.
Also cut banana into pieces and put it in blender.
Add a cup of milk in blender and honey to taste.
Blend it til it become smooth.
Serve cold or at room temperature.
Notes
1. Serve the Strawberry Kiwi Banana milkshake immediately. It taste much better when it is fresh.

2. Instead of adding ice while blending you can froze kiwi, banana, strawberry in refrigerator and blitz them while serving.