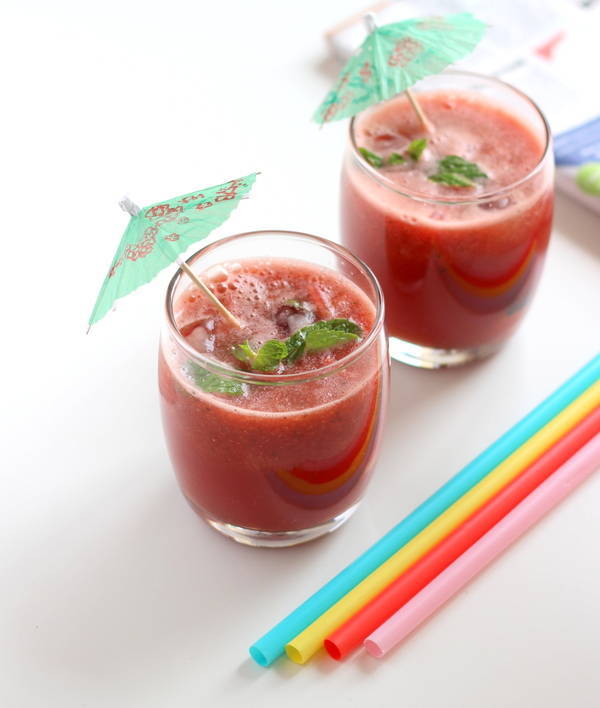 Watermelon Mint Drink or Indian watermelon juice – A healthy refreshing and thirst quenching drink made from fresh watermelon, mint and Indian spices.
This watermelon mint drink is best for hot summer days. Not only the watermelon helps in hydrating body in hot afternoons but also the mint refreshes whole body and makes it cool. Both watermelon and mint have cooling effect on body which helps in preventing heat stroke (loo lagna) during summer. Hence the watermelon mint juice is best for school returning kids who come home in afternoon.
Summer special: saunf sherbet | kachi keri sherbet
Watermelon or tarabūja has so many health benefits… Despite popular belief that watermelon is made up of only water and sugar, watermelon is actually considered a nutrient dense food, a food that provides a high amount of vitamins, minerals and antioxidants for a low amount of calories. Watermelon also contains fibers that are great for your digestive system. The are good for your eyes and also helps reduce fat from body.
During summer one favorite Indian cooling drink is aam panna – made from raw mangoes by boiling the pulp and mixing it with indian spices. In this watermelon mint juice I tried using same spices and the result is watermelon panna 🙂 It taste really great.
Watermelon Mint Drink Recipe Box
Watermelon Mint Drink, Indian style watermelon & mint juice
Watermelon Mint Drink - A refreshing chilled juice of watermelon and mint with Indian spices.
Ingredients
Watermelon : 1 medium
Mint : 14 leaves
Rock salt : 1 tsp
Roasted cumin powder : 2 tsp
Ice cubes : 8 pieces
Instructions
Cut the watermelon into medium size chunks and de-seed it. Also cut watermelon into small chunks and keep aside.
Pluck the mint leaves and wash them in water.
In a mixer grinder take watermelon, mint leaves, roasted cumin powder, rock salts and blitz into smooth juice.
Strain the juice using a strainer and pour into serving glasses.
Add ice cubes and serve chilled.
Other summer recipes similar to watermelon juice