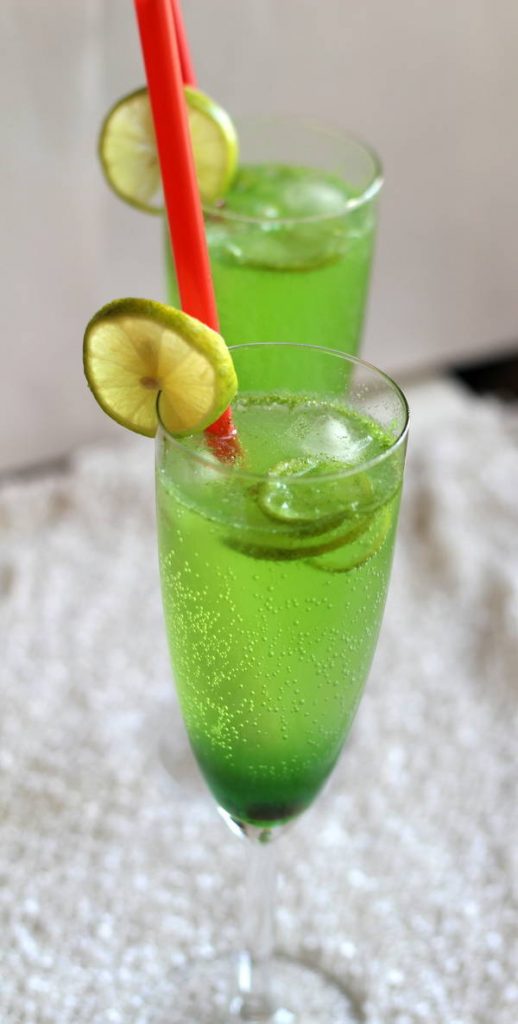 Khus Cooler Recipe – First let me wish my fellow readers a very happy new year. I am few days late in wishing you all but I really got busy with things and hardly got time to write. So let me apologize with this simple yet elegant welcome drink to welcome the year 2015.
I am sharing a simple recipe of welcome drink made from Khus syrup that is readily available in market. Khus is a type of grass known as vetiver. The word is derived from Tamil word வெட்டிவேர் / vettiver. Khus syrup looks dark green in color. It is extracted from the grass. A lot of brands nowadays sell khus extract in form of essence and syrups. I have used the famous Mapro brand khus extract.  Do read the label before buying the syrup as a lot of time you will get artificial flavoring instead of real khus extract. Also the deep green color in khus syrup is attributed to edible green color. The natural khus sharbet would be brownish in color. But if you do not have time to make khus sharbet from dried khus grass you can use organic ready made extract available in market.
You can make varieties of drinks and milkshakes using khus. It has cooling effect on body and is quite refreshing during summer. However this new year I used the khus syrup to make welcome drink for a dinner party.
Related: Guava welcome drink
For this party drink I have added ginger and mint to khus. Also adding club soda make it fizzy and great in taste. The ginger gives extra kick that many people fail to identify when they are having this drink.
Do try this simple khus spritzer and let me know how it came out.
Let us check the simple recipe of khus spritzer or cooler.
Steps with pictures to make Khus Cooler
We need very few ingredients to make this khus cooler. Some fresh mint leaves, ginger juice, lemon juice, salt, club sode, ice cubes and of course Khus syrup.
In mixture jar take ginger juice, lemon juice, mint leaves, khus syrup, salt and some ice cubes and grind well all the ingredients.
All the ingredients are mixed well now strain the mixture with the help of a strainer.
Now the concentrated liquid is ready. One can always prepare the concentrated liquid in advance before the guest arrives.
Pour the equal amount of concentrated liquid in serving glass and then add the club soda to it and serve chilled.
Add some ice cubs and serve khus cooler or khus spritzer chilled.
Khus Cooler or Khus Spritzer (Welcome drink)
Khus Cooler Drink (Welcome Drink)
Khus Cooler - A tasty welcome drink for parties made from khus, ginger, mint & lemon.
Recipe type:
Welcome Drink
Ingredients
Khus syrup: 8 tbsp
Ginger:1 tbsp
Mint leaves: 15 leaves
Lemon: 1 1/2 tsp
Club soda: 2 glass
Salt: 1/4 tsp or to taste
Instructions
In a mixture jar add khus syrup, mint leaves, lemon juice, ginger and salt to taste and grind all the ingredients well.
Once the mixture is ready strain it with the help of a strainer.
Now the concentrated khus mixture is ready .
Fill the equal amount of mixture in the serving glass and pour club soda while serving.
Fresh and refreshing khus drink is ready to serve in no time.