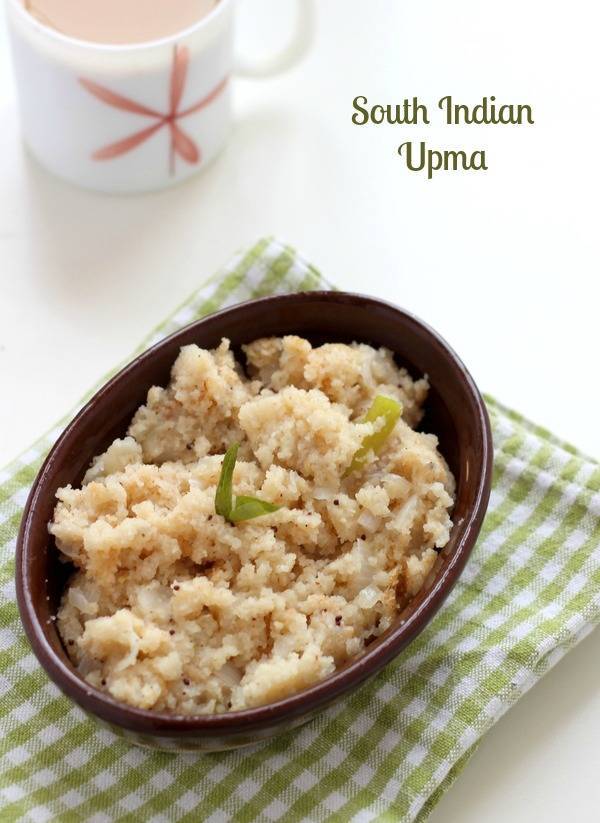 Rava upma recipe (South Indian Upma) with step by step – A quick & healthy breakfast recipe made from samolina.
A common dilemma every homemaker faces in the morning is "what to make for breakfast?". If you have felt this once in your life then don't worry, you are not alone. I myself have faced with the same question many times. However there are so many vegetarian breakfast recipes that one can make and it will not repeat until next few weeks.
For me the breakfast is usually thepla or bhakri. On weekends I take a break from usual Gujarati breakfast dishes and try every other veg breakfast variation out there. Poha and upma are my first choice when it comes to breakfast. Even if I am travelling, I prefer to have poha or upma as they are usually prepared fresh. Rava upma and Dosa are considered to be South India's signature breakfast recipe. However I don't eat Dosa for breakfast. Rather I am more of a "Dosa for dinner" person. For me Upma is the best breakfast choice.
Don't miss: aloo poha | bread upma
The recipe of Rava upma or sooji upma that I am sharing today is the simplest form of upma without any nuts and bolts. I have not added any vegetables or dry fruits or any other flavoring agent. This is the basic upma recipe that I make on weekends. It hardly take any time for preparation and get ready while my tea is boiling. Both tea and upma are ready within 15 minutes and breakfast is served 🙂

15 minutes Recipe of South Indian Rava Upma with step by step pictures
To make delicious south indian upma for breakfast we will need very few ingredients. Sooji or rava, onion, green chilies, curry leaves, urad dal, oil and ginger.
Take rawa in a pan and dry roast the rava/sooji on low flame for few minutes. Be careful while roasting rava as it might turn brown. Once roasted keep the rava aside.
Now heat a pan and add oil in it. You can even make rava upma in ghee/clarified butter. But normally I make upma in oil for breakfast. Once the oil is hot add urad dal (white lentil) and saute for 10-20 seconds.
Add mustard seeds in oil and saute for 10-20 seconds till they starts fluttering.
Also add hing (asafoetida).
Now add finely chopped ginger, green chilies and curry leaves. Saute for around 30-40 seconds till raw flavor or ginger is gone.
Saute the green chilies, ginger for 30-40 seconds until its raw flavor is gone.
Now add finely chopped onions. Saute the onion for 2-3 minutes till they become translucent.
Once the onions looks translucent, add water and mix well.
Also add salt in water and let water comes to boil.
Once the water comes to boil add roasted rava or sooji slowly while stirring continuously.
Mix well while adding rava in boiling water. Cover the lid of pan and cook rava upma for 5 minutes until all the water evaporates.
Once the water is gone, the rava upma is ready to serve. Serve South Indian Rava Upma recipe for breakfast along with a cup of tea or glass of juice.
Let's check the recap recipe of breakfast upma.
South Indian Rava Upma Recipe Box
Rava Upma Recipe (South Indian)
Rava Upma Recipe - A traditional South Indian breakfast dish made from roasted semolina.
Ingredients
Rava/Sooji (samolina): 1/2 cup
Urad dal (white lentil) : 1 tsp
Oil : 1 tsp
Onion : 1 medium
Curry leaves (kadi patta) : 6 leaves
Hing (asafoetida) : 1/8 tsp
Mustard seeds (rai) : 1/2 tsp
Green chilies : 2 chilies, slit lengthwise
Ginger : 1 tsp, finely chopped
Water : 2 cups
Instructions
Take samolina/rava in a flat bottom pan or tawa and roast on medium flame for 1 minute. Once roasted keep aside.
Chop the onion and green chili and finely chop ginger.
Heat a deep bottom pan or kadhai and add oil it it.
Once the oil is hot add urad dal and cook for 10-20 sec.
Then add mustard seeds (rai) and hing (asafoetida) & cook till mustard seeds flutters.
Add green chili, curry leaves and ginger ,saute for about 30-40 sec.
Throw in the chopped onion and cook for about 2-3 min or till onion becomes translucent.
Once the onion are cooked add water and salt to taste.
Let the water comes to boil once then add roasted rava/samolina and cook for about 5 min or till water evaporates.
Rava upma is ready to serve with the cup of tea or glass of juice.
Other breakfast recipes similar to Rava Upma