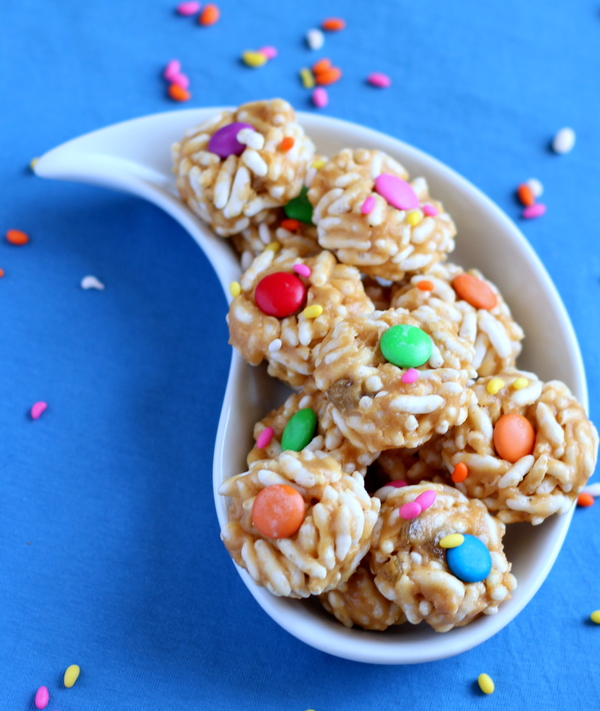 Puffed Rice Peanut Butter Balls (Cooking without fire) – A delicious no bake no cook peanut buttery puffed rice balls. Yes, you are reading it right. This is a dish cooked without doing actual cooking. A dessert or sweet dish made by combining few of the ingredients. Very very easy to make and amazing in taste.
Whenever we are planning for a lunch party or dinner party we make sure to add a paneer dish as main course and then we might plan a pulao or biriyani. Dessert is always that we consider in the end. Either we opt for indian sweets like halwa, ladoo etc or totally omit it from the menu. However you have an option of making a simple sweet ball recipe that you can serve as either welcome bites or as a sweet. Kids love this puffed rice balls as it is combined with one of their favorite ingredient: peanut butter.
Related: Chocolate dessert – No bake no cook
Peanut butter has protein as well as potassium — which lowers the risk of high blood pressure, stroke and heart disease. It also contains fiber for your bowel health, healthy fats, magnesium to fortify your bones and muscles, Vitamin E and antioxidants. Thus it is really good for your health. Combining peanut butter with honey makes it really healthy and tasty.
Puffed rice or more commonly known in India as murmura (mamra in gujarati) are flaky baked rice available in super market. We make so many dishes with murmura. It is a must ingredient in any bhel recipe. Puffed rice combined with sev known as sev murmura goes really well in lot of dishes like masala murmure, sev murmure bhel etc. Usually puffed rice are used in snacks and savory however we can also use it in a sweet dish.

This dish can also be served when taking part in a cooking competition for colleges/schools or even offices. Nowadays there are so many different and innovative cooking competitions like "cooking without fire". All the recipes that you can make is just by combining different ingredients and using other cooking techniques without using actual heat. Calslaw salad, vegetable cheese sandwiches, chocolate desserts are few of the dishes that can be made for such competition. And of-course you can serve these puffed rice and peanut butter balls in it too. You can even make this dish when you have a kitty party at home or for kids birthday party. Thus even kids can make this recipe and learn few things about cooking.
Storage tips: Can store these puffed rice peanut butter balls in an air tight container for a week in refrigerator.
This recipe is inspired from Nita Mehta. I really liked her recipe and thought of sharing it with my lovely readers 🙂
Step by step recipe of Puffed Rice Peanut Butter Balls
To make the puffed rice balls very simple ingredients are needed like puffed rice, peanut butter, honey, powdered sugar, rasines that's it and the recipe would be ready in no time.
In bowl take honey. I have used the dabur brand honey available in indian grocery store.
Now add powdered sugar in honey.
And add peanut butter. You can use homemade peanut butter or store brought also.
Using a spoon combine well all the ingredients.
Now add puffed rice to the mixture. There are varieties of puffed rice (murmura) available. Use any murmura of your choice.
Add raisins (kismish) if you like. You can avoid if you want.
Again mix well all the ingredients so that murmura are evenly coated with peanut butter and honey.  The mixture for our sweet balls is ready.
Take a portion of this mixture in hand and press into small flat balls as shown here. Repeat this step and make balls from remaining mixture.
Now place the gems on top and slightly press. Refrigerate the ball for 10 minutes or until they are hard.
Sweet puffed rice and peanut butter balls dessert is ready to serve. Take out the dessert from refrigerator just before serving and serve cold.
Let us check the recap recipe of puffed rice and peanut butter balls (no bake no cook recipe)
Puffed Rice and Peanut Butter Balls Recipe Box
Puffed Rice Peanut Butter Balls (Cooking without fire)
Puffed rice peanut butter balls - A sweet delicious no bake no cook puffed rice and peanut buttery balls.
Ingredients
Puffed rice (murmura) : 1 cup
Honey : 1/4 cup
Powdered sugar : 1 1/2 tbsp
Peanut butter : 1/2 cup
Raisins (kismish) : 2 tbsp
Gems : 15 gm (1 packet = 15 gm)
Instructions
In a bowl take honey and add powdered sugar and peanut butter. Mix well.
Add puffed rice and raisins (kismish) and combine it well so that it is properly coated with peanut butter.
Mixture is ready to shape. Take a portion of this mixture, press between palm and make small balls.
Repeat above step and make sweet balls until the mixture is used.
Garnish the balls with gems and place it in refrigerator for 10-15 minutes to set.
Sweet puffed rice peanut butter balls are ready.
Related recipes similar to puffed rice peanut butter balls