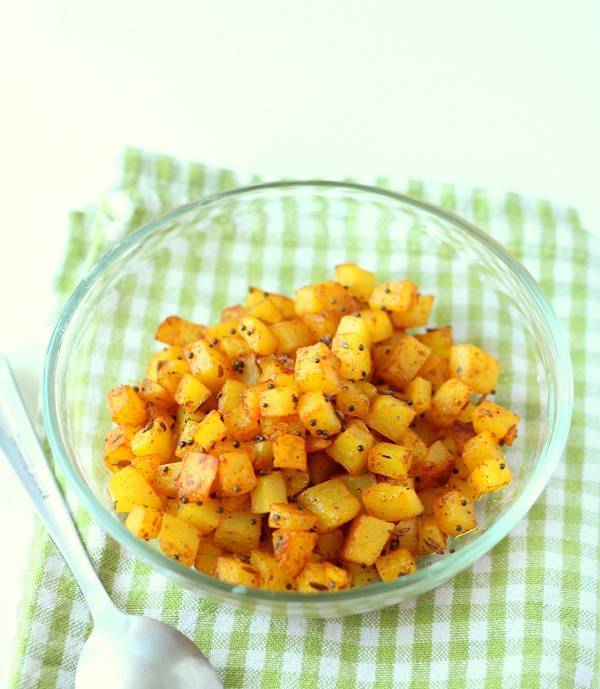 Potato poriyal recipe – Poriyal is a common house hold dish in South India. Poriyal is a tamil word that means fried or sauteed vegetables. It makes an excellent companion with main course dishes such as sambar rice, rasam rice, curd rice, lemon rice etc.
Here I have made a quick Potato poriyal recipe that I served with sambar rice. This recipe is so quick that you can make it within few minutes and serve with any kind of south indian preparation. Potato poriyal are shallow fried potatoes that are sauteed with masalas. It looks oily but taste yummy :). For those who are cautious about oil consumption can use least amount of oil you want. Also once the potato poriyal is ready, use kitchen napkin to soak extra oil.
Poriyals can be made with any different combinations of vegetables. Like potato poriyal, you can also make okra/bhindi poriyal, tindli poriyal, beans poriyal, beetroot poriyal, potato green peas poriyal etc.
Potato Poriyal Recipe – Step by step
Peel off the potato and cut into small dices. If possible try to cut equal dices so that they are cooked evenly.
Now in a non-stick pan heat oil in pan and add cumin seeds (jeera) and mustard seeds (rai) and let the seeds crackle.
Once the mustard seeds starts fluttering, add a pinch of asafoetida (hing).
Add diced potatoes and mix it well.
Now add turmeric powder, red chili powder and salt to the taste.
Saute till potatoes are nicely cooked.
South Indian style Potato poriyal is ready. Serve hot with sambhar rice, lemon rice or curd rice.
Potato poriyal recipe: South Indian potato poriyal
Potato poriyal recipe - Typical south indian dry vegetable curry which is commonly served with main course.
Ingredients
Potato: 1 cup
Oil: 1 tsp
Mustard (rai) seeds: 1 tsp
Cumin (jeera) seeds: 1 tsp
Asafoetida (hing): 1/4 tsp
Turmeric powder: 1 tsp
Red chilli powder: 1 tsp
Salt: 1 tsp or to taste
Instructions
Wash and peel the potato and cut them into small roughly equal size dices.
Heat oil in the pan and add the cumin seeds and mustard seeds and let them crackle.
Then add Asafoetida (hing) and diced potato.
Mix well the potato so that it gets soaked in oil.
Now add the turmeric powder, red chili powder and salt to taste. Stir it well.
Cook for 2-3 minutes until potatoes are cooked.
Potato poriyal is ready to serve.