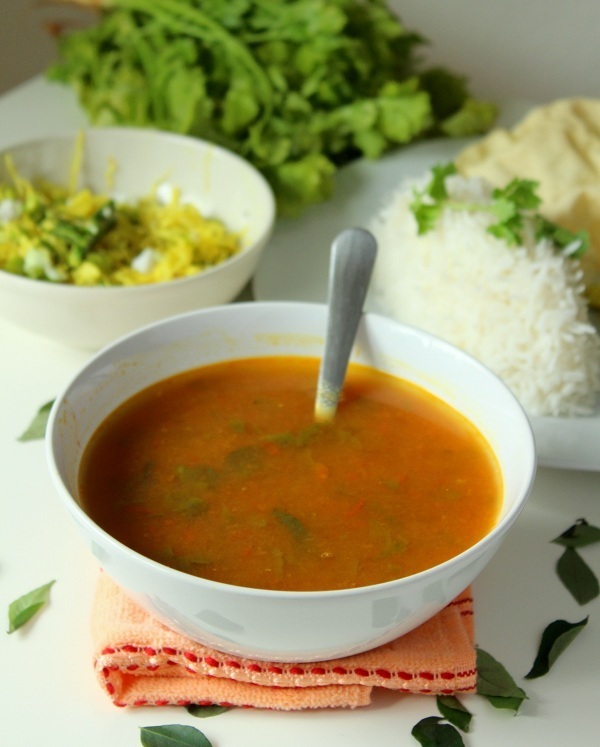 South Indian Style Rasam Recipe –  The word 'Rasam' has its origin in ancient Sanskrit literature. 'Rasam' means juice in Sanskrit. However we refer Rasam to the spicy South Indian soup made from tomato and tamarind pulp.  If you like spicy and tangy flavors you will love Rasam. This tasty Rasam soup is usually accompanied with rice, poriyals and other South Indian courses.
I love the tangy taste of this Tamarind Rasam. Rasam is very good if you have cold. The spicy taste helps to easy sour throat. Rasam makes an amazing soup dish for monsoon season.
This is a quick and simple south indian style rasam recipe. Sometimes you have to cheat a little to make life easy in kitchen 😉 I have used ready made Rasam powder which is readily available in grocery stores. However you can always make rasam powder at home and store it for later use. I have given the steps of making rasam powder in below recipe box.

South Indian Style Rasam recipe
1. Cut 2 tomatoes and add them in the mixture and roughly grind it. Don't make the puree of the tomatoes.
2 In a pan heat oil and add asafeotida (hing), dry red chili, curry leaves and add roughly chopped tomatoes and cook for about 5 min.
 3. Add water, tamarind (imalī) juice extract and the rasam powder and let it cook for about 10 min so that the flavors of tamarind and rasam powder would mix well with the tomatoes. If you don't have Rasam powder check the recipe below in the recipe box. I have mentioned an alternative recipe of preparing Rasam without rasam powder.
4. Once the rasam is cooked for about 10 min add the finely chopped green coriander leaves (Cilantro).  Now the rasam is ready to serve . I have served the rasam with plain rice and the beans cabbage poriyal and appalam. All kinds of poriyals goes well with the rasam and plain rice.
South Indian Style Rasam
South Indian Style Rasam - This rasam is made with the tomatoes, it is spicy and tangy in taste and you can have rasan with plain rice, vada or just as a soup too.
Ingredients
Tomato: 2 pieces crushed
Tamarind: 30 gram
Rasam powder: 1 tablespoon
Dry red chili: 1 piece
Curry leaves: 5 leaves
Water: 2 cups
Coriander leaves: 1/2 cup chopped
Pinch of asafoetida (hing)
Salt to taste
Instructions
To make rasam with rasam powder
Soak the tamarind in the water for about half an hour and strain out the pulp.
Chop the tomato and roughly blend the tomato. Note: don't make fine puree of the tomato.
In a pan heat oil and add asafoetida (hing), dry chili, curry leaves and add the roughly blended tomatoes, let the tomato cook for about 5 min and then add rasam powder, salt and water and again cook for about 10 min. Sprinkle some fresh coriander leaves (cilantro) on top.
Alternate way of making rasam without rasam powder
In case you dont find the rasam powder not to worry there is the alternate way to make rasam powder. "If there's will there's a way" ; )
Take 3-4 dry red chili, 1 tablespoon coriander seeds, 1 teaspoon cumin seeds, ½ teaspoon black pepper, 1 teaspoon chana dal, 2-3 cloves, 1 teaspoon methi seeds dry roast all the ingredients and put it in the mixture and make a fine powder.
Note If you are using home made rasam powder in rasam, then in oil add the paste of 1 big garlic clove and 1 tablespoon of the above home made rasam powder.
Notes
If you are making the rasam powder at home, the leftover rasam powder can be stored in an air tight container for about a month.