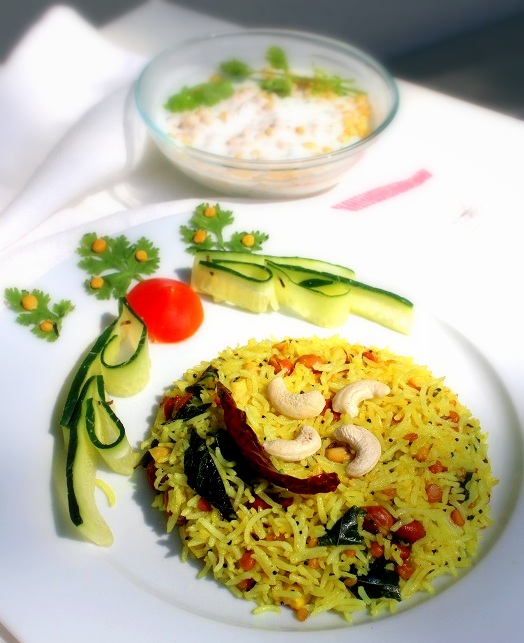 Lemon Rice recipe South Indian style. This is an easy recipe of Rice that can be prepared in minutes and taste amazing. Lemon rice is a great way to renovate the left over rice from previous night 🙂
The lemon rice recipe has many different versions. I have used the typical South Indian way of preparing lemon rice. The key ingredients other then lemon in this lemon rice is curry leaves and peanuts. Normally in South India coconut is added in lemon rice preparation. But that is optional.
Lemon rice has quite tangy taste. The lemon gives citric taste to rice as well as act as natural preservative. You can store the lemon rice in refrigerator for a day.
p.s. Also check my sambar rice recipe, coconut rice recipe and different South Indian poriyal preparations which goes really well with Lemon rice.
Lemon Rice Recipe – South Indian Style
1. We are using following ingredients in our South Indian styled Lemon rice recipe. Note the curry leaves and peanuts in this recipe gives it a typical South Indian touch. Also I have used lemon. Instead of that you can use the normal lime juice.

2. Heat around a tablespoon of oil in pan and add mustard seeds (rai), cumin seeds (jeera) and let them temper in hot oil. Once they crackle add a pinch of asafoetida (hing), chana dal, urud dal, peanuts, cashew nuts, green chilies, curry leaves. Let the dals get cooked properly in oil.

3. Once the chana dal is cooked, add lemon juice. Lemon juice can be added in the boiled rice but I like to add lemon juice directly in the tempered lentils. Also add turmeric powder in this mixture.

4. Boil the rice separately in a pressure cooker or pan. Make sure you don't over cook the rice otherwise lemon rice will become soughy.  You can also use left over rice for this recipe.

5. Mix the rice thoroughly and let the lemon rice get cooked on closed lid for 1-2 minutes. The rice will soak all lemon flavor  and will taste really good.

The lemon rice is ready. This amazing easy to cook South Indian Lemon Rice is very tasty and goes really well with Curd raita, South Indian Poriyals etc.
South Indian Lemon Rice Recipe
Lemon Rice Recipe South Indian Style
Lemon Rice Recipe - South Indian styled lemon rice cooked with curry leaves, peanuts and cashew nuts.
Ingredients
Basmati rice: 1 cup, boiled
Oil: 1 tbsp
Mustard seeds (rai): 1 tsp
Cumin seeds (jeera): 1 tsp
Asafoetida (hing): 1/4 tsp
Split black gram (urad dal): 1 tsp
Chana dal: 1 tsp
Chili sliced: 1 tsp
Peanut: 1 tbsp
Cashew nuts: 1 tbsp
Turmeric powder: 1/3 tsp
Lemon juice: 1 tbsp
Curry leaves: 5 leaves
Salt: 1 tsp or to taste
Instructions
Boil a cup of basmati rice in a pan/pressure cooker. See that rice does not get over cooked. You can also use left over rice for this recipe.
In a pan heat oil add mustard seeds, cumin seeds and let it temper.Then add asfetodia, chana dal, urad dal, peanut, cashew nut, green chili, curry leaves salt and stir it for 2 minutes.
Add the lemon juice and cook for a min, then add boiled rice and mix all the ingredients well and cook for about 3 min.
South Indian styled Lemon Rice is ready to serve. Serve it hot with different poriyals or curd raitas.