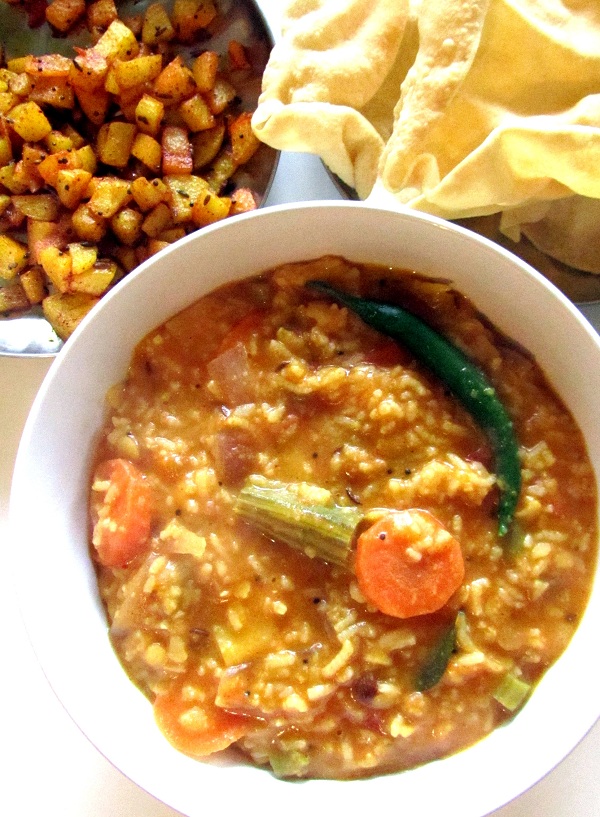 Sambar rice is one of the common main course meal of South India. It is rich in nutrients as it contains lots of vegetables and lentils. Sambar rice is also known as Sambar sadam in state of Tamilnadu. Sadam literary means "rice" in Tamil.  Sambar rice often comes in typical south indian meals. A meal in south india usually consist of sambar, rasam, poriyal, curd, applam and rice.
Sambar is reflective of a broad and ancient tradition of lentil-based vegetable stews in southern India. It is made either exclusively with one of these vegetables or a combination of okra (bindi), moringa (drumstick), carrot, radish, pumpkin,  beans, potatoes, tomatoes, brinjal (eggplant) and whole or halved onions.
Sambar is part of many south indian recipes. Lot of other food items like vada sambar, idli sambar etc are based on sambar.
I have added sambar masala to give the typical south indian taste. You can also grind this masala fresh or use the market version which are also good in quality.
Sambar rice goes really well with potato poriyal and curd. You can serve it with curd raita, applam, papad and also different kinds of poriyals.
Sambar Rice Recipe: Step by step
1. Cut all the vegetables into medium size as shown in below image. Here I have used potato, onion, carrot, beans, drumstick, tomato and garlic. You can add almost any kind of vegetables in sambar rice. Reddish and egg plant (aubergine / baingan) is also commonly added in sambar rice recipe.
2. Heat oil in the pan and add mustard seeds and let it crackle. Add asafoetida (hing), dried red chilies, chopped garlic in oil and saute for few seconds. Then add all the vegetables and let them cook for sometime.
3.  Add water and turmeric powder, sambar masala, red chili powder and salt to the taste. Mix the sambar well and stir it for some time. Let all the vegetables get nicely cooked. Add tamarind water to sambar and stir well.
4. Once the vegetables are cooked, add the boiled rice and toor dal into the sambar and cooked for 5 minutes on low flame.
5. Sambar with rice is now ready. Serve it with papad, appalam and potato poriyal.
Sambar Rice recipe, Sambar sadam recipe
Sambar rice recipe - Nutritious lentils and vegetables cooked with basmati rice.
Ingredients
Main Ingredients
Rice: 1/2 cup
Toor dal: 1/2 cup
Oil: 1 tbsp
Mustard seeds: 1 tsp
Asafoetida (Hing): 1/4 tsp
Garlic: 1 clove, chopped
Sambar masala: 1 tbsp
Turmeric powder: 1/2 tsp
Red chilli powder: 1 tsp
Tamarind: 1 tbsp, soaked in water
Water: 2 cup
Salt: to taste
Mix Vegetables for Sambar
Tomato: 1 piece, chopped
Drumstick: 1/2 piece, chopped
Potato: 1 piece, chopped
Green beans: 10 pieces, chopped
Onion: 1 piece, chopped
Carrot: 1/2 piece, chopped
Instructions
Boil the rice and toor dal together in the presser cooker
In a pan heat the oil and add mustard seeds and let it crackle then add asafoetida, garlic. Add all the Vegetable (Tomato, Drumstick, Potato, Beans, Onion, Carrot) and stir it well.
Now add the Sambar masala, Turmeric powder, Chilli powder, Tamarind water and Salt to taste. Add some water and Stir it.
Let the vegetable get cooked then add the boiled rice and toor dal in the vegetables. Mix well all the ingredients and cook for around 5min on low flame.
Serve hot with appalam or papad and potato poriyal.