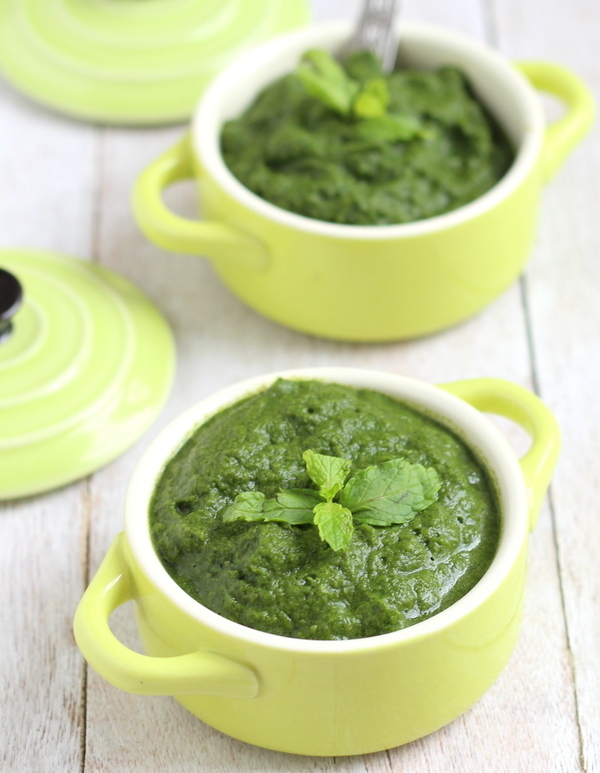 Mint chutney recipe with step by step photos – A delicious condiment prepared from fresh mint leaves served with sandwiches, chaats, pani puri pani etc.
Chutney also tastes great with a main course meal. You can make this Chutney well in advance and store it for about a week and can also use this chutney to make pani puri water / pani in no time. This chutney goes well with all the chaat specially kachori, dosa, pani puri, dhai puri and the list just goes on.

In my home my when my mom bring the phudina from market she make this chutney with fresh leaves and store it in the refrigerator and use it when ever she want to make any chaat recipe. She normally uses in making pani puri pani.
You can add only green chili to make it spicy as I don't want my chutney to be so spicy so I have added bell peppers/capsicum. By adding the lemon juice it retains its lush green color. And ginger gives the nice flavor  to the chutney.
Try this simple easy to make mint chutney or phudina chutney recipe.
Step By Step Recipe Of easy Mint chutney with pictures
We will need following ingredients to make mint chutney. Fresh coriander leaves, fresh mint leaves, lemon juice, ginger, capsicum, green chili and salt to taste.
Wash and cut the mint leaves and fresh coriander leaves (cilantro). In mixture grinder take mint leaves & coriander leaves.
Now add ginger, capsicum and green chili and grind it into rough paste.
Time to add seasoning ingredient salt to taste.

Then add lemon juice to chutney.
Grind it into a smooth paste. If required add little water.
Mint chutney is ready to serve.
Mint Chutney Recipe Box
Mint Chutney Recipe (Pudina Chutney)
Mint chutney recipe - A delicious condiment/side dish made from fresh mint leaves. Served best along with different Indian street food chaats.
Ingredients
Mint leaves: 1 bunch
Fresh coriander leaves: 1/2 bunch
Lemon : 1 tbsp
Green chili : 1/2 piece
Ginger: 1/2 inch
Capsicum : 1/4 cup
Salt: 2 tsp
Instructions
Take all ingredients except salt and lemon juice in a mixture grinder / food processor.
Blitz into rough paste and add salt and lemon juice, grind again.
Grind it into a smooth paste.
Taste the green chutney and adjust seasoning by adding salt / lemon juice as per requirement.
Mint chutney or pudina chutney is ready.
Other chutney recipes