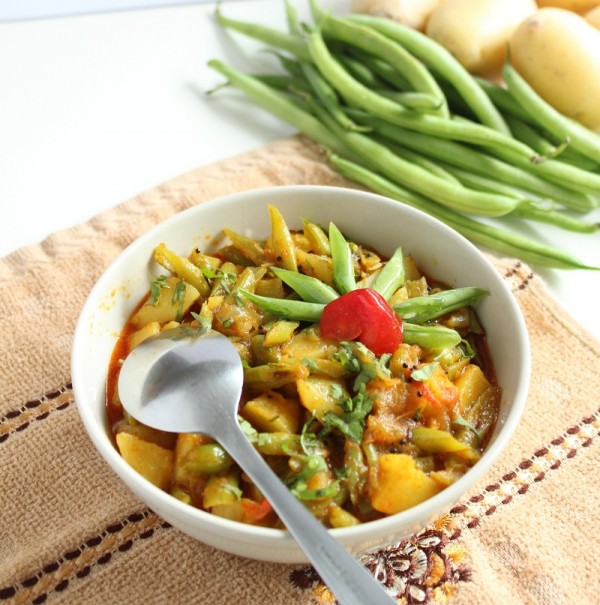 Potato and Green Beans sabzi is yet another simple curry recipe that you can prepare in no time at your home. I make this curry quite often and we love it. The vegetables are simple and easily available; potatoes and french green beans. This curry is very popular in India and is part of the daily diet. The green beans used in this curry can also be used to prepare other dishes like green beans coconut poriyal.
The green beans have many names and is called by several different names in different countries and regions. Some of the common names are "french beans", "snap beans", "spring beans" etc. I often wonder why these beans are called "french beans" when the top producer of green beans are China, Indonesia and India (source: wikipedia). Anyways, it is just a geographical preference. Feel free to call them whatever you like, just make sure you use them in your daily diet as they are really great source of vitamins, minerals and dietary fibers.
For this healthy potato green beans curry you may use either fresh green beans, canned or frozen. I have used fresh green beans in this curry. Also I have used sliced onions. Some people don't add onions in this curry but again that"s upto your preference.
Let us quickly check the recipe of delicious potato green beans sabzi.
Step by step recipe for Potato Green Beans Curry
Cut all the veggies potatoes, french green beans, onions nicely. Heat a tablespoon of oil in pan and temper some mustard seeds (rai) and cumin seeds (jeera). Add a pinch of asafoetida (hing) and sliced onions.
Add minced garlic and ginger in oil. Let the onion gets nicely cooked. We don't want dark brown color onions.
 Once the onion is cooked pop in all chopped vegetables; potato and french green beans and add all dried spices. I am adding the basic indian spices; red chili powder, coriander powder and some salt to taste. Cook the veggies for around 5 minutes.
Add chopped tomatoes and some water and  cook till they are cooked nicely. Potato takes some time to cook so press it with a spoon and check if they are ready.
Serve the tasty potato green beans curry with chappati/roti.
Potato Green Beans Sabzi Recipe
Potato Green Beans Sabzi Recipe - A spicy Indian curry made from french green beans and potato.
Ingredients
Green beans: 1/2 cup, chopped
Potato: 1/2 cup, diced
Onion: 1/2 cup, sliced
Tomato: 1/3 cup, diced (optional)
Oil: 1 tbsp
Mustard seeds: 1 tsp
Cumin seeds: 1 tsp
Red chili powder: 1 tsp
Turmeric powder: 1/2 tsp
Coriander powder: 1 tsp
Garlic: 1 tsp, chopped
Asafoetida (hing): 1/4 tsp
Salt: to taste
Coriander: for garnish
Instructions
In pan heat oil add mustard and cumin seeds let it crackle then add the asafoetida (hing), chopped garlic and onion and let onion cook for a while.
Then add potato, green beans, red chili powder, turmeric powder, salt, coriander powder stir it and cook for about 5 min and add tomatoes and water. Cook till potato and green beans are cooked.