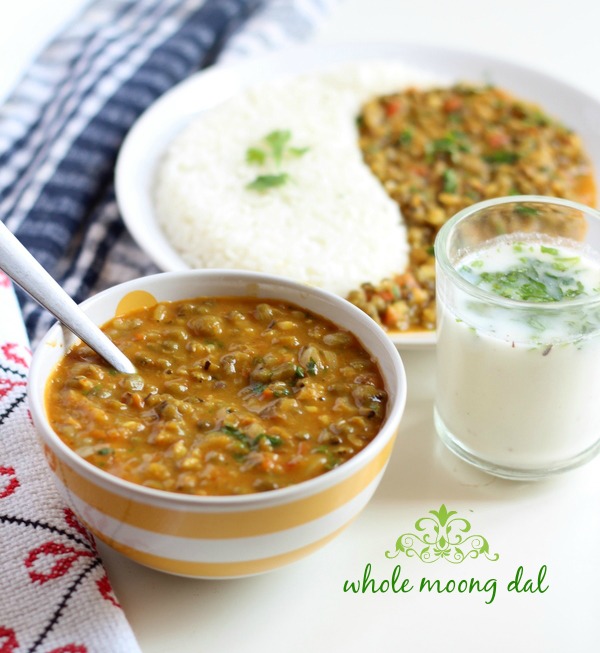 Green moong dal or sabut mung dal recipe – step by step: A delicious creamy Indian dal recipe of sabut mung dal or green dal cooked in onion and tomato gravy with aromatic indian dry spices. Isn't it sound yummy? believe me its even tastier then it looks. Amazingly simple recipe of green mung dal is best you can have and make in no time with a little preparation.
Related: mix dal fry | lasooni dal | dal palak
A lot of time I run out of vegetables and one thing can comes to rescue is lentils / daals. Every Indian home have lots of them. Whether it is chana, mung, tuvar or masoor they all are great way of including protein in a vegetarian diet. Daals or lentils and pulses are great source of protein. One must include them in a healthy diet. Dal chawal is thus favorite dish we Indians love. A superb combination of carbohydrate rich steamed rice or chawal with protein packed daal.
This is an easy recipe of green mung dal or sabut mung dal. I have simply soaked the sabut mung overnight in water and then pressure cooked it the next day. If you are making this dal for lunch then atleast you must soak the dal in morning. Give a good 4-5 hours. That way dal becomes tender and will cook tastier. However in case you forgot to soak mung dal then no worry. Just pressure cook the dal in water by adding salt and a pinch of baking soda. That way the dal will cook faster.

As I mentioned earlier this is a pressure cooker recipe. Pressure cookers are boon to an indian kitchen – a lifeline 🙂 Without this little kitchen wear I am not sure how much time and effort we indian ladies will spend more. When you are making lunch for tiffin or dabba one of the gas stove is usually occupied with pressure cooker boiling the lentil. It helps in multitasking and making a full indian meal without spending too much of time cooking dal 🙂
Let us come back to the recipe of green mung dal and check the step by step recipe with pictures.
Recipe of Whole green moong dal with step by step photos
We need to soak the green moong or akha moong dal for atleast 4-5 hours. Soaking make it really delicious. Be careful while soaking because after soaking the dal tends to double in size. i.e If you soak half cup of moong dal after soaking it become 1 cup. Once soaked, I have pressure cooked this daal for 6-7 minutes (2 whistles) in water and salt. I have added salt while boiling and thus will add a little less salt in tomato onion gravy.
To make delicious green moong dal recipe we need few ingredients which are commonly available at home like ginger, garlic, tomato, onion, green chili, fresh coriander, lemon juice, dry indian spices and of course boiled moong dal. I have describe the quantities of each of these ingredients in detail in recipe box at the end of this post.
Heat oil in the flat skillet / pan and once the oil is hot add cumin seeds/jeera.
Let cumin seeds changes its color then add asafoetia/hing.
Add finely minced ginger and garlic and slit green chill. Cook for a minute until rawness of ginger garlic is gone.
Now add finely chopped onions and saute for about 2 min.
Once onion are well cooked and turns golden in color, add the chopped tomatoes and cook until the tomatoes softens.
Cook the tomato onion for 3-4 minutes until the tomatoes cook nicely as shown here.
Now its time to add dry indian spices like red chili powder, coriander powder, turmeric powder, garam masala powder and salt to taste. Mix well all the ingredients. Let the spices cook for a minute.
Add the boiled green moong along with water and cook for about 5 min.
If required you can add some water to the moong dal. Adjust the consistency  according to your liking.
Once the moong dal is cooked well add lemon juice.
Finally garnish the green moong dal with freshly chopped coriander/dhaniya and serve this akha mung dal masala hot with steamed rice or jeera rice, phulka or chappati.
Let us check a quick recap of creamy delicious and tasty green mung dal recipe or sabut mung dal recipe.
Green moong Dal Recipe Box
Green Moong Dal Recipe, Akha Moong Dal Recipe
Green mung dal or akha mung dal recipe - A mildly spicy green gram lentil soup cooked in onion and tomato gravy with Indian spices.
Ingredients
Green moong/akha mung: 1 cup, boiled
Oil: 1 tbsp
Cumin seeds: 1 tsp
Asafoetida/hing: 1/4 tsp
Onion : 1/2 cup, finely chopped
Tomato: 1 cup, finely chopped
Ginger:1/2 tsp, grated
Garlic: 1/2 tsp, minced
Green chili : 1 piece slit
Red chili powder: 1 tsp
Turmeric powder: 1/4 tsp
Coriander powder: 2 tsp
Garam masala powder: 1/4 tsp
Lemon juice:1 tsp
Coriander: 1 tbsp for garnish
Salt: 1 1/2 tsp or to taste
Instructions
Preparation
Wash green moong dal thoroughly in water and soak them in water overnight or atleast for 4 hour.
Once the moong dal is soaked, boil the moong dal in pressure cooker for 6-7 minutes or until 2 whistles.
Finely chop the onions and tomatoes. Grate the ginger and mince the garlic.
Making green gram dal or sabut mung dal
Now in a flat pan heat oil and add cumin seeds/jeera.
Once the cumin seeds changes it color add ginger, garlic and green chili and saute till the rawness of ginger is gone.
Now throw in the chopped onion and cook for about 2 min until golden brown in color.
Then add the tomatoes and cook till the tomatoes are soft.
Add dry Indian spice like red chili powder, coriander powder, garam masala powder, turmeric powder and salt to taste Mix well all the ingredients and cook for about 3 min.
Now add the boiled moong dal along with water and cook for 2 more min.
Once moong dal is well cook at the end add the lemon juice.
And garnish whole moong dal with freshly chopped coriander leaves and serve hot with roti, chapati, jeera rice or steamed rice.
Notes
1. Sabut moong dal after soaking becomes double so soak accordingly.
2. You can temper the spices in ghee/clarified butter instead of oil to give shahi touch to this mung dal.
Recipes similar Dal Recipes to Green Moong Dal Recipe