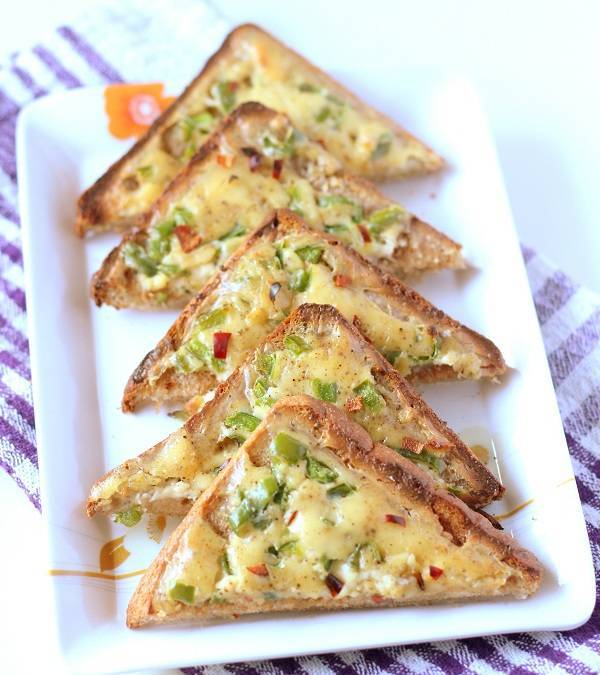 Chilli cheese toast recipe with step by step pictures –  Here is a quick snack dish that you can prepare in no time and serve as breakfast or evening snacks or even starters. Chilli cheese toast as its name suggest is a toast made from cheese and Chilli spread on top. This is an Indian version of veg Chilli cheese toast. We have added garlic to this toast recipe to make it suit to our Indian taste buds 🙂 The cheesy taste will attract kids and make them eat this cheese toast with great pleasure.
For this Indianized Chilli cheese toast I have used capsicum / bell pepper as main ingredient. You can even add sweet corns, baby corns, paneer, jalapenos, olives etc if you like. Even if you like, add some finely chopped onion. It gives Indian touch to this dish.
Let us check the quick and easy step by step recipe of veg Chilli cheese toast.
Step by step recipe of veg Chilli cheese toast – Indian style
We are going to make this mouth watering cheese toasts in conventional oven. So before we begin let us preheat the oven for Chilli cheese toast. Preheat the oven on 150 degree Celsius (300 degree Fahrenheit) for 5 minutes.
For this Indian style Chilli cheese toast recipe we will need following ingredients. Chopped capsicum / bell pepper, finely chopped green Chillies, garlic, black pepper, salt to taste and Chilli flakes. Also we will use two types of cheese for this Chilli cheese toast recipe.
For the Chilli cheese toast recipe we will use processed cheese as well as mozzarella cheese. In a bowl take 1/2 cup of processed cheese and add 1/4 cup of mozzarella cheese into it.
Add in all the ingredients for Chilli cheese toast in the bowl.
Pour some olive oil in the mixing bowl and with the help of spoon mix well cheese with all ingredients.
Mix well. The vegetable mix for veg Chilli cheese toast is ready.
Let us prepare the bread for this Chilli cheese toaste recipe. Lightly spread a layer of butter on each bread slices. I have used brown bread (whole wheat bread) but feel free to use any kind of bread (white bread) for this recipe.
Now with the help of spoon spread the vegetable cheese mixture that we prepared earlier on each of the bread slices.
Now if you are making the veg cheese toast in oven then place an aluminium foil on the oven tray and one by one place individual breads on top of the aluminium foil. Also if you want spread another layer of cheese on top of the bread. Place the tray in the preheated oven. Let the cheese toasts get cooked for 5 to 8 minutes on 180 degree Celsius (356 degree Fahrenheit). Keep an eye on toast while they are getting cooked. When the cheese melts and turns golden brown, turn off the oven and take the Chilli cheese toast and place them on a serving plate. Be careful and don't let yourself burn.
Delicious veg Chilli cheese toast is ready. Serve them hot with tomato ketchup or green chutney.
Optionally if you are making these delicious Chilli cheese toast on tawa / stove top then just place the bread one by on on pre-heated tawa / skillet. Follow the recipe of Veg Cheese sandwich on Tawa for more details.

Veg Chilli Cheese Toast, Indian Chili Cheese Toast
Veg Chilli Cheese Toast - Brown bread slices baked with veg cheese mixture with capsicum and red chili flakes.
Ingredients
Wheat bread: 4 slices, toasted
Capsicum: 1/4 cup, chopped
Processed cheese: 1/2 cup, grated
Mozzarella cheese: 1/4 cup, grated
Butter: 2 tbsp
Green Chilli: 1 tsp, chopped
Olive oil:1 tbsp
Black pepper: 1 tsp
Garlic: 1 tsp, finely chopped
Chilli flakes: 1 tsp, optional
Salt: to taste
Instructions
Toast the bread slightly to make it crispier.
Chop the capsicum into diced.
Pre-heat the oven for about at 150 degree C for 5 minutes.
In a bowl take grated processed cheese, mozzarella cheese, capsicum, green Chilli chopped, black pepper and salt to taste. Mix all the ingredients well.
Add a tablespoon of olive oil and mix well all ingredients to make cheese mixture.
Take the toasted wheat bread and apply butter on top.
Now evenly spread the cheese mixture on top of the bread.
Also sprinkle some Chilli flakes.
Place all the bread in baking tray and bake for about 5 minutes at 180 degree C.
Enjoy the Chilli cheese toast with ketchup.
If you are looking for more Snacks or Appetizer recipes then do check
sev puri chaat
,
besan ke cheele
,
bajra wada
,
sandwich dhokla
and
rice sweet corn bites
.