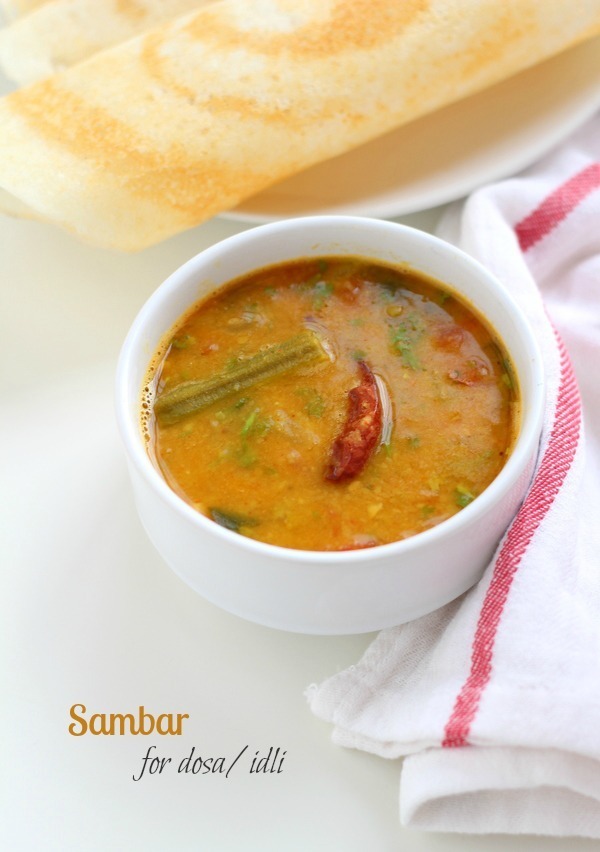 South Indian Sambar recipe or sambhar recipe for dosa, idli or vada with step by step pictures –  A delicious lentil recipe made in south indian style. Best served with Dosa, Idli or vada.
Dosas are my favorite breakfast dish. I also have dosa in dinner. Don't feel odd 🙂 that's totally normal in a Gujarati household. Somehow we Gujju's love to eat breakfast dishes as dinner 😀 if you are Gujju or know any Gujju then you know what I am saying.
Related: sambar rice | south indian rasam
When you order Dosa in a restaurant it is always accompanied by sambar (commonly refereed as sambhar) and chutney. The chutney is typical south indian coconut chutney. However when I am making this recipe at home I make quick onion tomato chutney and serve it with dosa. It save lot of time and taste quite good too. When I am making Dosa's on weekend, I don't miss the sambar. I learned how to make sambar from my Mom who lived a better part of her life in South India and knows how to cook typical south indian food. I just loved her sambar and since I got married I am trying best to duplicate her recipe. Still I find hers better then mine 🙂
This recipe of sambar that I am sharing today is quite straightforward. The taste maker in this recipe is sambar masala which is available in market. I got my sambar masala from Coimbatore where you can get really authentic sambar masala. However if you do not have sambar masala ready at home, its quite easy to make if you have right spices. I will share the recipe of sambar masala soon.
The sambar served along with dosa is different than the one served along with rice known as sambar sadam. This sambar is neither too thick nor runny. Also the drumstick used in sambar taste it simply amazing. There are many different ways of preparing sambar. Other than this dosa sambar recipe that I am sharing today, I also make another variation of sambar recipe with lots of vegetables. That mix vegetable sambar is usually served with rice. Although most of sambhar dishes are made with lentils like toor dal /arhaar dal, there is a variation prepared in Tamil Nadu that does not have lentils instead it is made just from vegetables and spices. This sambar is known as Kuzhambu.
Sambar cooked in quantity taste quite better. Mostly I am cooking for 2 but still I made sambar atleast for 3-4 servings. That way I have left over sambar which is kept in refrigerator in an air tight container. The next day I just reheat the sambar and enjoy it with plain dosa or uttapam. They taste even better as all the spices blends well enhancing its flavors.

If you are making this sambar for South Indian thali then try to prepare it earlier like 2-3 hours before serving. That way once rested it taste even better. Just before serving, reheat and serve sambar hot.
Coming back to the recipe of sambar or sambhar for dosa, idli & vada.. lets check the step by step recipe.
Recipe of South Indian Sambar for Dosa, Idli with step by step pictures
For making this delicious sambar for dosa, first rinse and boil the toor dal/arhaar dal in pressure cooker by adding turmeric and 2-3 cups water. Cook for 5-6 whistles till the dal become soft and mushy. Once boiled keep the dal aside.
Also we will need tomato, onion, drumsticks, curry leaves, chana dal, tamarind, dry red chili and garlic along with oil and salt. The exact quantities of these ingredients are shown in recipe box at the end of this post.
Heat a kadhai / deep bottom pan and add oil in it. Once the oil is hot add chana dal (chickpea lentil) and saute for few seconds.
Roast the chana dal for 20-30 seconds then add mustard seeds (rai).
Let the mustard seeds flutters and then add methi dana (fenugreek seeds).
Add curry leaves (kadi patta) and saute for few seconds.
Also add dry red chili and hing (asafoetida). Let the chili get saute for few more seconds.
Now add chopped garlic and mix well.
Add sliced onions and saute for 1-2 minutes.
Saute the onion till it becomes transclusent. Do not over cook the onions.
Now add chopped tomatoes and mix.
Add drumsticks in onion & tomato.
Add around 1 tablespoon of sambar masala powder.
Now pour the tamarind water along with tamarind pulp and mix well.
Add salt as per taste.
Cook the sambar for 5 minutes.
Pour the boiled toor dal in onion tomato and mix well.
Add water to decrease the consistency of sambar. Stir well.
Cook the sambar on low/medium flame for 5-7 minutes. Check if drumstick is cooked nicely.
Once done, garnish the sambar with fresh coriander leaves (hara dhaniya).
Delicious South Indian Sambar recipe for dosa is ready. Serve this sambar hot with dosa, idli, vada and coconut chutney.
Let's check a quick recap recipe of south indian sambar recipe for dosa, idli & vada.
South Indian Sambar Recipe for Dosa
Sambar Recipe for Dosa & Idli
Sambar Recipe for Dosa / Idli - A delicious South Indian sambar recipe to be served with dosa, idli and vada.
Ingredients
Toor dal (pigeon pea lentil): 1/3 cup, uncooked
Tomato : 2 tomatoes, chopped
Onion : 1 onion, sliced
Drumsticks : 1/2 piece
Oil : 1 tbsp
Mustard (rai): 1 tsp
Garlic (lehsun): 1 tsp, minced
Dry red chili : 2 pieces
Sambar powder : 1 tbsp
Chana dal (chick-pea lentil): 2 tsp
Hing (asafoetida): 1/4 tsp
Curry leaves (kadi patta): 6 leaves
Salt : 2 tsp
Methi dana (fenugreek seeds) : 1/2 tsp
Haldi (turmeric powder): 1/2 tsp
Water : 2 cups
Tamarind (imli): 1 tbsp, soaked in water
Coriander leaves (hara dhaniya) : 2 tbsp chopped
Instructions
Preparation
Wash the tuvar or arhaar dal in water and boil it with turmeric powder and 2-3 cups water for 5-6 whistles. Boil until the dal becomes soft and mushy. Keep aside.
Soak the imli (tamarind) in water for about 1/2 hr.
Chop the tomatoes, drumsticks and slice the onions.
To make sambar for dosa & idli
Heat oil in a pan and add chana dal and cook for about 1/2 min then add rai (mustard seeds).
Once the mustard seeds flutters add meethi seeds (fenugreek), curry leaves, hing (asafoetida) and dry red chili and cook for few seconds.
Now add chopped garlic and sliced onion and saute for few mins or till onion becomes translucent.
Throw in chopped tomatoes, drumsticks and sambar powder and give a quick stir.
Then add the tamarind juice and salt to taste and cook for about 5 min.
Now add the boiled toor dal and water, mix well all the ingredients and cook for about 5-7 min.
Check if the drum stick is cooked well. Once cooked well, our samber is ready.
Garnish the sambar with fresh coriander leaves (hara dhaniya).
Sambhar is ready to be served with dosa, idli or vada and coconut chutney.
Other south indian recipes similar to Sambar