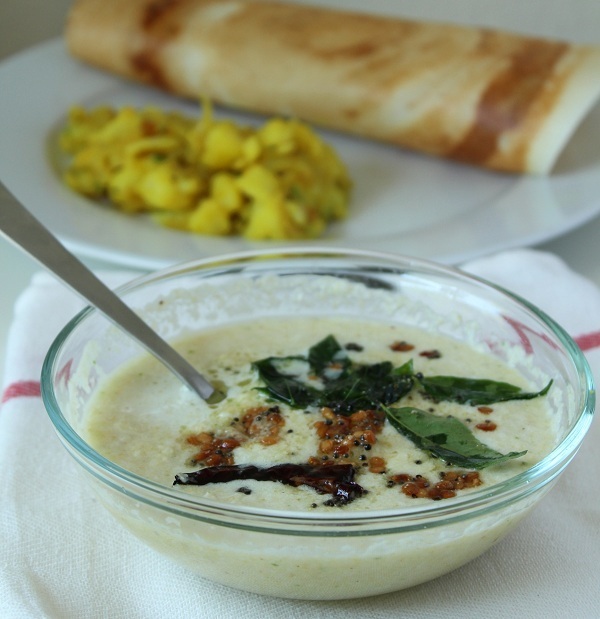 Coconut Chutney Recipe: If you love South Indian cuisine then you ought to love coconut chutney. Coconut chutney is a typical South Indian side dish/condiment that you will see across the length and breadth of Southern India (and to extent most of the restaurants of North). This tasty chutney goes really well with Dosa / Dosai, Idly, Uttapam, Pongal etc. Most of the restaurants serve coconut chutney with many different South Indian dishes.
Although I originally hail from Gujarat; I was bought up in Chennai, Tamil Nadu. So since childhood I am fond of South Indian cuisine especially south indian poriyals. Every now and then I cook South Indian food at home. For vegetarians this cuisine is like heaven.
Coming back to Coconut Chutney (after all we are here for that, isn't it :P), the recipe of coconut chutney is quite similar to other chutneys. For this recipe, I have used fresh coconut. You can experiment with dry coconut but frankly that won't taste as much authentic as fresh one. Only fresh coconut is used to prepare authentic coconut chutney in South India.
Another key ingredient in this coconut chutney recipe is roasted bengal gram or daliya. Nowadays the roasted split bengal gram dal is commonly used in coconut chutney recipe and is readily available in grocery stores. However if you don't find them, don't panic. Just roast some split chickpea dal or bengal gram (chana dal) in a pan till they are nicely light brown. Then soak the roasted bengal gram in water for around 15 minutes to make them softer. Then simply use them for chutney.
In the olden days, coconut chutney and most other chutneys were ground with a mortar and pestle, called ammikal in Tamil. These days, food processors have replaced the stone mortar and pestle in modern cities. Some families living in villages still use those old stone tools to grind the chutney by hand. The coconut chutney made this way is thought to have a superior taste to the chutney made with a blender.
Let us start the quick and easy recipe of coconut chutney.
Step by step recipe of Coconut Chutney
1. In a mixture/blender take 1/2 cup fresh coconut, 1/4 cup roasted chana dal, 1 green chili (remove seeds if you like milder taste), 1/2 cup water and some salt.
2. Grind everything well and make a fine paste.
3. Now for tempering (tadka), in a tadka pan (you can use normal small pan if you don't have tadka pan) take 1 teaspoon of oil. Add urud dal (black gram), dry red chili, mustard seeds (rai) and once they flutter add a pinch of asafoetida (hing) and some green curry leaves. Now pour the tadka on coconut and roasted chana dal paste and mix everything well.
Your tasty south indian styled coconut dip 😉 is ready. Enjoy it with dosas, idlis, etc.
Coconut Chutney Typical South Indian Style
Coconut chutney - Typical south Indian style coconut chutney which can be served with dosa, idly, medu vada, pongal and so many other south Indian dishes.
Ingredients
For chutney
Coconut: 1/2 cup, roughly chopped
Chana dal : 1/4 cup, roasted
Green chili : 1 piece
Water : 1/2 cup
Salt: to taste
For tempering
Oil : 1 tsp
Urad dal (black gram) : 1 tsp
Curry leaves : 4 leaves
Dry red chili : 1 piece
Mustard seeds (rai) : 1 tsp
Asafoetida (hing): 1/4 tsp
Instructions
For chutney
Roast the chana dal in pan till its color become light brown and then soak in water for 15 minutes. Alternately you can also add roasted gram dal (daliya).
In grinder add coconut, roasted chana dal, green chili, salt, water and make a fine paste . If needed can add more water.
For tempering
Take a tadka pan, add oil and urad dal (black gram), dry red chili, mustard seed (rai) and let it temper and add curry leaves and asafoetida (hing).
Then pour the tadka (tempering) on top of the chutney and mix it .