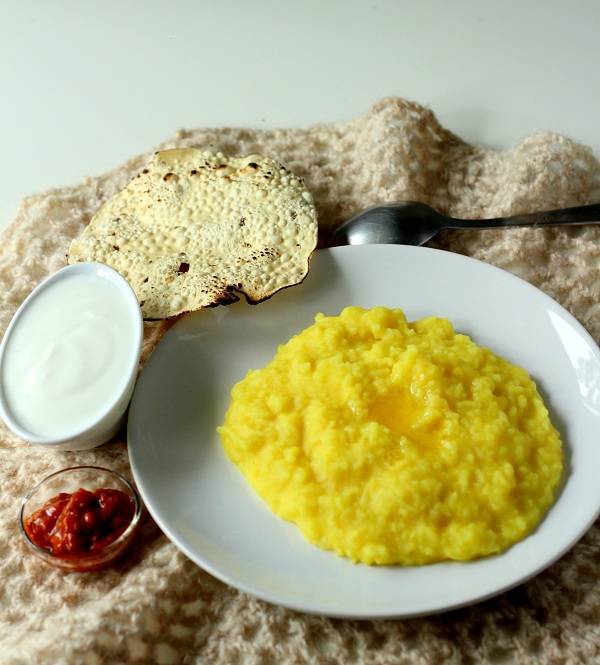 Moong dal khichdi is a delicious Indian khichdi recipe prepared with just yellow split gram and rice. This healthy khichdi has minimum Indian spices making it easy on stomach. When I was kid I did not used to like this khichdi. I thought its suppose to be eaten only when one is sick :D. But now I do like the mild simple flavor which is easy on palate. Also I guess I like it because sometimes you don't think like spending too much of time in kitchen. Moong dal khichdi gets cooked in minutes so its one of my super easy to make recipe.
As like many other Indian dishes, moong dal khichdi has different variations as you travel across length and breadth of India. The one I am sharing today is the most common recipe that is made in the state of Gujarat (known as saadi khichdi / plain khichdi). In Bengal people like this khichdi (known as Bhaja mooger dal) a lot and cook it with a slight variation. The split moong dal is roasted in ghee/oil till it turns deep golden and gives a nutty aroma. Sometimes it is dry roasted as well. It is then cooked and tempered with spices making the plain dal even better in taste and flavor. Usually thinly sliced Potato or Bringle fries are served with this Dal in the Bengali version.
In Gujarat this moong dal khichdi is usually served with ghee (clarified butter) and rasawala aloo sabji. dahi and papad.
This is a no onion no garlic khichdi recipe. If you are looking for more khichdi recipes do try these: Gujarati khichdi recipe, sabudana khichdi, moriya khichdi for vrat.
Before we check the simple recipe of moong dal khichdi let us check some of its health benefits.
Health benefits of moong dal khichdi
This plain Moong dal khichdi is rich in protein, carbohydrates and dierty fibers making it highly nutritious diet.
As this moong dal khichdi has no spices except of turmeric it is very easy on stomach and is great for babies. Moong dal khichdi is one of the first home cook meal given to small babies who have just started taking diet.
During sickness this khichdi is recommended due to this nutrition rich and easily digestible properties. So moong dal khichdi is must for sick people.
The moong dal khichdi is a best gluten-free wholesome meal. Hence khichdi (along with curd/yogurt) is highly recommended when you have an upset stomach or during loose motion.
Lastly the moong dal khichdi minus the ghee (clarified butter) is not only rich in nutrients and also a one dish meal that it is good to have if you are following weight loss program.
Let us now check step by step recipe of moong dal khichdi with pictures.
Step by step healthy recipe of moong dal khichdi
The plain moong dal khichdi is made using only one lentil yellow moong dal (yellow split gram) and rice. For this khichdi recipe you can use any type of rice: basmati rice, jasmine rice, broken rice etc. After all its all going to be cooked into delicious healthy pasty like khichdi. Take the yellow moong dal and rice in equal amount of quantity.
Rinse the moong dal and rice thoroughly in water till the starch is gone. You can also soak the moong dal and rice in water for 20-30 minutes before cooking the khichdi. However this is optional. Anyway we are going to cook khichdi in pressure cooker so it all gonna take 2 minutes more.
Take the rice and moong dal in pressure cooker and pour 3 cups of water. For one part of rice & moong dal we will add 3 parts of water in pressure cooker.
This is a plain moong dal khichdi (sadi khichdi) so there are not much Indian spices in this dish. Just add turmeric powder and salt to taste and mix well.
Turn on the gas and let the water in moong dal and rice come to boil once. Now close the lid of pressure cooker and let the moong dal khichdi gets cooked for 15 minutes or for 4-5 whistles.
Once cooked turn off the gas and set aside the pressure cooker to cool till the steam is released. Stir the khichdi well with the help of a spoon. Also add a tsp of ghee (clarified butter) to moong dal khichdi.
Healthy Moong dal khichdi is ready. Serve moong dal khichdi hot along with some yogurt, pickle, papad or Gujarati kadhi.
Moong Dal Khichdi, Mung Dal Khichdi For Sick/Babies
Moong Dal Khichdi Recipe - A healthy Indian khichdi recipe of yellow moong dal (yellow split gram) & rice cooked with turmeric & salt. Best for babies or in sickness.
Ingredients
Yellow moong dal: 1/2 cup
Rice: 1/2 cup
Turmeric powder: 1 tsp
Water: 3 cup
Clarified butter (ghee): 1 tsp (optional)
Salt: 1/2 tbsp, to taste
Instructions
Take equal quantity of yellow moong dal (yellow split gram) and rice and rinse thoroughly in water.
Pour the dal and rice in a pressure cooker.
Add 3 cup of water, turmeric powder and salt and mix well. For one part of rice & dal mixture we will add 3 parts of water to make moong dal khichdi.
Turn on the gas and let the rice & dal mixture comes to boil once.
Close the lid of pressure cooker and cook for 15 mins or for 3 to 4 whistles.
Now turn off the gas and let pressure cooker gets cooled down.
Give a stir to moong dal khichdi and add a tsp of ghee.
Serve moong dal khichdi warm with some pickle, yogurt and papad.