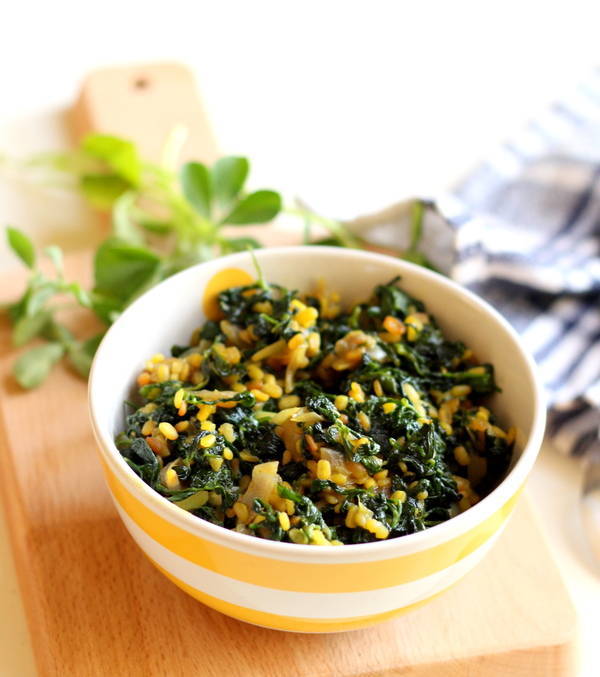 Methi bhaji recipe with moong dal cooked in Maharastrian style – We Indian love the sabzis made from green leafy vegetables (called saag). Whether it is palak, methi or sarsoo. All these green leafy vegetables are extremely nutritious and when cooked correctly are also very healthy. I consider Palak or spinach as king of green leafy veggies. We make so many different varieties of dishes using this single ingredient e.g. palak aloo sabzi, corn palak, palak dal, palak paneer, palak paratha, etc. Similar to palak, methi is another popular green leafy vegetable that we often cook at home. Methi can be used to make dishes like methi thepla, methi paratha, methi mutter malai, aloo methi, methi corn etc. Compared to palak methi however have a peculiar bitter taste. Not everyone likes methi as it taste quite bitter. But if cooked properly not only the bitterness of methi is gone by suddenly it taste amazing.
Both Methi leaves as well as methi seeds are highly nutritive ingredient. Methi has medicinal values and so it is widely used in Ayurveda to cure swelling or inflammation. Methi also helps in digestion and cures upset stomach. Having methi once a while improves blood flow and cure vitamins deficiency and kidney ailments.
Today I will share a simple recipe of Methi bhaji known as methi chi bhaji in marathi. This Maharastrian styled feenugreek leaves sabzi is cooked along with yellow moong dal. The dal gives nice flavor to this sabzi. Before we dig into the recipe let us check few tips to cook perfect methi bhaji.

Few Tips to make Perfect Methi Bhaji
Before you cook methi leaves, it is necessary to clean methi leaves atleast 2 to 3 times with water.
Like other green leafy vegetables while cooking methi / fenugreek leaves, do not close the lid. Cooking greens while lid close turn them dark or black.
Adding a little extra oil cooks the methi leaves well and methi tends to loose its bitterness.
In methi recipes you can add a teaspoon of sugar to counter the bitterness. Sugar in small quantity lift ups the taste.
In all methi bhaji or methi sabzi recipes do squeeze a lemon. Like sugar that also helps in enhancing its flavor.
Let us check the recipe of maharastiran style methi bhaji (methi chi bhaji).
Recipe of Methi Bhaji with moong dal (Maharashtrian Style)
Let us quickly check the ingredients for making Methi bhaji. We need around 2 large bunches of fresh Methi (fenugreek leaves). Also we will need 1/2 cup sliced onions, a slit green chili, ginger and garlic grated, 1/2 cup yellow moong dal soaked in water. We will also need salt as per taste and also 1 tsp of sugar. Sugar will balance the bitterness from methi while also retaining its green color.
Heat oil in a deep bottom non-stick pan. Use whatever large size vessel you have to cook this methi ki sabzi. The reason is methi tends shrink in size as we cook it. Hence we need to cook large number of green methi leaves.
Once the oil is hot add asafoetida (hing), chopped garlic, chopped ginger and sliced green chilies. I have de-seeded the green chilies to reduce the heat.
Once the raw flavor of ginger is gone add sliced onions and saute for a minute.
Mix and saute the onions for a minutes until they become soft.
Now add soaked yellow moong dal and cook it with onion for 2 to 3 minutes until the moong dal becomes tender.
Let the moong dal cook for 2 minutes until it becomes tender.
Add 1/2 tsp of turmeric powder and give a quick stir.
Also add a teaspoon of coriander powder (dhaniya) and give a good stir.
Mix well all ingredients and let the moong dal gets cooked along with dry spices for a minute.
Now add freshly plucked methi leaves (fenugreek leaves).
Using two spoons or ladle mix the methi well and let it cook for a minute. Methi will shrink in size as we cook it with sabzi.
Once the methi is tender add sugar and salt to taste. Give a stir and mix well again.
Let the methi bhaji gets cooked for 1 to 2 minute. Squeeze the lemon juice at the end. Do not cover the lid while cooking methi bhaji otherwise it tends to get darken. Leave the lid open and cook to get green colored methi bhaji.
Methi bhaji (Maharashtrian style) is ready. Serve the methi bhaji hot with phulka, chappati or tandlachi bhakri (rice roti).
Methi Bhaji (Maharashtrian Style) Recipe Box
Methi Bhaji Recipe Maharashtrian Style, How to make Methi Sabzi
Methi Bhaji Recipe (Maharashtrian Style) - A quick & easy dry methi sabzi (fenugreek leaves) cooked with Indian spices.
Ingredients
Methi (Fenugreek leaves): 2 bunches
Yellow Moong dal: 1/3 cup
Asafoetida (hing): 1/4 tsp
Ginger: 1 tsp grated
Garlic: 1 tsp chopped
Onion: 1/2 cup sliced
Green chili: 1 piece slit
Turmeric powder: 1/2 tsp
Coriander powder: 1 tsp
Sugar: 1 tsp
Salt: 2 tsp or to taste
Lemon juice: 1 tsp
Instructions
Pluck the leaves of methi / fenugreek from stem and wash thoroughly in water for atleast 2 to 3 times to remove any impurities or dirt.
Drain the water from methi and keep aside.
Soak the yellow moong dal in water for 10 to 15 minutes.
Heat a pan and put oil in it.
Once the oil is hot add asafoetida (hing), chopped garlic and ginger and sliced green chilies.
Add sliced onions and saute the onions for 1 minute until they turn soft.
Drain the water from soaked moong dal and add moong dal in the pan.
Let moong dal cooked along with onion for 2 to 3 minutes.
Add turmeric powder and coriander powder. Give a stir and mix well all ingredients.
Now add washed methi leaves or fenugreek leaves and give a stir by using two spoons or ladles.
Let the methi gets cooked for 2 minutes until it reduces in size.
Once methi starts shrinking add salt as per taste and sugar. Squeeze 1 tsp of lemon juice.
Give a sitr and cook methi with lid open for 2 minutes.
Methi bhaji is ready. Serve this maharashtrian style cooked methi bhaji with hot phulkas, chapati or tandlachi bhakri.
Recipes similar to Methi Bhaji Recipe