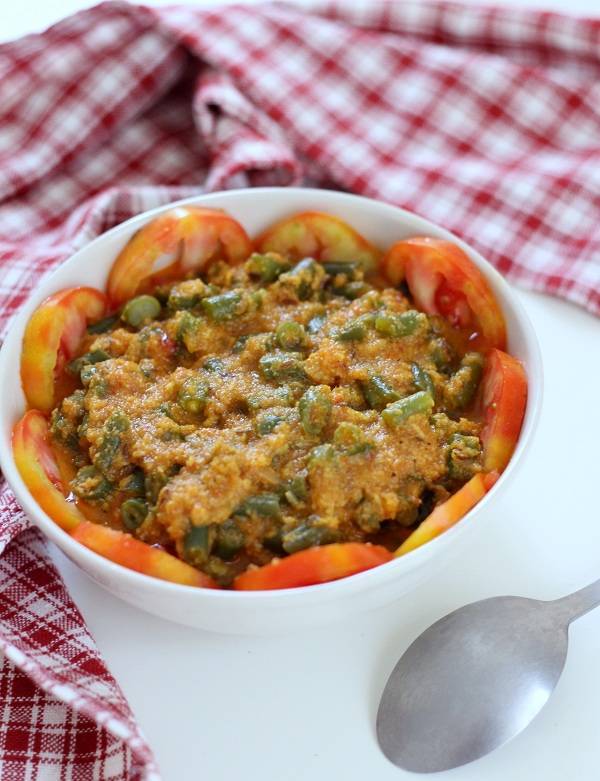 French beans curry recipe in coconut gravy with step by step pictures –  Let us check today a simple afternoon curry dish that I prepare to give a twist to plain old french beans. Normally in my home french beans is used in some fixed set of dishes. I make french beans poriyal along with coconut and french beans potato sabzi that goes really well with roti / chappati. However every now and than I make this simple dish that taste quite different from usual french beans recipes.
In this recipe of french beans curry I have made coconut based gravy. The simple Punjabi onion and tomato gravy is given a South Indian touch with grated coconut. It taste different and delicious.
French beans also known as green beans or fansi has many health benefits. Green beans are packed with anti oxidant which are good for your eyes and skin. They are rich in vitamin A, C and K and are good mineral source. Also Individuals with diabetes or those who at a risk of developing diabetes will benefit from eating green beans since they help to control the glucose levels of the blood.
There are some points that you should keep in mind while cooking french beans:
You can store green beans for many days in the refrigerator since they do not lose their freshness. It is best to store them in plastic bags to prevent loss of moisture.
It is advisable to wash green beans just before using. Wash them under running water. It is important to wash them thoroughly to get rid of sand and other debris.
Green beans should be trimmed and cut just before cooking since they may lose their nutritional quality if cut ahead of time. You can either snap off both ends or cut them off with a knife.
Getting back to the recipe. Let us start with step by step recipe of french beans curry in coconut gravy.
Step by step recipe of french beans curry in coconut gravy
For this simple french beans curry we will need following ingredients. Wash and cut french beans into 1/2 inch pieces. Also make puree of Tomato and onion in a mixture grinder / food processor. Grate the fresh coconut using grater or food processor.
Blanch the green beans in hot water for 5 minutes till they become tender.
Once the green beans becomes soft drain the access water by transferring them into a sieve and run cold water through green beans to avoid excessive cooking.
Now let us start cooking the french beans curry. In a non-stick bottom pan or kadhai heat around 2 tbsp of oil. Once the oil is hot add cumin seeds and bay leaf. Let the color of cumin seeds turn light brown.
Once the cumin seed turns brown add onion paste.
Saute the onion paste in oil for a minute then add tomato puree.
Let the tomato puree gets cooked for another minute or so till oil starts oozing out of the gravy. Add powdered spices now: red chili powder, garam masala powder, salt and turmeric powder.
Mix well spices with the onion tomato gravy. Now add ginger and garlic paste. Saute the gravy for a minute.
Let us add the coconut paste that we created earlier by grating coconut in food processor. Add the coconut paste in curry gravy.
Mix well and let the gravy gets cooked for a minute. Add water and cook the gravy again.
The gravy for french beans curry is ready. Throw in the par boiled french beans in the curry and mix well.
Let the french beans gets cooked with gravy for some time. The tasty french beans curry in coconut gravy is ready to serve.
Serve the french beans curry with hot chappati or phulkas.
Recipe of French Beans Curry:
French Beans Curry in Coconut Gravy
French Beans Curry in Coconut Gravy - A delicious home made curry recipe of french beans in coconut based gravy.
Ingredients
Tomato puree: 1/2 cup
Onion puree: 1/3 cup
Coconut: 1/4 cup, grated
French beans: 2 cups, chopped
Ginger: 1/2 tsp, paste
Garlic: 1/2 tsp, paste
Bay leaf: 1 piece
Garam masala: 1 tsp
Turmeric powder: 1/2 tsp
Red chili powder: 1 tsp
Oil: 2 tbsp
Salt: 1 1/2 tsp or to taste
Cumin seeds: 1 tsp
Instructions
Rinse the french beans in water and chop them into 1/2 inch pieces.
Grate the fresh coconut using grater or food processor.
Use the ready made tomato puree or make fresh puree of tomato in mixture grinder. Also puree the onion in the mixture grinder.
Heat oil in a non-stick pan / kadhai and add cumin seeds and bay leaf.
Once the cumin turns brown in color add onion puree / paste. Let the onion gets cooked until they turn golden in color.
Add tomato puree and let the tomato gets cooked with onion for 2 to 3 minutes until the oil oozes out.
Now add grated coconut in tomato onion puree and mix it well.
Also add ginger and garlic paste and let it cook for a minute till the raw flavor of garlic is gone.
Add Indian spices in currry now: throw in the red chili powder, turmeric powder and garam masala powder and mix it well. Let the spices gets cooked for another minute. Season the gravy with salt according to your taste.
Add the par boiled french beans in the curry now and mix it well.
Pour 2 cups of water in the curry and mix it well. Close the lid of pan and let the french beans curry get cooked on medium flame for 5 to 8 minutes.
Get the lid off the pan and cook the curry for another minute.
The tasty french beans curry with coconut gravy is ready. Serve it hot with chappati / roti / paratha.
Notes
To maintain the color of french beans (green beans). Par boil the beans in hot water first and drain the water and pour cold water. This way french beans will stop getting cooked and maitain its color.

Instead of fresh coconut you can also add coconut milk. It will give similar flavour to this curry.
If you are looking for more curry recipes for afternoon lunch do read bharwa bhindi sabji, tomato spring onion sabji, ratlami sev sabji, kala chana masala and lauki chana dal sabji.