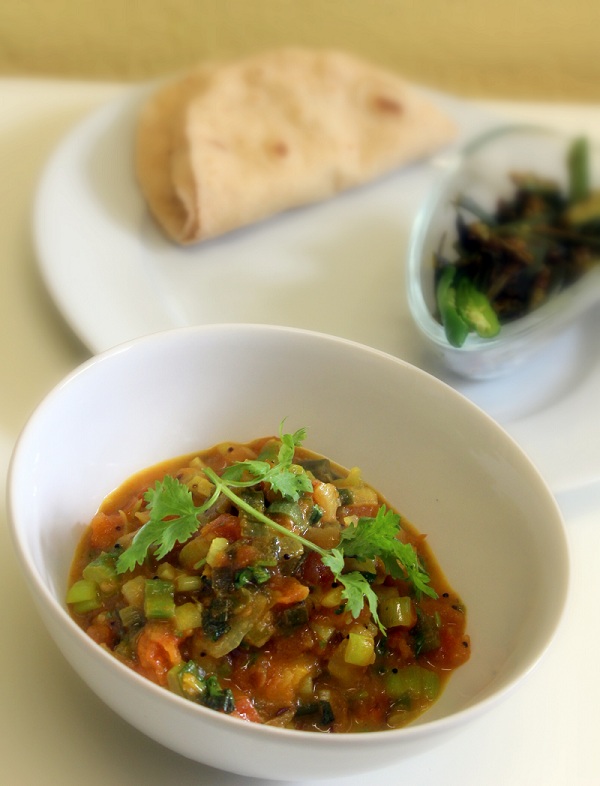 Roasted Tomato and Spring Onion curry – The most difficult task of a home chef is to come up with recipes that everyone enjoy in the family. In addition to  that you have to come up with different different dishes for all the meals of the day. Not everyday you can cook Palak paneer or paneer butter masala. So one should innovate something different using the given vegetables available in refrigerator.
Yesterday was one such day for me. I was peeping in refrigerator to see what can I accommodate quickly for lunch. I saw lots of fresh red bio tomatoes and spring onions. Spring onions can be used to make many Indian flavored dishes like potato spring onion sabzi. But I didn't want to cook Potato so that option was omitted.
As a home chef you are free to do your own little experiments in kitchen. Some are successful, some can fail.  One such experiment is Roasted Tomato and Spring Onion curry.
Roasted tomato has very mild smoky flavor that lift this curry. Spring onion on other hand also its own "oniony" taste. Combine these two and voilà, you have a great curry that is easy to prepare, good for your stomach and healthy also.
Those who live abroad have hot plate in kitchen. So its not possible to roast the tomatoes in flame. In that case you can just puree the tomato in blander/mixer and add it to curry. However if you still want that roasted flavor, you can cut tomatoes in big pieces, put them in oven for few minutes and use these oven roasted tomatoes in the curry. Feel free to experiment, you never know what clicks.
Lets start with our Roasted Tomato and Spring Onion curry recipe.
Roasted Tomato and Spring Onion Curry
1. Wash the spring onion and chop them in fine pieces. Use the green leaf as well. We want all the great flavor of green onion in our curry.
2. Grease the tomato with oil and keep them on flame one by one and rotate it slowly so that the tomato is roasted on all the sides. Once it is roasted let it cool for a while and peel off the skin. Since tomato is roasted the skin would come out easily. 
3. In a pan heat oil and add mustard (rai) and cumin (jeera) seeds let it crackle. Then add pinch of asafoetida (hing), garlic and roasted and chopped tomato. Let the tomato get cooked for a while. Then add spring onions, turmeric powder (haldi), red chili powder (lal mirch), coriander powder (dhaniya), salt  to taste and  stir it.
4. Let spring onions get cooked for sometime and if needed add little water.
Rosted Tomato and Spring Onion curry is ready. Serve it hot with roti / chappati.
Roasted Tomato and Spring Onion Curry
A curry made with spring onion and roasted tomato. Roasted tomato gives the mild smokey flavors to the sabzi/curry
Ingredients
Spring onion: 1 cup, chopped
Tomato: 1 cup, roasted and chopped
Oil: 1 tbsp
Mustard seeds (rai): 1 tsp
Cumin seeds (jeera): 1 tsp
Asafoetida (hing): 1/4 tsp
Garlic: 1 tbsp, chopped
Salt: to taste
Turmeric powder (haldi): 1 tsp
Coriander powder (dhaniya): 1 tsp
Red chili powder (lal mirch): 1 tsp
Instructions
To roast tomato
Take tomato wash it, make it dry and grease it with oil.
Keep the tomato on the direct flame and roast it.
Once the tomato is roasted let it cool for some time and the peel off the skin. Cut the tomato into small pieces.
To make curry
Heat the oil in the pan, add the mustard seed, cumin seed and let it crackle. Once it is crackle add garlic, asafoetida and roasted tomato and cook for a while.
Add spring onion, turmeric, red chili powder, coriander powder and salt to taste. Cook for another 5 minutes on low flame.
Now roasted tomato spring onion curry is ready. You can serve it with roti or chapatti. .