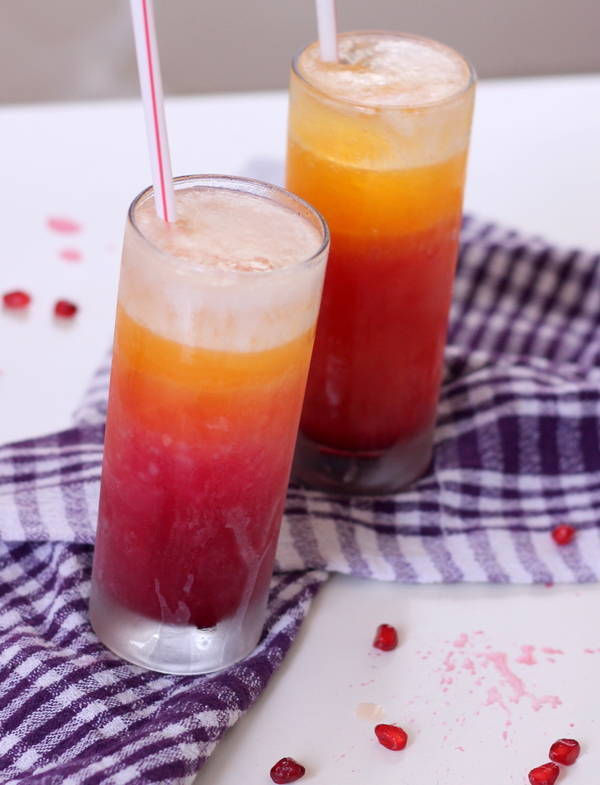 Pomegranate Orange Juice Mocktail: Pomegranate – Do you love these little juicy pearls full of flavors? Who doesn't. I love to take a bowl full of them and enjoy with a spoon while watching my favorite daily soap 😀 Please don't think I am such a spoiled brat. When I was little my grand mom used to peel off these mouth watery fruits and keep it ready for me. And when I used to come back from school she gave me with much enthusiasm. I still remember that shine in her eyes.  So that's why I like pomegranate so much 🙂
I have made many juices / party drinks using pomegranate earlier like this pomegranate lemonade spritzer. While I like all of them this one is my personal favorite. Reason is its a mocktail with club soda. And it sizzles and taste amazing when served chilled.
Pomegranate can be used in so many ways in our culinary adventures.  Not only in juices but also the seeds from pomegranate is used in different Indian sabzis (curries). Pomegranate is used to garnish different dishes. Gujarati dabeli (traditional double bread dish from Kutch, Gujarat) is not complete without pomegranate. A simple pomegranate lemonade (mixing lemon juice with pomegranate juice) is perfect for a hot summer afternoon.
Here in this simple recipe I have showed how you can make 3 layer (multi-layered) drink from pomegranate. The bottom layer is from pomegranate Popsicle that we have scraped. Next layer is plain orange juice and the final layer is of club soda. This drink is perfect for parties such as birthday parties, kitty parties or get-together. This vitamin C rich welcome drink is good for kids too. Just make sure you use fresh fruit juices instead of ready made ones.
Simple Recipe of Pomegranate Orange Juice Mocktail – Step by step with photos
Peel the pomegranate and remove the seeds from it. You can easily separate pomegranate seeds from the white part by submerging pomegranate in bowl full of water and then de-seeding. This way the white part with float away from seeds.
In juicer take the pomegranate seeds and sugar, grind it.
Now pomegranate juice is ready.
With the help of a strainer strain the juice. Once the juice is strained add the lemon juice to it.
Now put the juice in the air tight container.
Then place the juice container in the refrigerator for about a day or atleast 5-6 hrs to set.
Once refrigerated it would become icy and its time to scrape it.
With the help of the fork scrape it.
Take the serving glass fill 1/3 glass with scraped pomegranate as the first layer then pour in the orange juice and finally pour in club soda. Serve chilled.
Pomegranate Orange Spritzer Mocktail Recipe Box
Pomegranate Orange Spritzer Mocktail (Party Drink)
Pomegranate Orange Moctail drink - A tangy moctail party drink of pomegranate, orange and club soda.
Ingredients
Pomegranate: 1 1/2 cup de-seeded
Lemon: 1 tbsp
Club soda: 1/2 cup or as per glass size
Orange juice: 1/2 cup or as per glass size
Sugar: 1 tbsp or as required
Instructions
For Preparation
Remove the seeds from pomegranate.
Use fresh orange juice or ready made one. (I have used ready made one)
For Making pomegranate orange juice
In the juicer add the pomegranate seeds and sugar and blitz.
Once the juice is ready strain the juice with the help of the strainer and also add the lemon juice to it.
Pour juice in the container and place it in the refrigerator for about a day.
Next day scrape it with the help fork. This would be the first layer of the juice.
Take the scrapped pomegranate crush in a glass.
Pour second layer of orange juice on top of pomegranate.
Finally as top layer pour the club soda carefully from one corner.
Our delicious layered mocktail with pomegranate orange and club soda is ready. Serve chilled to your party guests in birthday parties / kitty parties / get-together etc.
Recipes Similar to Pomegranate Orange Mocktail