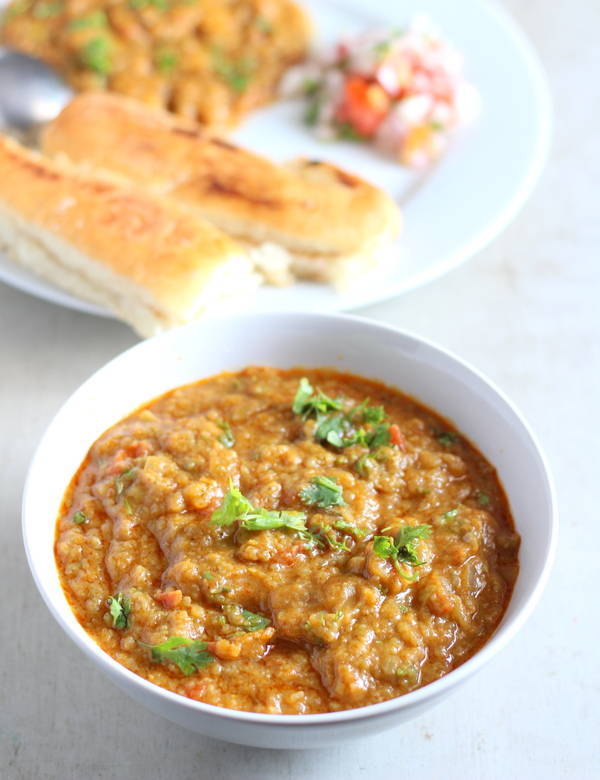 Delicious Mumbai street food style pav bhaji recipe with step by step photos – Like many Indian street food recipes, pav bhaji has its origin in mumbai the city that never sleeps 🙂 The history of dish is worth noting here. The origin of pav bhaji is a fascinating story of mumbai's textile mill workers who did not got enough lunch break for their meal. According to this deccan harald article : The origin of this dish is traced to the rise of the textile mills in Mumbai. The impoverished mill workers preferred to have a cheap light lunch during their short lunch break, so a vendor created this innovative dish. Initially, it remained the food of the mill workers. With time the dish found its way into restaurants and spread over Central Mumbai and other parts of the city. Then there was no looking back. Pav bhaji is now available in almost all Indian restaurant menu across the globe.
The original mumbai textile mill workers dish is now transformed in a popular Indian street food. There are so many different varieties of this dish made these days. The popular ones are cheese pav bhaji, paneer pav bhaji, mushroom pav bhaji and khada pav bhaji. The plain old pav bhaji with butter is the most loved one.
Pav bhaji has many variations and ways of making. Everyone have their own way of making pav bhaji. A lot of different kind of vegetables goes in this dish. The base of pav bhaji must be potato. On that you can use vegetables like green peas, lauki, baingan, etc. A lot of people add cauliflower to pav bhaji. I like to replace it with cabbage. As we noted the base of pav bhaji must be potato. Instead of potato you can also use green/raw banana. A Jain version of pav bhaji has raw banana instead of potato and also no onion no garlic.

I have used oil in this recipe of pav bhaji. A lot of people uses amul butter to make this dish. Although that taste amazing, the oil is also good. I have had both normal pav bhaji and butter pav bhaji. Use whatever ingredient pleases you. Also you can make this pav bhaji recipe a vegan recipe by replacing butter with oil.
Pav bhaji taste amazing when made in bulk. My mom make perfect pav bhaji. Everyone in my home loves her pav bhaji. The secret that she shared with me was that she always made pav bhaji in bulk. And on top she used to cook it for quite long time. That way all the spices used to blend properly in bhaji. Also she never served pav bhaji right after it was done. Always make pav bhaji atleast 1/2 hour before serving. That way it taste really great.
We always have left over bhaji of pav bhaji as it is prepared in bulk. The very next day it tastes even better :D. But if you are not fan of eating pav bhaji next day then what can you do with left over pav bhaji? well you can make tawa pulao using left over pav bhaji. You can even make pav bhaji pizza!! ya you heard it right. Pav bhaji pizza is nothing but left over bhaji spread over pizza base with some grated cheese and other toppings on top. Cook in oven for sometime and you are done.
Getting back to the humble mumbai style pav bhaji recipe, let us check the steps of making pav bhaji at home.
Recipe of Pav Bhaji with step by step pictures
To make pav bhaji we need lots of fresh vegetables like cabbage, capsicum, green peas, aubergine (egg plant), potato and lauki/dudhi (bottle gourd).
Also chop the onions and tomatoes for the gravy.
Boil all the vegetables in pressure cooker for atleast 7-8 minutes so that they become mushy.
Using a smasher smash the vegetables to make smooth paste.
Mesh all the boiled vegetables as shown here.
Now in a kadhai heat oil. Once the oil is hot add hing (asafoetida).
Add chopped onions and saute for 1-2 minutes.
Add chopped tomatoes and saute for another 1-2 minutes until tomato becomes soft.
Now add dry spices like coriander powder, red chili powder and ginger green chili paste. I have use red chili and garlic paste. Instead of that you can use only garlic paste.
Mix well all the spices and cook for 2 minutes till the spices blends well with gravy.
Now add mesh boiled vegetables and a one full tbsp pav bhaji masala.
Mix well and let the pav bhaji cook on low-medium flame atleast for 10-15 minutes.
Add a little water if pav bhaji becomes too thick and cook for 4-5 minutes. Delicious bhaji for pav bhaji is ready to serve. Garnish the bhaji with dollop of amul butter, freshly chopped coriander and serve bhaji along with pav or bread.
Mumbai Style Pav Bhaji Recipe Box
Pav Bhaji Recipe
Pav Bhaji Recipe - A delicious spicy mix vegetable mumbai street food recipe served best with indian bread called pav.
Ingredients
Tomato: 2 medium size
Potato: 2 medium
Onion: 3 medium
Capsicum: 1/2 capsicum
Brinjal: 1/3 cup
Bottle gourd: 1/3 cup
Cabbage: 1/2 cup
Green peas: 1/2 cup
Garlic: 3 cloves
Ginger: 1/2 inch
Green chili: 3 pieces
Oil: 2 tbsp
Hing (asafoetida) : 1/4 tsp
Pav bhai masala: 2 tbsp
Turmeric powder: 1/2 tsp
Red chili powder: 2 tsp
Salt: 2 tsp or to taste
Coriander (cilantro): 1/2 cup
Pav : 8 pieces
Butter : 2 tbsp
Instructions
To make Bhaji for Pav Bhaji
Chop the assorted vegetables like brinjal/baingan, cabbage, capsicum, potato and lauki/bottle gourd. Boil and pressure cook the vegetables for 10 minutes until become mushy.
Mesh the boiled vegetables using a masher and make paste.
Chop the tomatoes and onions. Make paste of green chili, garlic and ginger.
Now in a kadhai heat oil. You can even use Amul butter instead of oil if you want.
Once the oil is hot add hing (asafoetida) and chopped onions.
Saute the onions for 1-2 minutes then add chopped tomatoes.
Cook the tomatoes until it becomes soft.
Add dry spices like red chili powder, ginger paste, garlic paste, coriander powder and ginger.
Mix and let the spices get cooked with onion tomato for 2-3 minutes.
Add ready made pav bhaji masala and meshed vegetables in gravy.
Combine well and cook the bhaji for atleast 10-15 minutes on low to medium flame.
Add water in bhaji if required and cook for 5 more minutes.
Once the oil starts separating from top, pav bhaji is ready.
Prepare pav for serving pav bhaji
To serve pav bhaji prepare the ladi pav by slitting the pav vertically.
Heat a flat tawa / skillet and add a tsp of butter or oil. Separate the pav and place it on butter.
Cook until the pav becomes golden color on either side.
Garnishing pav bhaji
Serve the pav bhaji with lightly toasted bread, a dollop of amul butter on top, lemon wedge, finely chopped onion and fresh coriander leaves (dhaniya).
Other popular Indian street food recipes