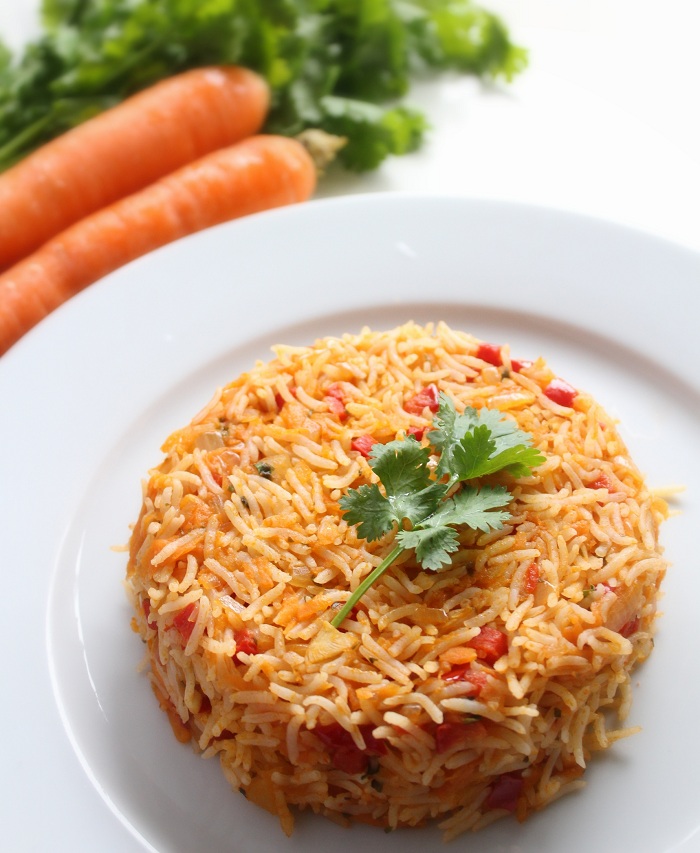 Mexican Veg Fried Rice recipe is yet another simple to cook yet delicious recipe which you can prepare in no time. This is one of the rice recipes which can be prepared from left over rice. This fried rice taste very different to the normal Indian taste buds as it does not have any regular Indian spices. Basically it is a Mexican preparation of fried rice with minimal spices (herbs) and vegetables. In this mexican veg fried rice recipe, I have added dry herbs like oregano and basils which gives amazing taste.
Related: Capsicum Pulao Recipe
Mexican cuisine is not yet my forte 🙂 I do google just like you all to see how a dish can be prepared to its excel. So the fried rice recipe that I am sharing is from non other then master chef Sanjeev Kapoor. Below is the video that I followed to prepare this delicious fried rice.
For vegetarians, the mexican fried rice can be prepared and serve just like that. However those who don't mind an egg should definitely serve the rice with fried eggs. Scroll to the bottom to see how I have served this rice.
How I made Mexican Veg Fried Rice
So here is how I made the Mexican Veg Fried Rice. Basically exactly similar to the master chef Sanjeev Kapoor 😀 Sometimes I like to tweak the recipe that I came across from Internet but often I try to follow the exact steps to see how it turns out. This time I did later. Below are the steps that I followed to prepare Mexican Veg Fried rice.
Finely chop the onion, garlic and red bell pepper (capsicum). Also grate some carrot. These are the basic ingredient of our mexican veg fried rice. We will also add some herbs like dry basil or oregano to the rice.
1. Heat some olive oil in a pan and add finely minced garlic and onion. Let it saute for a minute or two till the onion becomes transparent. We don't want to over cook the onion.
2. Add grated carrot and red capsicum (bell pepper). Mix everything well and let the veggies get cooked for some time.
3. Add some tomato ketchup and some chili sauce to the gravy. Mix again everything well.
4. Add dried herbs like basils and oregano. Herb gives really nice flavor to mexican fried rice.
5. Finally, add the boiled rice and mix everything well. Cook for about a minute on low flame.
Yummy Mexican veg fried rice is ready :). If you eat egg, I highly recommend fried egg with this rice. It goes really well. This is ofcourse optional. Feel free to serve as you wish. Enjoy the Mexican veg fried rice 🙂
Mexican Veg Fried Rice Recipe
Mexican Veg Fried Rice recipe - Spicy vegetarian mexican fried rice recipe with bell pepper and carrot.
Ingredients
For Mexican veg fried rice
Basmati Rice: 2 cups, boiled
Olive oil: 1 tbsp
Garlic: 1 tbsp, finely chopped
Onion: 1/2 cup, chopped
Carrot: 1/2 cup, grated
Red bell pepper: 1/3 cup, chopped
Tomato ketchup: 2 tbsp
Chili sauce: 1 tbsp
Herbs (oregano / basil): 1 tbsp
Salt: to taste
For fried egg (optional)
Egg: 1 piece
Salt: to taste
Instructions
For Mexican veg fried rice
Boil the rice and keep aside or use the left over boiled rice.
Heat olive oil in pan and add garlic and saute for a min then add onion, let the onion sweat then add carrot and red bell pepper mix everything well .
Add boiled rice, salt to taste, chili sauce, herbs(oregano/basil) and tomato ketchup and stir it. Cook for about 3 minutes.
Spicy and tangy veg Mexican fried rice is ready to serve.
For fried egg
Grease a pan with some oil and carefully crack the egg in it without breaking egg yolk. Season with some salt and once cooked, serve with Mexican fried rice.