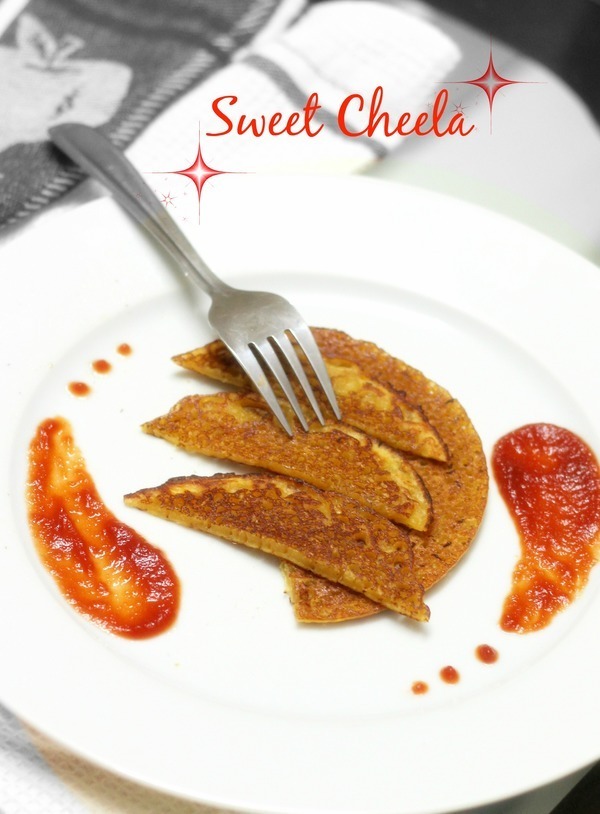 Sweet cheea recipe step by step – A delicious sweet Indian pan cake recipe with jaggery, wheat flour & gram flour.
First of all let me apologize for not so good pics of this recipe. I had made this a while ago and in evening. Hence the photos have not come well. I avoided posting this recipe due to this fact and thought would make this cheelas again someday and try to click good pics. However it seems that never happened. So here I am posting these pics and forcing myself to make it again and replace old pics with new one.
I did not get time to cook anything today. As we had a little get together in my apartment. Also had some outdoor chores which had to be done today so again no cooking. That gave me a great opportunity to dig into my little treasure from past, some old recipes that I made earlier but never posted on internet. Finally I rediscover this sweet chillas and thought today is their day.
Related: Besan Cheela Recipe
This sweet besan cheela recipe is bit different then the usual recipe. Normally in sweet cheelas we only mix wheat flour along with jaggery. Here I have added some besan or chickpea flour to give it "cheela" like texture. The sweet besan cheela is a great breakfast dish. The jaggery is considered iron rich and hence is good for body if consumed during morning. There are only 3 main ingredients in this sweet cheela recipe. Most of these ingredients are common in Indian kitchen. Hence it is damn easy to prepare these sweet chillas in no time. Also if you feel like not cooking any thing then you can fix yourself a brunch or sweet cheela or besan cheela in no time with minimal effort.
People who have sweet tooth will love these sweet besan cheela. Usually Gujarati people like sweet taste and hence this recipe is hit among Gujjus all over world. Also due to its few similarity with "malpua" it is liked in Northern states of India too.
Before we dig into the recipe of sweet besan cheela, I would like to point one thing that needs to be taken care while making cheela. These sweet cheelas might stick to the pan while cooking. So make your first cheela smaller and apply 1-2 tsp of oil on either side. This way once you prepare 1st cheela, your tawa/skillet will be sufficiently greased for later use.

Let's get back to recipe of sweet cheela.
Recipe of Sweet Cheela step by step with pictures
The sweetness of sweet cheela is attributed to jaggery or gudd. We need only 3-4 ingredients to make these delicious sweet chillas.
First take soft jaggery in a bowl. There are different varieties of jaggery available in market. You can use any type of jaggery. I just used a dark variety available at time.
Add water in jaggery and heat the bowl on low flame so that water becomes hot enough to dissolve the jaggery. Stir well to dissolve all jaggery in water.
We will use 2 different flours to make sweet besan cheela. We will mix both whole wheat flour and besan (gram flour). Usually only whole wheat flour is used in making sweet chilla but I like to add some besan to give it a nice cheela like texture.
Let the jaggery water comes to room temperature and then add both whole wheat flour and gram flour into jaggery water and mix well. We need to make batter for besan cheela.
Mix well to prepare batter for sweet cheela. The batter should be of lump free and with runny consistency.
Now to make sweet chilla lets heat 1 tsp of oil on tawa / skillet on low flame.
Once the oil is hot, pour around 4-5 tbsp (1 ladle full) batter of sweet besan cheela on oil. Turn the gas up to medium flame.
Spread the batter on pan like a pan cake. The thickness should be around 3-4 mm and try to give even thickness across the batter.
Roast the sweet besan cheela on one side for 1 minute and then flip it over.
Let it roast on other side for 30-40 seconds. Delicious sweet besan cheela are ready. Take the cheelas off skillet and place it in serving plate. Serve cheelas hot along with ketchup or chutney.
Sweet Cheela Recipe
Sweet Cheela Recipe
Sweet cheela - A tasty sweet pan cake recipe made from whole wheat flour, gram flour (besan) and jaggery.
Ingredients
Wheat flour (gehu atta): 1 cup
Gram flour (besan): 1/4 cup
Jaggery (gudd): 2 tbsp
Water: 2 cups
Oil: 1/2 cup
Water : 2 cups or as required
Instructions
In a large vessel take jaggery and add water.
Put the vessel on heat and boil the water until the jaggery melts completely. Stir occasionally.
Once the melted jaggery water comes to room temperature add whole wheat flour and gram flour (besan).
Combine the flour in water and make a lump free batter of runny consistency.
Heat a tawa or skillet and put 1 tsp oil on it.
Once the oil is hot, pour around a ladle full batter for sweet cheela on hot oil and spread it with round outward motion.
Make pan cakes of around 4-5 inch diameter and around 3-4 mm thickness.
Let the sweet cheela get cooked on one side for 1 min.
Flip the sweet chilla on other side and cook again for 30-40 seconds.
Delicious sweet besan cheela or sweet chilla is ready.
Serve this sweet chilla with ketchup or chutney.
Other Indian snacks recipes you might want to check