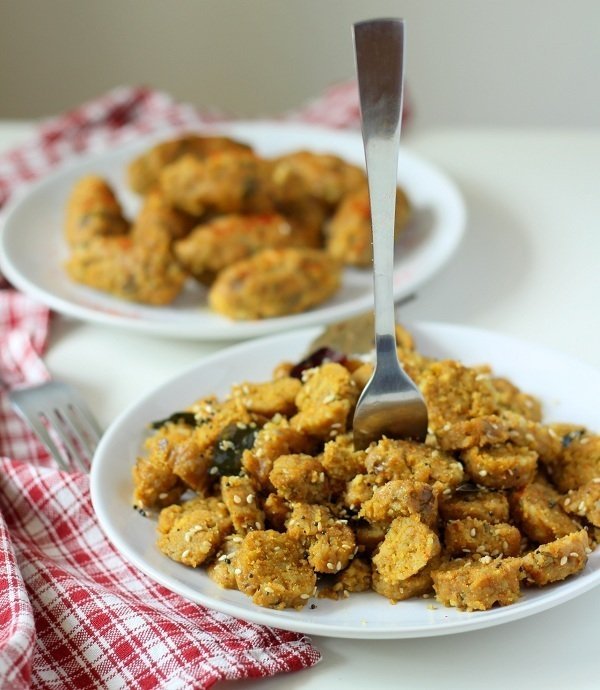 Muthia Dhokla Recipe (Dudhi Muthia): Muthia dhokla is yet another variation of traditional Gujarati Dhoklas that I often prepare at home. Muthia dhokla are steamed or fried dumplings made from boiled rice, grated bottle gourd (lauki) and a mix of five flours.
Out of so many different varieties like khatta dhokla, sandwich dhokla, white dhokla (idra dhokla) but I love muthia dhokla as it taste different then all of'em. Dhoklas are known for its softer, fluffier texture but sometime you want to eat something crispy. Muthia dhokla is exactly that crispier version.
This Muthia dhokla recipe is a healthy dhokla recipe. Muthia dhokla traditionally is made from combination of boiled rice and five different flours: gram flour (besan), wheat flour (gehun ka atta), maize flour (makai ka atta), white millet flour (jowar/juar) and black millet flour (bajra). Also bottle gourd (dudhi/lauki) makes the base of this dhokla.
The steamed muthia dhoklas are eaten along with some vegetable oil. Also this muthias are used sometime in making king of Gujarati curry: undhiyu. Most of the times the muthia dumplings are cut into pieces and fried along with some sesame seeds making it crispy and tasty.
This is an Instant Muthia Dhokla recipe. Contrary to its counter part the batter of muthia dhokla does not have to be fermented before making dhokla. Other dhoklas like idra dhokla, khatta dhokla requires a night to get its batter fermented. Whereas muthia dhokla can be prepared without any fermentation process. Also the boiled rice used in this recipe need not be freshly boiled. You can also use left over rice to create muthia dhokla recipe (check out my left over rice & sweet corn bites recipe).
Let us check the step by step recipe with photos of Gujarati style muthia dhokla.
Gujarati Muthia Dhokla Recipe (Dudhi Muthia)
There are different ways of making muthia dhokla. Lot of people simple steam the dhoklas and eat along with some oil or sometimes people shallow fry (temper) the steamed dhokla again and eat it with just tea! I have shown both ways of doing it.
1. To make steamed muthia dhokla
Rinse the rice and boiled it in rice cooker/pan. Also bottle gourd (dudhi/lauki) is one of the key ingredient of muthia dhokla. Wash and grate the bottle gourd using medium side of grater.
Drain excess water from boiled rice and take the boiled rice in a bowl. Add grated bottle gourd and all spices: oil, red chili powder, coriander powder, turmeric powder, ginger garlic paste, sugar and salt to taste. Also add baking soda (soda bi-carbonate) in mixture and on top of it pour lemon juice. 
 Mix the ingredients well and so that all spices blends into rice and bottle gourd mixture.
Its time to add all the flours. We are using five types of flour:
Gram flour (besan)
Wheat flour (gehun ka atta)
Maize flour (makai ka atta) [optional]

White millet / Sorghum flour (jowar / juar ka atta)  [optional]

Black millet / Pearl millet flour (bajra ka atta)  [optional]
As mentioned some of these flours are optional. However I highly recommend to add these as it enhance taste of muthia dhokla.
Add all flours in the rice/bottle gourd mixture and also add in chopped green coriander (cilantro) leaves. Its time to mix all the flour and make muthiya dhokra mixture.
Add little by little flour and mix it well in dhokla mixture. Thoroughly mix the flour in dhokla mixture. Do not add water. Mix everything well to make thick consistency so that dhokla mixture can be shaped into dhokla dumplings.
Take a portion of dhokla mixture in hand and press it into oval shape dhoklas as shown in below picture. Repeat the process for remaining muthia dhokla mixture and prepare muthia dhokla dumplings.
Prepare a steamer to steam dhoklas. Put the muthia dhokla dumplings into steamer one by one.
Steam the muthia dhoklas on low flame for about 30 minutes till they are well cooked.
Once cooked, muthia dhokla should become soft and the raw taste of mix flour should be gone. Taste one dhokla dumpling to check if it is steamed properly.
Steamed muthia dhoklas are ready. You can serve it hot along with some tomato ketchup or chutney or you can further fry them with sesame seeds.
2. To make fried muthia dhokla (aka: vagharela muthia)
Its time to temper the muthia dhokla (also known as vagharela muthia dhokra in Gujarati).
Using a knife cut roughly 1 centimeter thick pieces of steamed muthia dhokla. You can event make smaller pieces as the smaller the piece the crispier it gets when tempered.
Heat some oil in a pan and add mustard seeds (rai). Once mustard seeds crackles add bay leaf (tej patta), dry red chili, curry leaves (kadi patta) and sesame seeds (til).
Sesame seeds gives great flavor to tempered muthia dhokla so get generous with that.
Now add steamed dhokla pieces in the tempered spices and mix everything well. Let the dhokla gets cooked on low flame for 10 more minutes. Stir occasionally in between.
The tasty delicious Gujarati Muthia Dhokla is ready. Serve hot with some masala tea.
Muthia Dhokla Recipe
Muthia Dhokla Recipe -
Ingredients
Main Ingredients
Rice: 1 cup, boiled
Bottle gourd (lauki/dhudhi): 1 cup, grated
Wheat flour: 1 cup
Gram flour: 1/2 cup
Maize flour: 1/2 cup (optional)
Sorghum flour (Juar/Jowar): 1/2 cup(optional)
Pearl millet (Bajra): 1/2 cup(optional)
Red chili powder: 1 tablespoon
Turmeric powder: 1 teaspoon
Sugar: 1 teaspoon (optional)
Coriander powder (Dhaniya): 1 tablespoon
Soda bi carbonate:1/2 teaspoon
Lemon: 2 tablespoon
Ginger and Garlic: 1 tablespoon
Oil:2 tablespoon
Coriander (Cilantro): 1/2 cup, chopped
For Tempering
Oil:1 tablespoon
Sesame seeds: 1 tablespoon
Mustard seeds:1 teaspoon
Curry leaves:6 leaf
Bay leaf: 1/2 leaf
Dry red chili: 1 chili
Salt: to taste
Instructions
To Steam Muthia Dhokla
Rinse the rice and boil them in rice cooker/pan. While the rice is boiling wash and grate the bottle gourd (lauki).
Once the rice is boiled, drain excess water & let it cool down.
In the bowl take boiled rice and grated bottle gourd(lauki) and add in all the masala: red chili powder, coriander powder, turmeric powder, ginger garlic paste, sugar, salt to taste and oil.
Add soda bi carbonate (baking soda) and on top of it pour the lemon juice. By doing this muthia dhokla will become soft. Mix all the ingredients well.
Now it is time to add in all the flour: Wheat flour, gram flour, maize flour, sorghum flour (jowar) and pearl millet (bajra) flour. Note: Do not add water to the mixture just add little by little flour and mix till you can make it thick consistency.
Add the fresh chopped coriander leaves and mix it well.
Take a portion of dhokla mix & make it into oval shape by your hand.
One by one repeat the process for remaining dhokla mixture.
It is time to steam our muthia dhokla . Place all the muthia dhokla plate in the steamer and steam for about 30 min on low flame .
Steamed Dhokla is ready.
To Temper Dhokla
Cut the steamed muthia dhokla into approx 1 centimeter slices.
In pan add oil and mustard seeds & let it temper, once tempered add the bay leaf, dry red chili, curry leaves and sesame seed .
Put in the steamed dhokla and mix it well and cook for about 10 min.
Muthia dhokla is ready. Serve hot with tea, ketchup or chutney.