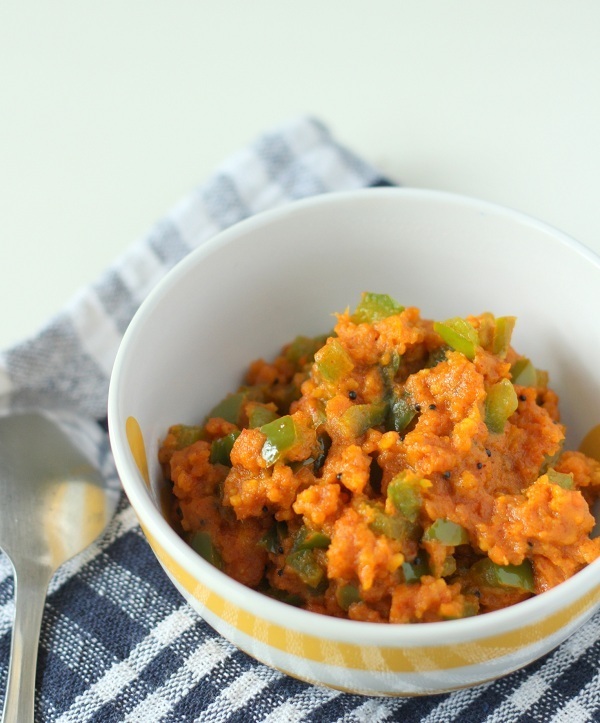 Besan Shimla Mirch ki Sabji – A simple mouthwatering preparation of bell pepper (shimla mirch) along with some roasted gram flour and other Indian spices. This unique tasty capsicum recipe is easy to make and takes minutes to prepare. Besan shimla mirch sabji (aka. Besan wali shimlamirch) is served as side dish along with other Indian curries and chappatis/phulkas.
Indian curries are usually served along with many side dishes like chutneys, sambhara (in Gujarat) or poriyals (in Tamil Nadu). These side dishes are dried and often stir fried vegetable. They goes really well with different Indian curry recipes. Besan shimla mirch is served as one of the side dish. The flavor of capsicum gets a boost when it is combined with dry roasted gram flour.
Related: Besan Ka Cheela | Bharwa Mirch
Let us check the easy recipe of besan and simla mirch sabji.
Step by step Recipe of Besan Shimla Mirch ki Sabji
1. We need to dry roast the gram flour (besan) first for this besan shimla mirch sabji. Take the besan in a pan and dry roast it till it changes color. The besan should start smelling once it is roasted properly. Do not over roast besan as it gets bitter. Once the besan is roasted take it out in a bowl to avoid over roasting from hot pan.
2. We need very few ingredients for besan shimla mirch ki sabji (capsicum gram flour curry). Dice the bell pepper / capsicum into small 1/2 inch size pieces. Also peel a 1/2 inch piece of ginger and finely chop it. Apart from these two ingredients we need usual Indian spices like red chili powder, coriander powder, mustard seeds, turmeric powder etc.
3. Heat oil in a pan and add a pinch of asafoetida (hing) and mustard seeds into hot oil. Saute the spices till mustard seeds crackles. Now add chopped ginger into the pan and saute it for a minute.
4. Add diced capsicum (shimlamirch) into the pan and mix them well.
5. Also add seasoning spices like turmeric powder, red chili powder, coriander powder (dhaniya) and salt to taste.
6. Mix all the spices along with bell pepper and cook until the spices blends into the capsicum.
7. Now add a cup of water and cook till the water reduces to half. The idea here is to cook capsicum in boiling water.
8. Add the roasted gram flour (besan) in pan and mix all ingredients well. Cook for 2 minutes until the gram flour soaks water.
The tasty besan shimlamirch ki sabji is ready now. Serve it hot with phulkas or chappatis.
Besan Shimla Mirch Ki Sabji, Besan Simla Mirch Recipe
Besan Shimla Mirch Sabji recipe: Spicy Indian curry made from bell pepper and roasted gram flour.
Ingredients
Roasted Gram flour (besan):1/2 cup
Capsicum (Shimla mirch):1 cup, diced
Ginger: 1 tsp, finely chopped
Oil: 1 tbsp
Mustard seeds: 1 tsp
Red chili powder: 1 tsp
Coriander powder: 1 tbsp
Turmeric powder: 1/2 tsp
Water: 1 cup
Asafoetida (hing): 1/4 tsp
Salt: 2 tsp or to taste
Instructions
Dry roast the besan in a flat nonstick-pan on a low flame till the color sightly changes. Do not over cook as Besan tends to get bitter.
Wash the capsicum with water. De-seeds the bell pepper and cut into small dices.
In a pan add the oil and mustard seeds and let it temper.
Once tempered add asafoetida, chopped ginger and cook for about a min then add the chopped capsicum (Shimla mirch).
Once the capsicum is saute add all the masalas: red chili powder, coriander powder, turmeric powder, salt to taste and cook till masala blends well in the shimla mirch.
Now add a cup of water and cook till the water reduces to half in quantity .
Add the roasted gram flour (besan) and mix all the ingredients well, cook for about 2 mins so that the besan will soak all the water.
Besan simla mirch ki sabji is ready. Serve it hot with chappati or phulka.