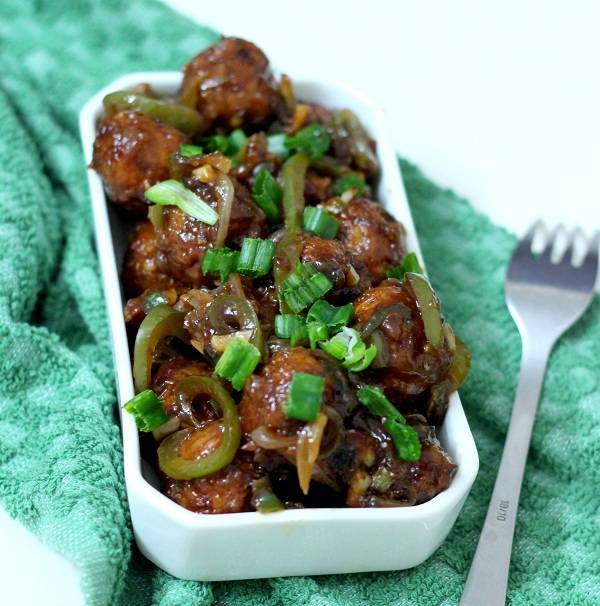 Dry Manchurian Recipe with Step by step photos – Let me share with you a simple recipe of Indian version of Chinese Dry Manchurian. This dry Manchurian is quite famous in India as street food. In most cities you will find a street vendor selling Chinese food (quite often they misspell chineese / chinise / chinise :D). Apart from being a street food dish manchurians are also well known as starters in restaurants.
The taste of dry manchurian is simply amazing. For this dry manchurian recipe I have used cabbage instead of cauliflower. Apart from cabbage this veg dry Manchurian has boiled rice. By adding boiled rice the manchurian becomes crispier and healthy too.
Indian manchurian is a great dish for parties. Kids love this starter. My nephews are great fan of this simple home made veg dry manchurian dish. As I made this recipe for kids, I have not used artificial color, ajinomoto and chili sauce in dry manchurian recipe. Also this is home made version so I wanted it to be as much healthy and simple as possible. The spiciness comes from ginger and green chilies so no need to add chili sauce which has preservatives.
Serve this manchurian in your next party with fried rice, sweet corn soup or manchow soap. Your guests will be amazed 🙂
Getting back to the recipe, let us start with the step by step recipe of Chinese Dry Manchurian with photos.
Step by step Recipe of Chinese Dry Manchurian
For this dry manchurian recipe we will use some boiled rice. If you have left over rice then use those. Otherwise boil some rice as shown here. Thoroughly wash some rice and boil them in a vessel.
1. Making Dry Manchurian Balls
Let the rice gets boiled. You can also use Microwave to boil the rice.
Wash and grate the cabbage as shown here. Instead of chopping if we grate the cabbage it tends to be cut uniformly there by making it easy to roll manchurian balls.
In the grated cabbage add boiled rice. Here for 3 cups of grated cabbage I have used just 1/2 cups of boiled rice. So adjust the serving accordingly.
Now add all purpose flour (aka Maida) and corn flour in cabbage mixture. Add salt to taste. Go little easy on salt as we are going to add soya sauce which is a bit salty. We can always adjust the salt once we prepare the mixture.
Pour some Soya sauce now on top of corn flour and maida. This should give nice flavor to manchurian and also act as binding agent.
I have not added any water in this mixture as once we start kneeding, the cabbage should ooze out moisture that will bind the mixture. Mix it well using hand or with the help of spoon.
Now take small portion of cabbage mixture in hand and gently press and make manchurian balls as shown below. Do the same for remaining mixture and make small balls.
Now heat oil in a deep frying pan / kadhai. Once the oil is hot enough one by one drop all the manchurian balls in hot oil and deep fry them.
Using a deep fry strainer mesh / zara spoon keep on stirring the manchurian balls till they are fried uuniformlyon all sides. Fry the manchurian balls until they get light brown in color.
Once machurian balls are fried remove them from oil and place them in a dish. You can use kitchen towel / paper napkin to soak extra oil from the balls.
Manchurian balls are ready. Let us now make the dry manchurian semi gravy.
2. Making Dry Manchurian Sauce / Gravy
Now to make dry manchurian gravy / sauce (semi gravy) we will need following ingredients. Slice off the green capsicum as shown here and also slice some onions. Also use some spring onion and chop the green part as shown here. For dry manchurian we will use lots of garlic and ginger. Peel off the garlic and chop into pieces. Similarly grate the ginger. You can also use ginger & green chili paste.
In a non-stick pan heat oil and add garlic and ginger. Saute for a minute till garlic starts releasing aroma.
Now throw in the sliced onion and greens of spring onion. Mix well using spatula.
Let onions get cooked for just half a minute or so. We need that raw bite to it. Now throw in the sliced green capsicum.
Mix well and cook for half a minute. Add soya sauce in manchurian gravy mixture now.
Now prepare corn flour mixture by mixing corn flour in 2 tbps of water. Add this corn flour mixture in dry manchurian sauce.
Mix well and let the gravy gets cooked not more then a minute. Season the gravy with some salt to taste.
Add some tomato ketchup in the gravy. I have used my favorite Maggi Pichkoo 🙂
The sauce is ready. Throw in the manchurian balls that we made earlier in the sauce.
Give a quick stir and the dry manchurian is ready.
Mouth watering dry manchurian is ready to serve.
Serve Dry Machurian as starter / snack / appetizer dish in birthday parties, get togethers, kitty parties etc 🙂 Also you can serve fried rice with manchurian for dinner.
Indo Chinese Dry Manchurian Recipe Box
Dry Manchurian Recipe, How to make Manchurian
Indo Chinese Manchurian (Dry Manchurian Recipe) - Step by step recipe of Indo-Chinese dry manchurian.
Ingredients
To make Manchurian Balls
Cabbage: 3 cup
All purpose flour: 1 cup
Corn flour: 1/2 cup
Soya sauce: 1 1/2 tbsp
Rice: 1/2 cup, boiled
Oil: 4 cups for deep frying
Salt: 1 1/2 tsp or to taste
To make Manchurian Gravy
Capsicum: 1/2 cup
Green chilies: 1 tsp
Ginger: 1 tbsp
Garlic: 2 tbsp
Onion: 1/2 cup
Spring Onion: 2 tbsp
Tomato Ketchup: 2 tbsp
Oil: 1 tbsp
Salt: 1/2 tsp or to taste
Instructions
To Make Dry Manchurian Balls
Grate the cabbage and boil the rice keep aside
In a bowl add grated cabbage,rice mix well both the ingredients.
Then add all purpose flour(maida) and corn flour this will help in binding.
Now add soya sauce and salt to taste and mix well all the ingredients.
(Note:Do not add water while mixing all the ingredients Cabbage will by it self release the water)
Make the round balls and deep fry the balls.
To make Chinese Gravy
Chop the garlic, spring onion. capsicum and onion and keep aside.
Now make the green chili and ginger paste.
Once the oil is hot the add the garlic , ginger and chili paste and saute for half min.
Then add the onions is half cooked then add the capsicum and saute for a min .
Now its time to add the soya sauce, salt,tomato ketchup and corn flour (Mix the corn flour in 2 tbsp of water then add it the the Manchurian gravy ) .
Now add the Manchurian ball to the gravy and mix well in the gravy and cook for about 3 min.
Sprinkle the spring onion greens on top and serve hot.
Notes
1. It is better to grate cabbage then to cut. This way it is easy to make Manchurian balls.

2. Ajinomoto is generally used in dry Manchurian recipes. However I have skipped it here to make it healthy and kids friendly.

3. I have added boiled rice in Manchurian ball to make the ball cripes outside yet soft inside and healthy.

4. I have avoided chili sauce since it has preventative.