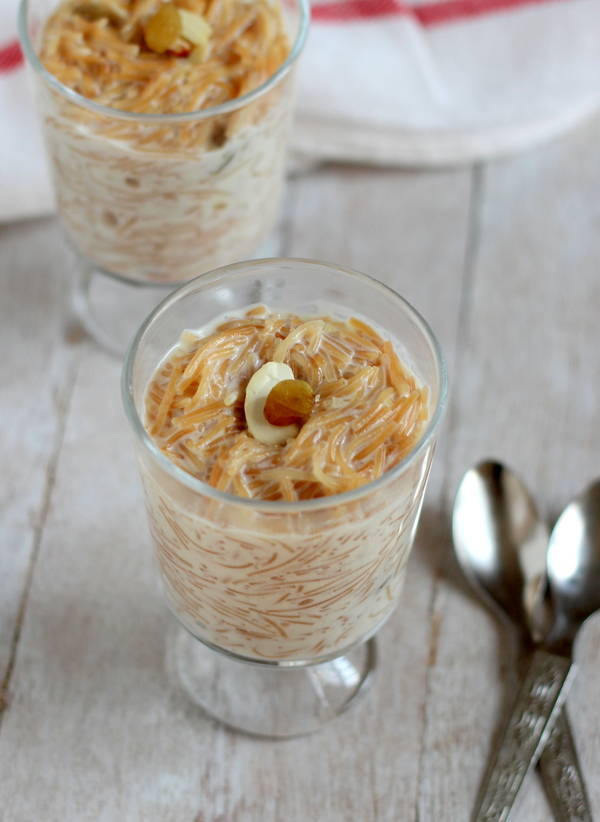 Seviyan Kheer Recipe (Vermicelli kheer) – A traditional Indian dessert/sweet recipe made during festivities such as Diwali, Eid, Ramzan etc. The yummy sweet recipe of seviyan kheer is specially prepared during Ramzan.
Seviyan kheer is loved and prepared in almost all the corners of India. And that's why it is called by so many names  such as vermicelli kheer, payasam, mithi seviyan, sev ni biranj etc. The main ingredient in this dessert recipe is vermicelli strands which looks very much like spaghetti but the cooking process is different. It has various local names seviyan or semiyan in Hindi, valavat/ shevaya in Marathi, shemai in Bengali , sev in Gujarathi,  shavige in Kannada, sevalu or semiya in Telugu, and semiya in Tamil and Malayalam.

This vermicelli and be used to make different dishes like dessert, snakes like (vermicelli upama), pudding, pasta etc.
Also read: Chocolate Kheer Recipe | Sabudana Kheer Recipe
Before we dig into the recipe of seviyan kheer, let us check few tips and tricks for making perfect vermicelli kheer.
Tips for Seviyan Kheer Recipe
Try using full fat milk to make seviyan rich and delicious.
You can also add khoya to this kheer and make it even richer and creamy.
Some people like less sev and more milk and others vice versa. So according to your taste, change the quantity of milk in this recipe.
Seviyan kheer tends to get thick when cools down. So just add some milk and re-heat and it should get right consitency.
Step by step Recipe of Seviyan kheer with pictures
To make the delicious seviyan kheer we will need milk, sugar, vermicelli, ghee and dry fruits. The exact quantities of these ingredients are listed in the recipe box at end of the post.
Lets start by heating up some ghee in kadhai (pan) and once the ghee is hot add vermicelli to it.
Keep string the vermicelli till golden grown in color or till roasted as you can see in the below picture. Keep stirring the vermicelli or else it will burn from one side and not roast properly.
Once the vermicelli is roasted add full cream milk to it. Be careful in adding the milk as milk tends to spill off.
After adding the milk let the vermicelli cook properly in milk for about 5-7 min.
Then add sugar to the seviyan kheer. Quantity of the sugar can be adjusted as per your taste.
Let milk gets boil til it reduce to 1/4 or to the consistency you and your family likes it.
Tine to add some crunch and richness to the seviyan kheer by adding some dry fruit. You can add dry fruit of your choice. I am adding almonds and kismis.
Mix everything well and cook for about 2 min.
Yummy Seviyan kheer is ready to serve. You can serve this seviyan warm or chilled.
Seviyan Kheer Recipe (Mithi Sev Ki Kheer)
Seviyan kheer recipe Mithi seviyan(Vermicelli kheer)
Seviyan Kheer Recipe - Yummy delicious Indian kheer recipe with Seviyan.
Ingredients
Vermicelli : 1/2 cup
Milk : 1/2 liters
Ghee : 1 tbsp
Almond : 10 grams
Raisin : 10 grams
Sugar : 1/4 cup
Instructions
Heat ghee/ clarified butter in a kadai and once the ghee is hot add vermicelli.
Roast the vermicelli till golden brown. Keep stirring or else it might burn.
Once the vermicelli is roasted, add milk and cook for about 5 min. Add the milk carefully as it might spill over.
Add sugar to seviyan kheer and cook till milk reduces to 1/4.
Then add dry fruit of your choice. Serve warm or chilled.