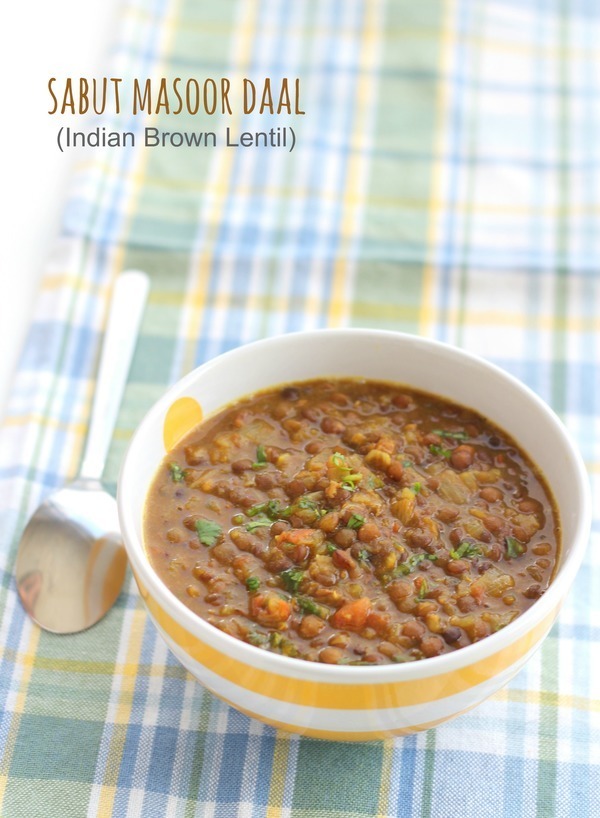 Sabut Masoor Dal Recipe (Akha Masoor Daal) – Simple and easy protein rich daal recipe of Indian brown lentil, cooked in onion tomato gravy with basic Indian spices.
We Indians cannot live without our lentils 🙂 Especially the vegetarians. Lentils or Daals form the major part of staple food across India. You will find these tiny protein rich legumes cooked along with basic Indian spices. Dal recipes are cooked daily and served with steamed rice, roti and sabji. That is the ideal balance meal in most of Indian families.
Related: Green Moong Daal | Daal Palak
Like many, I too cook these daals daily in my kitchen. Most often the gujarati toor daal and also south indian sambar both my favorites. Along with these, I also cook punjabi daal tadka, lasooni daal and daal palak. The most common lentil dal in all these recipes I just mention are toor daal and chana daal. You will find these two in most of the daal recipes in Indian household. Apart from these, other dal such as moong, masoor and urad are also cooked.

Today I am sharing yet another simple and easy to cook daal recipe – sabut masoor dal recipe. This type of daal are famous in dhabas and road side eating joints. I remember driving near Pune where we had this delicious dhaba style masoor daal. We ordered "akha masoor dal" as they say in marathi along with some jowar bhakhri. And trust me that was yummy. The masoor daal cooked in dhaba is usually a little spicy. The jowar bhakhri that they serve along with it balance the taste. The combination is simply amazing.
Coming back to the recipe of sabut masoor daal, let me share this easy recipe today. This recipe is Dhaba style and thus is very basic. When you order this daal in a restaurant or dhaba, the chef has to cook this daal in minutes and serve hot. And thus the recipe is quite simple. We need very few ingredients to make this dhaba style masoor dal recipe.
Sabut Masoor Dal Recipe (Dhaba style Akha Masoor Daal)
Lets start off by rinsing the sabut masoor daal in water thoroughly. Once cleaned, take the masoor in pressure cooker and pour water in it. Cook the masoor dal on medium flame in pressure cooker for 7-8 minutes or 4 whistles. Once cooked, turn off the gas and let the cooker cools down completely. Open the lid and check if the masoor is cooked. If not, cook for 1 more whistle.
While masoor is getting pressure cooked, we can start with some pre-preparation. For this sabut masoor dal recipe we will need finely chopped tomatoes and onion. Also we will need ginger paste and garlic paste.
Lets start the tampering process. In a thick bottom pan / kadhai, heat the oil. Once the oil is hot add cumin seeds and let it crackles. Then add ginger paste and garlic paste. Also add 1 whole green chili slit into two pieces.
Sauté the ginger garlic paste in Oil for 30 seconds.
Now add finely chopped onion in the oil. Cook the onions in oil for 2 minutes until they start turn golden. Stir the onions once a while when they are cooking.
Now add finely chopped tomatoes in the cooked onion. Mix everything well and cook again for 2 minutes until the tomatoes blends well in the gravy.
Now let us add Indian spices. Add turmeric powder, coriander powder, red chili powder and salt. Also add garam masala powder.
After adding all the dry spices, give a good stir and mix well the spices with onion tomato gravy. Let the gravy cook on low flame for 2 minutes. Occasionally stir in between.
Now the onion tomato masala is done. Let us add the cooked sabut masoor dal or akha masoor dal. Add the water also from the pressure cooker.
Let the dal get simmer on low flame for about 3 minutes. Stir occasionally in between. Taste the dal and check the salt. Adjust the seasoning according to your liking.
Lastly, sprinkle some freshly chopped green coriander leaves (hara dhaniya) in masoor daal.
Mix well and done. Delicious mouth watering sabut masoor dal recipe or dhaba style akha masoor daal is ready to serve. Serve the dal hot with paratha, naan, phulka roti or jowar bhakhri and jeera rice or steamed rice.
Sabut Masoor Dal Recipe | Dhaba Style Akha Masoor ki Daal Recipe
A popular Indian daal recipe made from brown lentil or sabut masoor dal cooked in onion tomato gravy with basic Indian spices.
Ingredients
Sabut masoor dal : 1/3 cup
Oil : 1 tbsp
Cumin seeds : 1/2 tsp
Ginger :1 tsp, paste
Garlic : 1 tsp, paste
Green chili : 1 piece, slit
Onion : 1/2 cup, chopped
Tomato : 1/4 cup, chopped
Turmeric powder : 1/4 tsp
Red chili powder : 1/2 tsp
Coriander powder : 2 tsp
Garam masala powder : 1 tsp
Salt : 1 tsp
Instructions
Rinse the sabut masoor dal with water.
In a presser cooker take a masoor dal and add water.
Presser cook the the dal for about 7-8 min (around 4 whistles) or till the dal is cooked well.
In a non stick pan heat oil and once the oil is hot add cumin seeds.
Add other ingredients like ginger paste, garlic paste and green chili slit. Cook for about 30 sec.
Add finely chopped onion to the oil and cook for about 2 min or until they turn golden in color.
Add tomatoes to the onion and cook for about 2 min or till the tomatoes become mushy.
Once the tomatoes are cooked, add all the dry Indian spices such as turmeric powder, red chili powder, coriander powder, garam masala powder and salt to taste.
Give a nice mix and cook for about 2 min or until the masala is cooked well.
Add boiled masoor dal to the onion tomato gravy and give a quick stir. Cook for about 3 min till all the ingredients blend well together.
Finally add some fresh coriander leaves on top and serve hot.