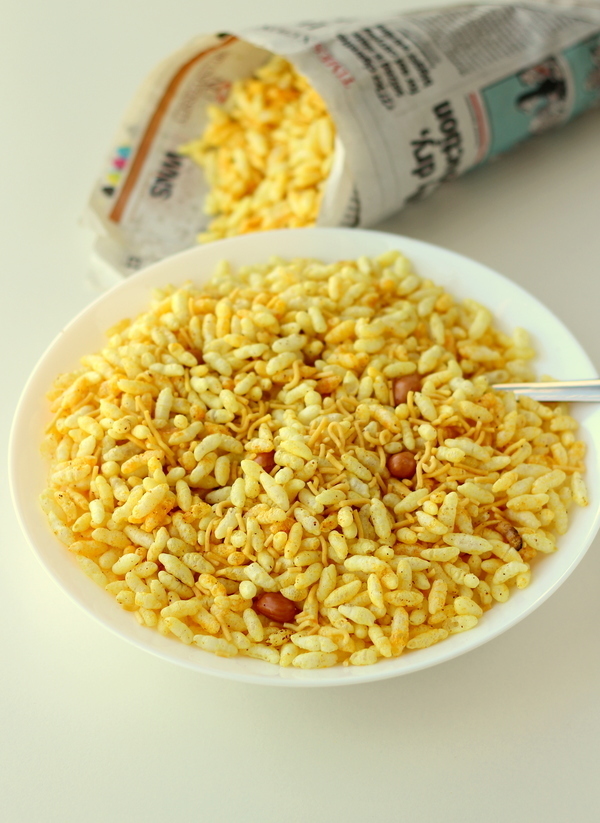 Masala Puffed Rice Recipe (Spicy Murmura Recipe) – Spicy and tasty masala puffed rice recipe with steps. Learn how to make masala puffed rice also known as masala murmura recipe as tea time snack.
If you love Indian street food then you already adore puffed rice. And if you have not heard about it, no worries.. Puffed rice are a type of puffed grain made from rice. It is usually made by heating rice kernels under high pressure in the presence of stem. So the rice kernel puffs up into this soft and crunchy little treat.
Puffed rice has many names in India. It is known by names such as mamra, murmura, murmure, mumra, mambra, kurmura etc. Puffed rice is key ingredient in bhel puri and chaat. It is also combined with jaggery to make murmure ladoos. You can also make Idli using puffed rice!! I will soon share recipe of idli using murmure 🙂 There are so many different varieties of dishes you can prepare from this one ingredient.

This recipe of masala puffed rice is my favorite and I always have an air tight jar full of them. I buy big packets of puffed rice from my local Indian grocery store. And prepare this masala puffed rice recipe in batches. As puffed rice takes too much of space, its difficult to prepare bulk of them in one batch. And hence I always cook them in batches. That way they always remain fresh too 🙂 Whenever you are craving of Indian street food, keep this masala puffed rice handy. Quickly chop some onion and tomatoes and mix with spicy murmure. You can also add some kajur imli chutney and make easy bhel recipe.
Other tea time snacks recipes
I have grown up watching my mom make this spicy puffed rice (we call it vagharela mamra in gujarati) almost every week. Whenever we used to come home from school my mum used to quickly prepare and give us bowl full of these chatpata snack. And now I make them that often too. So let me share few tips and tricks that will help you if you are making masala puffed rice for the first time.
 Tips While Making Masala Puffed Rice (Spicy Murmura)
The quality of puffed rice is of utmost importance. If its soggy, you might find it difficult to cook. So buy fresh puffed rice and check the manufacturing date.
If you forget to roast the puffed rice, they tend to get soggy. Even in monsoon season they get soggy. So to remove the moisture from puffed rice, dry roast them.
Puffed rice have very thin skin and thus they tend to get easy burn while roasting. So always use thick bottom pan to avoid those black marks on puffed rice.
Always keep an eye while roasting puffed rice. Keep on stirring continuously.
To increase the shelf life of masala puffed rice, store them in an air tight container. I prefer using good quality plastic container such as tupperware to store puffed rice.
Masala Puffed Rice Recipe with step by step pictures
To make this easy puffed rice snack we will need puffed rice (murmura), sev, oil, red chili powder, turmeric powder, mustard seeds, hing, salt and peanuts. Check recipe box at end of this post to know exact quantities of these ingredients.
I have used fresh puffed rice which are not soggy and thus I am directly tempering in oil. If your puffed rice are little soggy then dry roast them first before this step.
In a thick bottom pan / kadhai, heat oil and add peanuts. On medium flame roast the peanuts until they slightly changes color and turns light brown. Keep on stirring the peanuts.
Once the peanuts are roasted transfer in a plate on paper napkin and keep aside.
In the same Oil heat some mustard seeds and let it crackle.
Now add hing to the oil.
Then add red chili powder and turmeric powder to the oil. You can avoid red chili powder if you want.
Give a quick stir.
Keep the flame to low and add the puffed rice.
Mix well the puffed rice and add salt.
Then add peanut to the puffed rice.
Then add sev to the puffed rice.
Masala Puffed rice is ready to serve.
Masala Puffed Rice Recipe (Spicy Murmura for Bhel)
Masala Puffed Rice Recipe
Easy snack recipe prepared from puffed rice, roasted peanuts, sev and indian spices.
Ingredients
Puffed Rice : 5 cups
Sev : 1 cup
Peanut : 1/3 cup
Salt : 1 tsp
Red chili powder : 1/2 tsp
Oil : 2 tbsp
Mustard seeds : 1/2 tsp
Asafoetida (hing) : 1/8 tsp
Turmeric powder : 1/2 tsp
Instructions
Heat oil in a thick bottom pan and add peanuts.
Cook on medium flame until they are light brown in color.
Once cooked remove the peanuts on paper towel and keep aside.
In the same oil add mustard seed once the mustard seeds crackles add hing.
Add the turmeric powder and red chili powder, cook for 20 sec.
Add puffed rice and mix everything well with oil.
Sprinkle some salt on top and mix well.
Add fried peanuts and sev and mix well all the ingredients.
Spicy masala puffed rice recipe is ready. Serve hot as a snack.