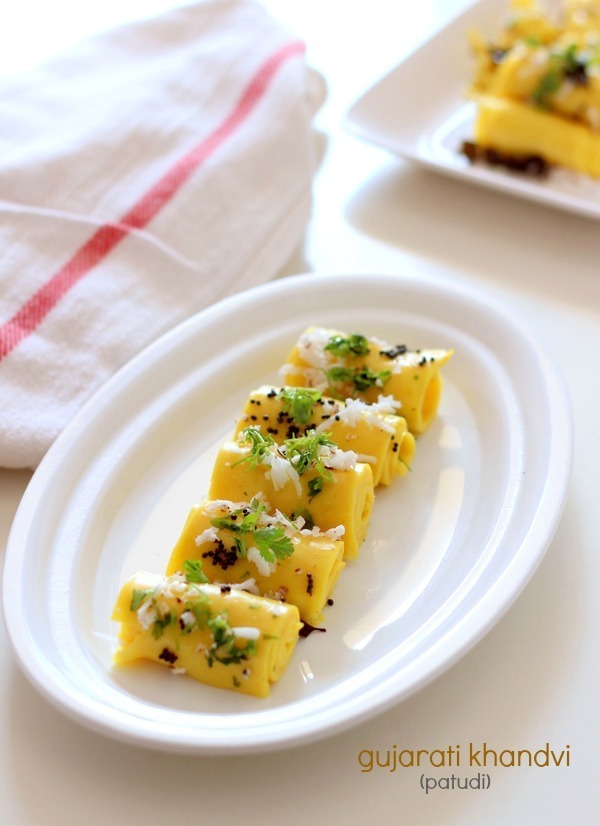 Gujarati Khandvi Recipe (Patudi Recipe) with step by step pictures. A traditional Gujarati snack dish recipe made from gram flour (besan).
I am sharing a delicious snack dish recipe known as Khandvi today. Khandvi is made from besan (gram flour) cooked with some curd and seasoning. The soft and silky texture might scare you at first. But trust me, making khandvi at home is possible and with a little practice it is easy. You can make perfect khandvi at home once you master the consistency of the batter.
Khandvi recipe is no garlic no onion recipe and hence also a Jain recipe. We need very few ingredients to make this delicious treat. It's quite probable that you already have all the ingredients to make khandvi at home. The trick to make perfect khandvi is in batter. I will share some tips with you all so that you can get perfect batch of khandvi batter in very first try.

What may go wrong while making Khandvi
Consistency of Khandvi's batter is the most important aspect. Make sure its properly cooked and its not too thick. Otherwise the batter will not spread properly on plate/thaali.
Once the batter is cooked, spread it on thaali as soon as possible. If the batter cools down during spreading, you won't be able to spread it properly.
Also to cook the Khandvi in microwave you can follow these simple steps:
Mix gram flour and yogurt in a bowl. Place the bowl in a microwave and cook at high speed for 5 mins.
Remove and whisk the mixture until smooth.
Place it in microwave again and cook for about 4 minutes this time.
Remove and whisk well.
Repeat this in interval of 2 – 2 minutes (whisk again) and then about a minute. Each time you will notice that the batter will get thick and difficult to whisk. This only says that it is getting cooked. The cooking time will vary. So you will need to check every time you bring it out of the microwave.
The batter once done/cooked will be thicker than it was initially, but should still be in a consistency where it can be spread evenly and in a thin layer.
The raw smell of the flour should have gone by the time it is done cooking. When the batter is ready, you will notice that it pulls away from the wall of the bowl and no longer sticks to the side.
How to find if the batter is ready: Take one teaspoon of batter and put it on a greased thaali, spread it over the thaali, make it as thin as possible. Now roll over the spread batter, if you are able to do it then it's ready else, cook it for another minute.
Tips to make good khandvi
Do not apply pressure while rolling, do it gently. otherwise it will break and wont look nice.
If trying for the first time then try it in a small batch.
Once the batter is ready do spread it as quickly as possible.
Stir continuously. no lumps should be formed.
Sieve the gram flour if necessary.
Let us check the step by step recipe of Gujarati Khandvi.
Recipe of Gujarati Khandvi (Patudi) with step by step pictures
To make delicious khandvi, we will need following ingredients. Gram flour (besan), curd / yogurt, grated ginger or ginger paste, turmeric powder, oil, curry leaves, mustard seeds (rai), fresh coriander and some freshly grated coconut.
Take the gram flour in a mixing bowl and add yogurt/curd to it. With the help of mixing spoon, mix both ingredients to make nice batter. 
Check the consistency of the gramflour and yogurt mix.
Now let us season the batter with ginger, turmeric powder and salt. Mix well all the ingredients.
Pour a little water in the batter and mix it well.

Heat a deep pan / khadhai on gas / stove and once it is hot add the khandvi mixture. Keep the heat on slow/medium flame and cook for around 2-5 minutes. Keep stiring the mixture while it is cooking to avoid lumps formation.
Cook for 4-5 minutes on low / medium flame until the desired consistency is achieved.
Take some khandvi batter and apply it on back of small plate to check consistency.
Now lighly grease back side of a large stainless steel plate / thali with some oil. Pour the khandvi batter as shown here and start spreading it on thali.
With the help of knife, spread the khandvi batter on back of the plate.
Spread the batter as thin as possible.
Let the batter get's cool down and then with the help of knife cut 1.5 to 2 inch stripes as shown here. Start rolling each strip into khandvi.
Roll the khandvi as tight as possible without leaving any space.
Repeat the step and prepare khandvi rolls as shown.
Now the khandvi is ready. Let us temper the khandvi with some mustard and curry leaves tadka. Heat some oil in a tadka pan on gas. Once the oil is hot, add mustard seeds (rai) and curry leaves (kadi patta).  Let the mustard get flutter in hot oil for few seconds. Our tadka is ready.
Pour the tadka on khandvi.
Our delicious Gujarati khandvi is ready to serve.
But just before that, let us not forget to add freshly grated coconut. It will bring nice flavor to khandvi and lift it at new level.
Also garnish the khandvi with freshly chopped green coriander (cilantro). Khandvi is ready now. Serve it fresh.
Gujarati Khandvi Recipe Box
Gujarati Khandvi Recipe (Patudi Recipe)
Gujarati Khandvi Recipe - A delicious Gujarati snack recipe made from gram flour / besan & yogurt.
Ingredients
For Khandvi
Gram flour (besan) : 1/2 cup
Curd / yogurt (dahi) : 1/4 cup
Water : 1 cup
Salt : 1/2 tsp
Turmeric powder (haldi) : 1/2 tsp
Ginger : 1 tsp grated
For garnishing
Oil : 2 tsp
Mustard seeds (rai) : 1 tsp
Coconut : 1 tbsp fresh
Fresh coriander (hara dhaniya) : 3 tbsp, finely chopped
Instructions
In a bowl take the gram flour (besan) and add curd and whisk both the ingredients well till a soft batter is formed. (Note: see that there are no lumps)
Then add the ginger green chili paste, turmeric powder and salt to taste to the batter and mix well.
Then add water to the batter and mix well.
Heat other pan and pour the batter into the pan and stir continuously.
The batter will slowly start to thicken. Stir vigorously and evenly to avoid lump formation.
Once it become nice and thick and you feel it is done just test it on a small plate and see that you are able to roll it or not. If you can roll then your khandvi batter is ready.
Pour a ladleful of khandvi batter in a large plate and spread as thin as possible with the large knife as I have done or with back of a large flat spoon.
Then let it cool down and cut into 2 inch wide strips. Then carefully roll each strip.
Place all the rolls in the serving dish.
Heat oil in tadka pan and add mustard seeds and curry leaves . Now pour the tadka on top of the khandvi.
Gujarati Khandvi is ready. Garnish it with the grated coconut and coriander leaves.
Other Traditional Gujarati Recipes