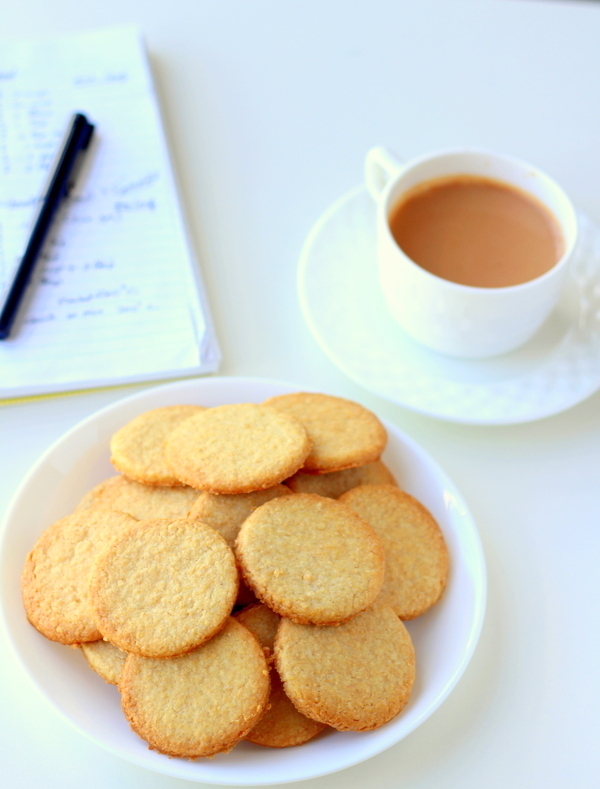 Eggless Wheat Biscuits Recipe (Whole wheat biscuits recipe) – Simple recipe of whole wheat biscuits or cookies. Perfect for tea-time get together and quick bite.
Since past few days you might have noticed I have shared many baking recipes on the blog. My usual routine was to make Indian recipes and share, however a lot of you guys have emailed me and requested to share baking recipes. So here I am sharing what I learn / experiment in my kitchen. I will try to share eggless bread recipes, eggless cookies/biscuits, cakes etc. Hopefully in coming days the baking recipes section will grow so stay tuned 🙂

Today we are going to prepare 100% wheat flour biscuits. Wheat biscuit is a healthy version of the maida biscuits. Now a days many of us prefer whole wheat or multi grain over all purpose flour. These biscuits taste more or less same if not tastier. So why to compromise on health aspects. Moreover making biscuits or cookies at home are really easy. Once you practice for a while, you will get hold of it. You can make biscuits for you kids in different shapes and size. And trust me, homemade wheat biscuits are always better than the ready made ones.
These eggless wheat biscuits are easy to make and even can be baked in bulk. Once prepared, you can store these whole wheat biscuits in an air tight container for about 15-20 days. You can also experiment with this recipe and improvise it by giving different flavors to your wheat biscuits. I have added Vanilla flavor, you can try adding cardamom powder (elichi powder) or cocoa powder and try different variations.
Related Recipe: Eggless Chocolate Chip Cookies Recipe
Before you can enjoy these biscuits with a cup of tea or milk, let us check few tips and tricks that will help you in baking perfect eggless wheat biscuits.
Tips & Tricks for Baking Eggless Wheat Biscuits
For this recipe, use the butter at room temperature. Do not use it in melted form.
Also do not use warm milk in this recipe. It should be either cold or at room temperature.
Always add milk slowly while making the dough. Otherwise the dough will become sticky and will get difficult to roll.
After baking, when you take biscuits out of the oven let it rest for around 5 minutes on baking tray. Then one by one remove and place them on cooking rack.
Let without further ado, let's check the step by step recipe of baking eggless wheat biscuits or cookies at home.
Eggless Wheat Biscuits Recipe with step by step pictures
The recipe is really simple. You can prepare for these biscuits within few minutes. To make eggless wheat biscuits we need wheat flour, salted butter, sugar, baking powder, milk and vanilla essence. If you are using unsalted butter then you should add a pinch of salt too. The exact quantity of each of these ingredients are shown in recipe box at end of this post.
In a bowl take wheat flour and add butter to it. I have cut the butter in small cubes so that it will be easy to knead. Note: Butter should be cold or at room temperature and not in melted form.
Kneading the butter and flour is very important as butter should get mixed well with the flour. Once it mixes well the flour will look crumbly in texture as you can see in the below picture.
Add the other ingredients like sugar, vanilla essence and baking powder and again mix well all the ingredients. Note: If your sugar crystal are little big then make the powder of  it and add to the flour. Or you can use powdered sugar.
Once all the ingredients mixes well, the dough should look something like below.
Now add milk slowly to the flour and start kneading dough. Do not add all the milk at a time.
In the below picture you can see that nice biscuit dough is form and ready to make biscuits.
Dust the work area with some dry wheat flour  and place the dough on top of the dusted flour so that the dough does not stick to the working surface.
Roll the dough with the help of the rolling pin and roll to the thickness of about 1/2 centimeter thick as shown in the below picture.
Once the dough is rolled evenly its time to cut the biscuit with the help of cookie cutter or bottle cap. Repeat the above step for the remaining biscuit dough.
Once all the biscuit are done place the biscuits on the baking tray with the baking parchment paper lined on the baking tray. So that the cookie does not stick to the baking tray.
Pre heat the oven at 180 degree C for about 10 min. Once the oven is pre heated its tine to place the biscuits in the oven to bake at 180 degree C for about 16 min or till the biscuit starts to change its color form the sides.
Turn off the oven and take out the baking tray. Let the tray sits for 5 minutes before remove all the biscuits. Line up the biscuits on cooling rack. Once cool down, our delicious whole wheat biscuits or cookies are ready to serve. Enjoy these little flavorsome biscuits with a cup of tea or milk. Happy Baking 🙂
Eggless Wheat Biscuits Recipe (Whole Wheat Cookies Recipe)
Eggless Wheat Biscuits Recipe (Whole Wheat Cookies)
Homemade Eggless Whole Wheat Biscuits Recipe. Tea time biscuits baking recipe.
Recipe type:
Biscuits/Cookies
Ingredients
Wheat flour : 1 cup
Sugar : 1/2 cup
Baking powder : 1 tsp
Butter : 1/2 cup
Milk : 2 tbsp
Vanilla essence : 1/2 tsp
Instructions
In a mixing bowl take whole wheat flour (gehu ka atta) and butter. Mix until butter gets incorporate nicely with flour.
Then add Sugar, vanilla essence and baking powder to the flour and also mix well all the ingredients.
Add milk to the flour to form a dough. Add milk slowly while kneading the flour so that you don't make your dough sticky.
Now dust the working surface with dry wheat flour and roll the dough with the help of the rolling pin to 1/2 centimeter thickness.
With the help of cookie cutter cut the round shape of biscuit or cut into shape your choice.
Place the biscuit on the baking tray lined with the parchment paper so that the it will not stick.
Pre heat the oven at 180 degree C for about 10 min.
Then place the baking tray in the oven at 180 degree C for 16 minutes or till the edges start turning brown.
Now our biscuits are ready. Take them out of oven and let'em cool top of cooling rack.
Once cool down it is ready to serve with a cup of tea or milk.
Happy Baking 🙂