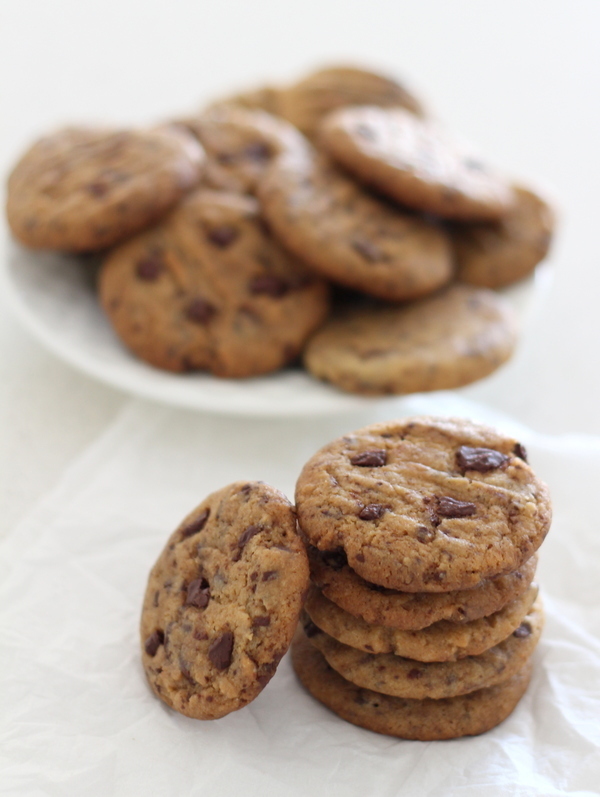 Eggless chocolate chips cookies – Simple step by step chocolate cookies baking recipe – A delicious melt-in-mouth chocolate chips cookie recipe baked at home with basic ingredients.
Let me share with my lovely gals a wonderful recipe today. You might have tried this and if not I urge you to give it a shot. The recipe is damn easy and you won't believe once you see the result. I am sharing delicious chocolate cookies or chocolate chips cookies. If you have not done baking or have tried but never got the result you wished you would, don't worry.

Baking is not at all difficult. I would say baking is pure science (more like chemistry ;)) The right proportion of ingredients and the right amount of temperature will always yield great result. Once a while you might fail. I too have. But don't worry. The effort is worthwhile and you will learn a lot.
Coming back to the recipe of eggless chocolate chip, it is one of simplest baking recipe. You probably have most of the ingredients for making these cookies at home. You can keep eggless chocolate cookies in air-tight container and store for 2-3 weeks. Also kids loves these yummy home baked cookies. The best part is there are no artificial flavors or harmful ingredient that you might find in store bought cookies.
Related Recipe: Eggless Wheat Biscuits Recipe
I have made this chocolate cookies eggless. If you want to make these cookies with egg then just replace the milk in recipe with 1 egg.
Before we dig into cookie recipe, below are few tips.
Some useful tips while baking chocolate chips cookies:
Take all the ingredients at room temperature.
After making the balls press the ball a bit so that you get the even crunch in cookie.
If you don't have chocolate chips then you can also use cooking chocolate instead.
If you do not have electric hand mixer then instead you can use hand whisk.
If you are not able to work with dough then keep the dough in refrigerator for few more minutes.
Always grease the baking tray with some butter or use the parchment paper.
Keep enough distance between the cookies as they will expand while cooking.
Keep an eye on the cookie after placings it in the oven as the temperature of the oven varies.
After taking out the cookies let it rest in the same baking tray for about 5 minutes and then place the cookies on cooling rack.
Eggless Chocolate Chips Cookies Recipe with step by step pictures
To make these crunchy chocolate chips cookies we will need all purpose flour, milk, vanilla essence, butter, chocolate chips, brown sugar, white sugar, baking soda and salt (if you are using unsalted butter).
Lets start making the cookies by mixing dry ingredients first. In a bowl take all purpose flour (maida) and add baking soda. Mix well both the ingredients and keep aside.
In another bowl take butter (room temperature) and beat well with the electric beater or hand whisker. (Note: I am using salted butter so I am not adding salt to the dough. If you use unsalted butter then do add pinch of salt )
Add brown sugar and white sugar to the butter and again beat well till both the ingredients combine well. If you are running short of brown sugar then replace it with white sugar.
Now add some vanilla flavor to the cookie by adding few drops of vanilla essence.
Then add some milk to the dough. Here in this step you can replace milk with 1 egg.
With the help of the beater mix all the ingredients well.
Once the ingredients are mixed well its time to add the dry ingredients plain flour (maida) and baking soda mixture. With the help of the spatula mix well dry and the wet mixture. Then add the yummy chocolate chips to the dough.
Combine all the ingredients well to form a dough.
Now cover the dough with the cling/plastic wrap and place it the fridge for about 10 minutes.
Line the baking tray with parchment paper or grease it with some butter so that the cookies does not stick to the baking tray. Then make the small round balls around 1 inch in diameter from the dough and place on the baking tray.
Once all the balls are placed in the baking tray lightly press the ball with the help of a fork or back of glass. This will help cookie cook evenly and nicely.
Now the cookies are ready to go into the oven.
Now time to place the cookie in the pre-heated oven at 180 degree Celsius (350 degree Fahrenheit) for 10 minutes or till the sides of the cookie gets slightly brown. Keep an eye on the cookie as it can be cooked in around 8-9 minutes too depending on the oven.
After 10 min of baking chocolate chips cookie is ready. After taking out just leave the cookies untouched for about 5 min as they are soft.

After 5 min take off the cookies from the baking tray and place on the cooling rack and let them cool completely.
Delicious crispy chocolate chip cookies are ready to serve. Serve these yummy treat at tea time or as an evening snack 🙂
Eggless Chocolate Chips Cookies
Eggless Chocolate Chips Cookie Recipe
Easy to bake Eggless Chocolate Chips Cookies Recipe for Beginners. Simple Chocolate Cookies Recipe in Oven.
Ingredients
All purpose flour : 1 1/8 cup (1/8 cup = 2 tbsp)
Baking Soda : 1/2 tsp
Butter : 1/2 cup (room temperature)
Sugar : 1/4 cup
Brown sugar : 1/4 cup
Vanilla extract : 1/2 tsp
Milk : 2 tbsp
Chocolate chips : 1/2 cup
Salt : 1/4 tsp (Skip if using salted butter)
Instructions
In a bowl take all purpose flour (maida) and mix it with baking soda.
In another bowl take salted butter (room temperature) and whisk it for about a minute using electric mixture or hand whisker.
Add white and brown sugar in the butter and whisk again until sugar gets incorporated nicely.
Now add vanilla extract and milk in the butter mixture.
Whisk with the help of mixture and combine everything nicely.
Now add dry ingredient i.e. all purpose flour and baking soda mix into the butter and mix well.
Also add chocolate chips into this mixture and with the help of spatula mix everything and prepare cookie dough.
Cover the cookie dough with plastic/cling wrap and place it in refrigerator for at least 10 minutes.
Prepare the Oven by pre-heating it for 5-7 minutes at 180 degree Celsius.
Also prepare the baking tray by lining it with parchment paper.
Take the cookie dough out from refrigerator and divide it into small 1 inch balls.
Place the cookie ball on parchment paper. Press the cookie balls lightly with the help of a fork.
Now place the baking tray in the Oven and bake the cookies for 8-10 minutes at 180 degree celsius or 350 degree Fahrenheit.
Once baked, take the tray out of oven and let it cool down for 5 minutes.
After that take the cookies out of baking tray and place them on cooling rack until they cools down completely.
Delicious crunchy chocolate chips cookies are ready to serve.