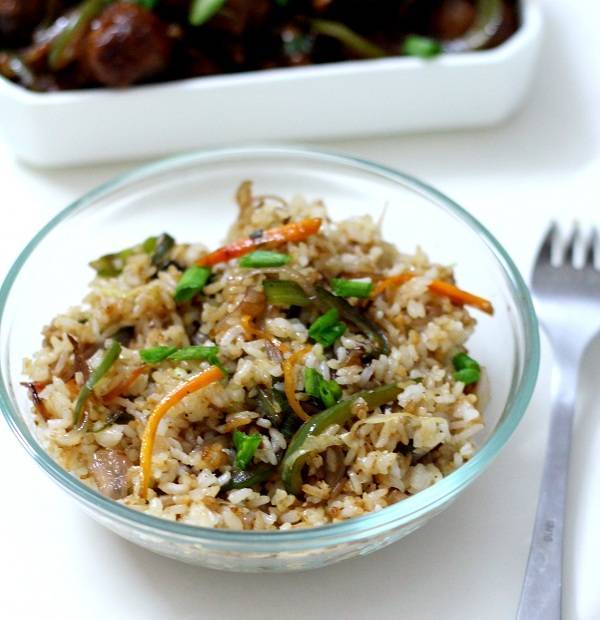 Indo-Chinese Fried Rice Recipe – If you like to eat Indian Chinese dishes than nothing gets as simple as a fried rice. It is cooked in no time and taste simply awesome. Vegetable fried rice cooked in Chinese style is quick and easy to make. Seasonal veggies like carrot, capsicum etc are cut in lengthwise slices called Julienne in culinary term. These veggies are quickly tossed in a wok and steamed rice is added. A little touch of soya sauce, black peper and salt. That's it. The chinese fried rice is ready! Nothing gets simpler than this.
Fried rice is basically staple food of American Chinese cuisine. But now available as well as popular all over world and specially in Asia you can have variety of fried rice. Chinese food is quite famous in India and has a different Indian touch to it. In most of the cities you will find a street side vendor cooking Chinese dishes on a big hot wok tossing all kinds of sauces and adding boiled rice or noodles as required. The most common dishes famous in Indo chinese eating joint are manchurian both dry and in gravy, fried rice, fried noodles both egg and vegetarian and some chinese soup. You should definitely see how these road side vendor cook chinese dishes. They hardly take time to quickly toss vegetables and add chili sauce, soya sauce etc.

Here again I represented a simple but tastes awesome fried rice in a hygienic way i.e. without Ajinomoto and sauces having preservatives. Actually when we cook for family then of course we can not avoid health factors so I made this rice in a healthy way. Rice is a full meal in itself and Chinese fried rice is having  full veggies so its a complete meal. But if you like you can have gravy manchurian or manchaw soup with it.
Sometime we ponder what kind of rice we must use to cook Chinese fried rice? well the answer is long grain white rice. Long grain white rice is perfect for fried rice: it cooks up fluffy and not sticky, with individual grains remaining firm and distinct. You'll frequently find fried rice recipes calling for cold cooked, previously chilled or leftover cooked rice. Ideally, the rice you use to make fried rice will have been cooked at least one day previously. Day-old rice is dryer, and reduces the chances of the dish turning out wet and mushy.
Coming back to the recipe let us check step by step recipe of Chinese fried rice.
Recipe Of Veg Chinese Fried Rice – Step By Step With Pictures
For this veg fried rice recipe we need steamed rice. In a bowl take rice and wash thoroughly with water.
Once the rice is washed add double amount of water then rice and boil the rice on low flame . Add a pinch of salt in boiling rice to reduce cooking time and season them while they get cooked.  If you find your fried rice is turning out rather mushy, try reducing the amount of water to cook the rice. This recipe for cooking white rice uses a 1:1.5 ratio.
Now its time to chop all the veggies like onion, carrot, capsicum, cabbage, ginger, garlic and greens of spring onion. Quickly slice the onions, cut carrot in juliennes, cut the cabbage in slices (Chiffonade), chop ginger and garlic and cut the greens of spring onion.
Take a wok or deep bottom non-stick pan and heat oil in it. Keep the gas on medium high flame. Once the oil is hot add ginger and garlic and cook for few seconds. Don't let ginger garlic get over cooked as on high flame they get burned easily.
Now quickly add sliced onions and greens of spring onion. Toss the vegetables for not more than a minute.
Saute the onion quickly in hot oil.
Throw in the carrot, capsicum and cabbage in the pan and mix well. Cook the vegetables for 2 to 3 minutes. If you are using Chinese wok to cook fried rice on high flame the veggies will get cooked quickly.
Now sprinkle some black pepper powder and stir it.
Now time to add the Chinese sizzling like soya sauce. Add a tablespoon of soya sauce and mix well with veggies.
Mix well all the ingredients and cook for about a min. Cook the Chinese recipes on high flame to have crunchy bite in veggies. If cooked on low flame the vegetables can turn soggy. Add a tablespoon of salt in the veggies. We have already added salt while boiling the rice hence go little easy on salt here.
Once the veggies are cook well add the steamed rice.
Then mix the veggies and rice together and cook for about a min and the fried rice is ready to serve . Serve the fried rice with a bowl of manchurian or manchow soup.
Chinese Fried Rice Recipe
Chinese Fried Rice Recipe - Spicy Indo-Chinese fried rice tossed in various vegetables juliennes.
Ingredients
Boiled rice: 3 cup
Oil: 2 tbsp
Onion: 1 cup julienne
Soya sauce: 1 tbsp
Black pepper powder: 1/2 tsp
Capsicum:1/2 cup julienne
Carrot:1/2 cup julienne
Cabbage:1/3 cup julienne
Ginger: 1 tbsp grated
Green chili: 1/2 tbs chopped
Garlic: 1 1/2 tbsp Chopped
Salt: 1 tbsp or to taste
Instructions
Take a bowl of rice, wash it thoroughly. Boil the rice and keep aside.
Now cut the carrot, onion,capsicum and cabbage in lengthwise slices (juliennes).
Chop the green chili and garlic. Grate the ginger.
In a wok or pan add oil, once the oil is hot add garlic, ginger and green chili. Cook quickly for few seconds.
Now throw in onions, carrot , cabbage,capsicum and toss for about 5 min on high flame.
Once all the ingredients are cooked well add soya sauce, black pepper, salt and stir it.
Then add boiled rice to the veggies and mix well.
Chinese fried is rice is ready. Serve the fried rice hot with a bowl of manchow soup or dry manchurian.