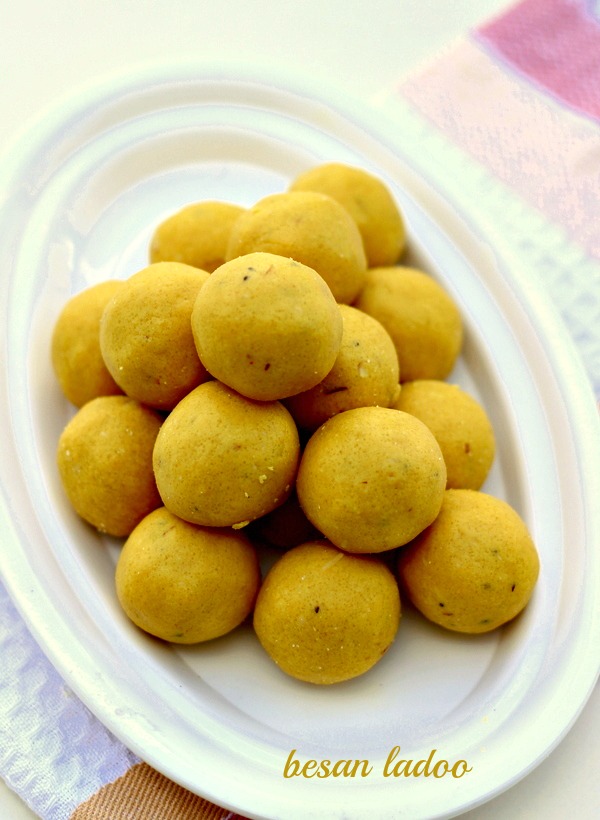 Besan ladoo recipe with step by step pictures – A traditional ladoo recipe, gluten free easy to make and serve during Indian festival. Made from roasted chick-pea flour flavored with clarified butter (ghee) and sugar.
Besan ke ladoo is easy sweet recipe prepared in all over India during festivals such as Diwali, Navratri, etc. This popular Indian traditional sweet is irresistible and I can't stop just having one. I have sweet childhood memories associated with besan ladoos. My mom used to make these little treat whenever my grandpa used to visit us. He liked besan ladoo a lot and so my mom always used to make a jar full of these ladoos. Now whenever I make these ladoos in my kitchen, I remember my late grandpa.

Besan ladoo are usually lemon sized round yellowish balls full of flavors and fragrance. I don't make these ladoo often as I want to. While in India it is easy to buy besan ladoos from sweets shop, however they are not that easy to get outside India. I have seen Haldiram's besan ladoo in one of Indian grocery store. But I prefer making them at home instead of buying ready made.
Besan Ladoo Recipe Video on YouTube
Check out the quick besan ke laddu recipe video to know the process of making this sweet recipe.
Related Diwali Sweets: Milk Pede Recipe  |  Gujiya Recipe  |  Gajar Halwa Recipe
This recipe of besan ladoo is quite easy. If you get hold of measurements of ingredients, your ladoo will definitely turn out perfect. The quality of Besan flour plays important role in the final result. The better the quality, the tastier the ladoos will become. Usually coarsely grounded besan if used in this recipe. Finely ground besan goes not make good ladoos. But if you don't have coarsely grounded besan then you can add a little sooji (samolina) along with besan. Or else for making perfect besan ladoo recipe, you might want to buy the chana daal and ground it at your local mill. However its not always easy and store bought besan is often the only option. Don't worry. Just buy the best quality besan you can afford, add a little sooji and I am sure you will make best besan ke ladoo.
Along with the quality of besan, another key ingredient is Ghee / Clarified butter. If you can get Desi ghee, then nothings better than that. It will give perfect fragrance to your besan ladoo recipe. And if you cannot get Desi ghee then dont worry buy some good quality ghee from market. Gowardhan and Amul are my favorite when it comes to making Indian sweets at home. I have not tried patanjali ghee yet 😀 so I cannot comment on that. May be I will buy soon and try it.
Before we dig into the recipe of besan ke ladoo, let us check few tips and tricks that will help you in getting perfect besan ladoo recipe.
Tips & tricks while making Besan Ladoo Recipe
While making besan ladoo at home, try using heavy bottom pan or kadhai. It will roast the besan properly without burning it.
Roasting the besan is very important step. Always roast the besan mixture continuously on a medium to low flame and not high flame. Otherwise it tends to get burn easily.
Looking at the quantity of ghee, you might feel its too much. But trust me. Add enough ghee as specified in the recipe or else the ladoos will not taste good.
Roast the besan mixture on medium to low flame until it gives aromatic smell and also changes its color to a little dark.
Always use powdered sugar instead of granulated sugar. It gets mixed easily.
Also add the sugar only when the besan mixtures cools down completely.
I hope if you follow these tips, your besan ladoos will turn out perfect.
Recipe of Besan Ladoo with Step by step photos
To make this yummy besan ladoo we will need besan, ghee, powdered sugar, almonds, elichi and sooji/rava. Check the recipe box at end of this post to know exact quantities of these ingredients.
This besan ladoo is little time consuming and also tiring but it feels good when everyone in family likes and appreciates it.
Lets start by heating the ghee/clarified butter in a heavy bottom pan. Always try to use heavy bottom pan to make this ladoo.
Then add the main ingredient besan to melted ghee.
Now add rava to the ghee. I am using rava as I am using the fine variety of besan. If you are using the coarsely ground besan then no need to add rava.
Mix well all the ingredients with the help of spatula.
While mixing the besan to the ghee try to break the lumps. And slowely the besan will mix well with the ghee.
Once the besan is mixed well with the ghee, add elachi powder to give nice flour to the besan ladoo.
Roast the besan till it changes its color and give the nice aroma of the flour. Continuously stir the flour or else the flour tends to burn soon.
Once the besan mixture is ready transfer it to a plate and let it cool down.
When the mixture cools down, add sugar to the besan mixture. Always add powdered sugar to the mixture.
Then add dry fruit of your choice. I have added almonds as I like it a lot in my besan ladoo.
Mix well sugar and besan mixture with the help of your palm.
Take some besan mixture in your palm and press it as shown in the below picture and make round balls.
Repeat above step of remaining besan mixture and roll the ladoos one by one.
Mouth watering besan ladoo is ready to serve.  You can store this besan ladoo in air tight container for about 10-15 days.
Besan Ladoo Recipe Box (Besan ke Ladoo)
Besan Ladoo Recipe
A traditional Indian sweet recipe prepared during festive season. Prepared from roasted chick-pea flour, clarified butter and sugar.
Ingredients
Besan (chick-pea flour) : 2 cups
Suji/rava : 2 tbsp
Ghee (clarified butter) : 1/2 cup
Sugar : 3/4 cup
Cardamon powder : 1/4 tsp
Almond : 2 tbsp sliced
Instructions
Heat a heavy bottom pan take desi ghee, besan and rawa.
Mix well all the ingredients with the help of a spatula.
Cook the besan mixture for about 5 min and then add cardamon powder.
Again cook till the besan changes its color and give nice aroma.
Once the besan is cooked, transfer the mixture to a plate and let it cool down completely.
Its time to add sweetness to the ladoo by adding powdered sugar.
Add the sliced Almonds. You can also add dry fruits of your choice.
Mix sugar and besan mixture well. Then take some portion of mixture in your palm and press it tight. Roll the mixture in hand and press evenly to prepare round balls.
Press until you get the desire shape.
Repeat the process on remaining mixture and prepare ladoos.
Besan ladoo is ready to serve. You can store besan ladoo in air tight container for around 15 days.