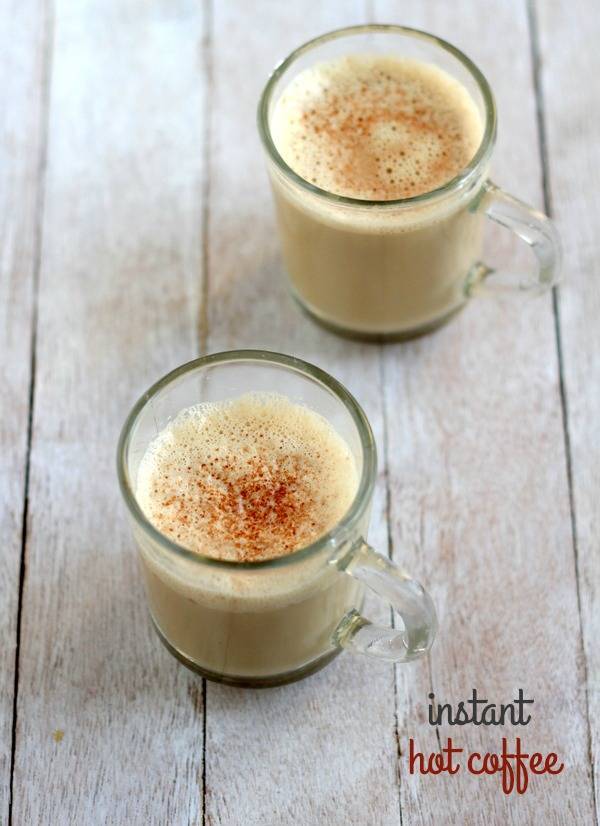 Hot coffee recipe (creamy hot instant coffee recipe – NESCAFÉ) with steps – A creamy instant hot coffee recipe prepared using instant coffee powder.
You must be thinking what on earth has gone wrong? A Coffee recipe? Well, ya.. its the same recipe that many of us are already aware of. The easy way of making nice & creamy hot coffee at home. I thought most of the people are already making hot coffee with the way I make. But to my surprise there are few who do not know this simple technique. Recently I made this hot coffee for few guests at home and came to know that they never heard this recipe! voilà, at that time only I decided to share this recipe with my lovely friends.

Coffee is native to South India. The state of Tamil Nadu tops the chart in coffee production and of course consumption. I have spent all my childhood in Chennai and hence there is no surprise in the fact that I am so much fond of this hot beverage. I remember in my college days I used to make coffee using instant coffee powder at home. It is unusual making coffee using instant coffee powder like NESCAFÉ or BRU. This is because people in South are fond of filter coffee. I guess that is the reason, instant coffee is popular in North India.
Hot Coffee Video Recipe on Youtube
Here's a quick short 1 minute video of the instant hot coffee recipe.
Making hot coffee using filter method (filter coffee) is a cumbersome task which asks for a lot of patience. Furthermore, filter coffee requires coffee filter machine and fresh coffee bean powder. Not everyone has these equipments & ingredients at home. That is why instant coffee powder is so much omnipresent in India.
The method that I am sharing today is quite simple and chances are there that you might already be aware of it. First we start by combining coffee powder with sugar and a little milk or water. In a mixing glass or cup we take required amount of coffee and sugar. Then we add just a teaspoon of milk or water (anything is fine). And then the tough part. We start whisking the coffee and sugar together with the help of spoon. Once you start doing this, after a while the coffee and sugar will combine and turn into a creamy light brown color paste. The aroma of coffee is simply amazing while we are whisking it. Once the coffee cream is ready, all we need to do is to mix it with hot milk. And the coffee is ready.!! While I have already summarize how to make hot coffee at home in this passage, let us check the step by step recipe.
Recipe of Hot Coffee (Instant Coffee) with step by step pictures
In a cup take the instant coffee powder in required quantity. For 2 cups I am using 2 tsp of coffee powder. If you like strong coffee then do add 3 tsp instead, for 2 cups.
Now add sugar in the cup. You can adjust the quantity of sugar as per your liking. I have added 1 tbsp of sugar. Also depending on the sweetness of sugar and bitterness of coffee powder, adjust the quantity of sugar.
Once the sugar and coffee powder are added we are ready to add milk.
Add 1 tsp of Milk in the cup. You can also add water instead of milk.
Now with the help of a spoon, start mixing & whisking the coffee powder and sugar.
Initially the coffee & sugar would look dark brown but once we whisk it more and more it starts turning into light brown and creamy.
Whisk for 5 minutes rigorously. The coffee cream is ready.

Pour hot (boiling) milk into  this coffee cream.
Mix the cream and milk with help of spoon. The froth should start appearing on top. This is the time when we know the coffee is ready. You can also transfer coffee from one cup to another to make it even more frothy.
Creamy homemade instant hot coffee is ready. Pour the coffee into serving cup and serve hot.
Instant Hot Coffee Recipe
Hot Coffee Recipe, Homemade Instant Creamy Coffee
Hot coffee recipe - A creamy hot coffee recipe made from instant coffee powder. Perfect for winters.
Recipe type:
Hot Beverages
Ingredients
Coffee : 2 tsp
Sugar : 1 tbsp
Milk : 1 cup
Instructions
Take the instant coffee powder and sugar in a cup.
Add a tsp of water or milk and mix the coffee powder and sugar.
Whisk the mixture rigorously with the help of spoon until it becomes light brown in color and creamy.
Heat the milk and let it comes to boil.
Pour the hot milk into coffee cream we prepare earlier. Mix with the help of spoon.
Mix the milk & coffee cream by transferring it between two cups.
Once done, serve the coffee hot.