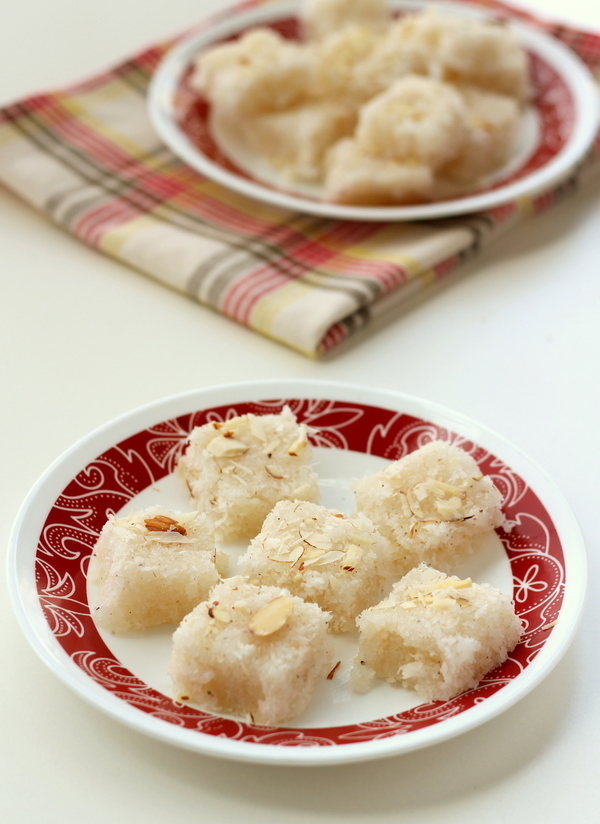 Easy Coconut Burfi Recipe without Condensed Milk and Khoya – A traditional Indian sweet recipe made from desiccated coconut, flavored with cardamom.
The recipe of coconut burfi that I am sharing today is one of the simplest Indian sweet recipe. Usually traditional Indian sweets recipe are complex and often have so many phases. Making Indian sweet at home is hence a lengthy task that ladies usually avoid 🙂 Also nowadays, sweets are easily available in local sweet shops. Indian sweets such as rasgulla, gulab jamun, ras malai, mawa peda etc are always in high demand.
Although making sweets at home is not easy, still there are few recipes that you can follow and make easily at home. Recipes such as besan ladoo recipe is one example of easy indian sweet recipe that you can make during festival season or special occasion. This easy coconut burfi recipe I am sharing is also quite simple one.
Related: Coconut chocolate roll | Condensed milk coconut balls
Burfi is a type of Indian sweet which is usually milk based. Most of the burfi recipes are prepared using condensed milk, sugar and add different flavors. A few of the famous varieties of barfi include besan barfi (made with gram flour), kaaju barfi (made with cashews), pista barfi (made with ground pistachios), and sing barfi (made with peanuts). However the easy coconut burfi recipe I am sharing today is without khoya or condensed milk! As I said, this burfi is prepared only with 4 ingredients!

For this recipe I have used dry desiccated coconut. Nowadays it is easily available in superstores and you don't have to do anything. Freshly scrapped coconut can also be used in this recipe, however as it has a lot of moisture you have to compensate the same by making a bit thicker chasni.
Before we dwell into the easy coconut burfi recipe, lets check few tips for making perfect burfi at home.
Tips for making perfect Easy Coconut Burfi at Home
Try to use fine desiccated coconut to get nice texture in burfi.
If your sugar syrup gets thick and start to get hard then add some water and dilute the sugar syrup.
Some times after adding the coconut and sugar syrup become hard soon and not able to form barfi. Just sprinkle some water on top of the mixture and reheat it till desired consistency.
If sometime you spread your mixture in greased tray and the barfi does not set after it cools down then again take the mixture in same pan and reheat till you get the right consistency.
Make the cuts in barfi before it gets cool down completely or else it will be hard to make cuts.
Recipe of Easy Coconut Barfi with Step by Step Pictures
To make this easy coconut burfi recipe we will need only 4 ingredients. Sugar, water, desiccated coconut and cardamom (elachi). Most of these ingredients are already available in an Indian house hold.
We will start by making sugar syrup or chasni (chashni). For that take a heavy bottom pan and pour water in it. Heat the pan on medium flame and add sugar in the water.  We will add cardamom (elaichi) flavor in the sugar syrup. So add the cardamom powder in the water.
Heat the sugar water on medium flame and boil for 10 minutes.
Sugar syrup or chasni will start getting thicker as it boils down.
Check if the sugar syrup (chasni) is ready by forming single string between thumb and index finger. This is how chasni is checked before making Indian sweets. This is known as one thread chasni or "ek taar ki chasni". Once we get the desired thickness of chasni, we can add desiccated coconut.
Immediate add the desiccated coconut to the sugar syrup.
With the help of a spatula mix well the sugar syrup and the coconut mixture.
Cook the mixture for about 4-5 min and you can see that the mixture has start leaving the pan and has come together.
Here in the below picture you can see that the mixture has come together and also not sticking the pan.
Grease a tray with the ghee and put the coconut mixture in the tray.
With the help of spoon or hand press the mixture nicely as shown in the below picture.
When the mixture is warm make the cuts of your choice and sprinkle some dry fruit of your choice.Let the mixture get cool down completely. As mixture get cool down it starts to harden up.
Quick and easy coconut burfi is ready to serve.
Easy Coconut Burfi Recipe without Condensed milk or Khoya
Coconut Burfi without Condensed Milk and Khoya
A traditional Indian sweet made from desiccated coconut, flavored with cardamom and sugar. Best served during festive occasion.
Ingredients
Desiccated coconut : 1 1/2 cup
Sugar : 3/4 cup
Water : 1 cup
Cardamom powder (Elaichi) : 1/4 tsp
Almond : 2 tbsp, sliced
Clarified butter (Ghee) : 2 tsp
Instructions
Heat non stick pan and add water and sugar in the pan.
Once the sugar melts in water, add cardamom powder (elachi) in the sugar water and let it cook till you get one string consistency.
To check the consistence of the sugar syrup (chasni) just take a drop of sugar syrup between your thumb and index finger you can see a single string forming.
If you can see single string forming then it is the right consistency to add desiccated coconut to the sugar syrup.
Mix well all the ingredients and cook as it will start to thicken and form mass and also leave the sides of the pan.
Lightly grease a tray with clarified butter (ghee).
Then turn off the flame and transfer the coconut mixture to greased tray and spread it evenly and make the top smooth.
Then cut it into desire size and sprinkle some slivered almonds or nuts of your choice on top.
Once the mixture cools down it becomes hard and your easy coconut burfi is ready to serve.
Nutrition Information
Serving size:
30g
Calories:
156
Fat:
9.8g
Saturated fat:
8.5g
Carbohydrates:
18.3g
Sugar:
16.0g
Sodium:
5mg
Fiber:
2.3g
Protein:
1.0g
Cholesterol:
2mg