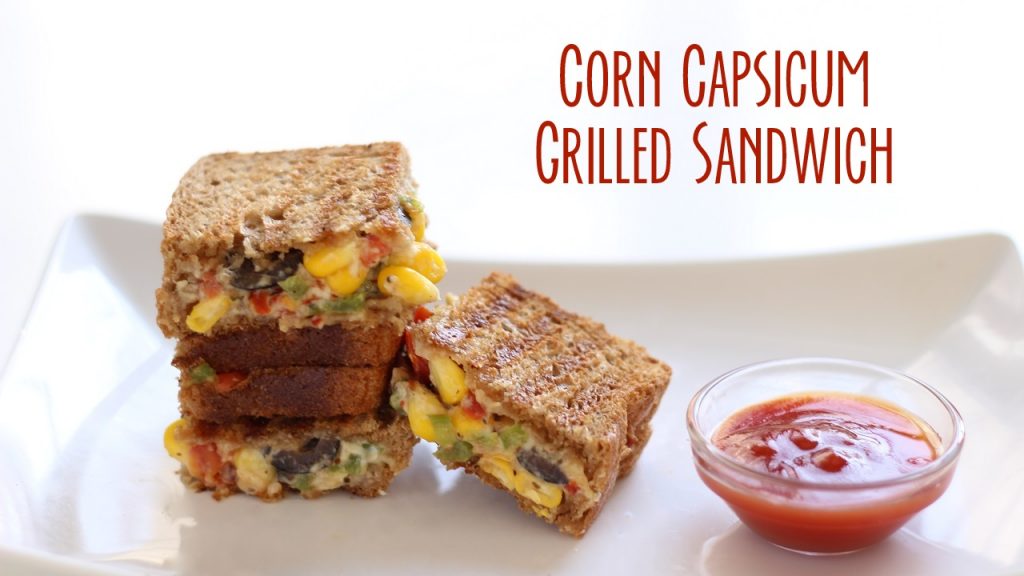 Corn capsicum grilled sandwich recipe – A delicious crunchy cheesy grill sandwich recipe made from sweet corn, capsicum and tomato. A perfect lunch box/tiffin recipe that kids will love.
I am sharing a perfect grill sandwich recipe today. I made this dish yesterday and it turned out really yummy. Until now I have shared so many recipes with step by step images on this blog. But now I have ventured into a whole new realm of video recipes. I have started a youtube channel where you'll soon find video recipes. Making a recipe video is a bit challenging compared to clicking pics and sharing images. I am new to this and thus the quality of videos are not too excellent. But I hope to learn from the experience and improve as I proceed.
In the meantime, please enjoy the video recipe of sweet corn & capsicum grill sandwich.
Corn Capsicum Grilled Sandwich Video Recipe
Below are the ingredient list and steps for making this delicious grill corn capsicum sandwich.

Corn Capsicum Grill Sandwich Recipe Box
Corn Capsicum Cheese Grilled Sandwich Recipe
Crunchy cheesy sweet corn, capsicum grill sandwich recipe with video.
Ingredients
Corn kernels: 3/4 cup boiled
Capsicum : 1/2 piece finely chopped
Tomatoes: 2 medium finely chopped
Black Olives: 4 pieces
Brown Bread : 6 slices
Butter: 1 tbsp
Red Chili Flakes:1/2 tsp
Salt: 1/4 tsp
Processed Cheese: 2 cubes
Pizza Pasta Mix: 1 tsp
Instructions
In a mixing bowl, take boiled corn kernels and add finely chopped green capsicum and tomatoes.
Add pizza pasta mix and also add salt as per your taste. Now add red chili flakes in the mixture. Avoid in case you are making this for children.
Using a spoon, stir the mixer nicely and mix it.
Now grate the processed cheese and mix it nicely in mixture.
Prepare two bread slices by spreading some butter on it.
Use a gentle amount of corn capsicum mixture and spread it on top of bread.
Cover the sandwich with second bread and press firmly.
Prepare a griller/toaster by pre-heating it for 5 minutes.
Place the sandwiches on griller and grill for 5-8 minutes.
Once the sandwiches turn golden brown, take them off griller and cut into pieces.
Serve the sweet corn capsicum cheese grilled sandwich hot with ketchup or coriander chutney.