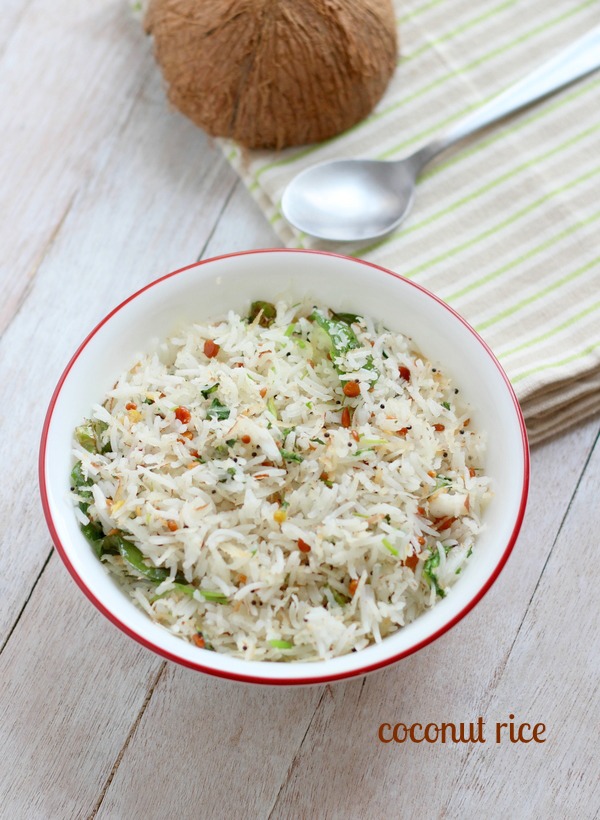 Coconut rice recipe (South Indian Thengai Sadam) – A delicious south indian rice recipe full of coconut flavors. A must recipe of South Indian meal.
Let me share another tasty South Indian rice dish that you will surely love. This dish is really easy to prepare. Usually the coconut rice is prepared in morning and packed for lunch for kids and office going elders too 🙂
The recipe of coconut rice is straightforward. You will require minimal ingredients. Coconut being the main ingredient, its the most difficult to get. Fresh coconut required for this recipe can be obtain from Indian grocery stores. If you have coconut scraper then it might come handy for this recipe.

Although there are many different varieties of coconut rice recipes, I prefer making it with fresh coconut. However you can also try this recipe with dry coconut powder.
Related: curd rice recipe | lemon rice recipe | sambar rice recipe
Before we dwell into the recipe of south indian coconut rice, let's check few tips that might come handy.
Tips for making perfect coconut rice
Let the rice be very slightly under cooked for this recipe. Unlike curd rice recipe, the rice grains should be separated for this recipe.
You can use either coconut oil or regular cooking oil for this recipe. Traditionally coconut rice is cooked in coconut oil to give extra flavors.
In case you are using fresh coconut for this recipe, saute the coconut till it is crunchy.
Mix the boiled rice and coconut mixture with the help of fork or spoon.

Step by Step recipe of Coconut Rice with pictures
To make coconut rice we need boiled rice, grated coconut, curry leaves, coriander leaves, urad dal, chana dal, mustard  seeds, green chili, ginger, hing, coconut oil and salt to taste. Check out the exact amount of these ingredients in recipe box at end of this post.
Lets proceed  with coconut rice recipe with pictures.
In a pan heat coconut oil and once the oil is hot add mustard seeds.
Then  add chana dal to the coconut oil as it takes longer time to cook.
Then add the urad dal to the oil and cook for few seconds.
Once both the dal changes its color add hing.
Then add curry leaves, green chili and ginger to oil.
Now its time to add grated coconut to the oil.
Cook the coconut for about 2 minutes.
Now add salt to the coconut mixture and mix well.

Add the fresh coriander leaves to the mixture. Coriander leaves gives the nice green color to the dish.
Mix well the coriander leaves into the coconut.
Now add the boiled rice to the coconut mixture.
Mix well all the ingredients with the rice. Coconut rice is ready tom serve.
South Indian Thengai Sadam (Coconut Rice) Recipe
South Indian Coconut Rice Recipe (Thengai Sadam)
Delicious traditional recipe of south indian coconut rice or thengai sadam with step by step pictures.
Ingredients
Fresh Coconut:1/2 cup, grated
Rice: 1 cup cooked rice
Urad dal:1 tsp
Chana dal: 1 tsp
Mustard seeds:1 tsp
Oil: 1 1/2 tsp
Curry leaves: 5 leaves
Hing:1/4 tsp
Green chilli: 1/2 tsp
Ginger:1/2 tsp
Salt : 1 tsp
Instructions
Grate or scrap the fresh coconut and boil the rice.
Heat coconut oil in a pan and add the mustard seeds and chana dal.
Once the chana dal sightly changes its color add urad dal.
Add hing, green chili, curry leaves and ginger to the oil and cook for about a min.
Now add the grated coconut to the oil, mix well and cook for about 2 min or til the coconut is roasted.
Add salt and coriander leaves. Mix well all the ingredients.
At the end add the boiled rice and mix all the ingredients well.
Delicious coconut rice is ready to serve .
Other South Indian Dishes from this website